Woman Overcomes #metoo Trauma by Writing Her Debut Novel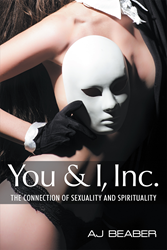 AJ Beaber, Texas's newest #metoo thought leader, reveals a new perspective about relationships, sexuality, and trust through her book "You & I, Inc.", a modern-day sheros journey, based on Beaber's life experiences.
When developing the characters in "You & I, Inc." Beaber brought to the surface pieces of herself that she was unknowingly suppressing. Recalling these hidden aspects became integral to her journey of overcoming betrayal, jealousy, and sexual trauma, to finding forgiveness, healing and wholeness.
"Many women feel uncomfortable exploring their sexuality, the most intimate and powerful part of themselves. They are craving this connection within and don't know where to turn for support. Counseling and coping mechanisms are certainly helpful, yet women are in need of more. The Journey of Lenea, "You & I, Inc.'s" main character, is about discovering and integrating the darker and repressed parts of herself to find true empowerment as a woman. I now share this message and facilitate this work to support and encourage women on their own path of self-discovery." - the author said.
AJ Beaber founder of #metoosolutions and nonprofit Red Light Love, LLC, now focuses her efforts giving voice to the challenges of #metoo in a global conversation promoting trust, freedom, and victory for a new generation. She hopes, through her message, women will be inspired to break through their own limiting beliefs around sexuality and live as the empowered woman they are born to be.
Readers applaud the book citing: "I found it to be enthralling, entertaining, and enlightening! This book looks to be in a new genre of novels that have both a life lesson and a spiritual teaching. For me, her book "You and I, Inc.," is right up there with "The Alchemist," as one of the best books of its kind that I have ever read!" - Pat Lynch, Founder and CEO Women's Online Media and Education Network (WOMEN)
"You & I, Inc.: The Connection of Sexuality and Spirituality"
By AJ Beaber
ISBN: 9781504332163 (softcover); 9781504332187 (hardcover); 9781504332170 (electronic)
Available at the Balboa Press Online Bookstore, Amazon and Barnes & Noble
About the author
As an author, speaker, coach, and founder of #metoosolutions, AJ offers training courses and personal coaching to help women heal from wounds to their sexuality and break through what blocks them from true intimacy; thus igniting passion and confidence in all areas of their life.
She lives with her husband and children in metropolitan Dallas and gives back to the community through her non-profit organization, Red Light Love. Its mission is to help women of all ages, wounded in their sexuality because of traumatic experiences, find healing and learn to trust and love again. For more information please visit http://www.AJBeaber.com.
Related Articles View More Books

Stories
More Hot Stories For You