Teacher Turned Philanthropist Creates Scholarship for Children in Need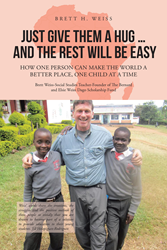 NAPERVILLE, Il. (July 3, 2017) - A former high school teacher turned philanthropist has released a book which details the evolution of a scholarship fund which assists underprivileged children. "Just Give them a Hug … and the Rest Will Be Easy," by author Brett Weiss, highlights the author's journey to make a difference in the lives of children after he visited a small village in Kenya, Africa.
In 2009, Weiss volunteered in Dago, a small village in Kenya. A teacher himself, he worked closely with the children, most of whom he realized do not have the necessary funds to receive an education. Upon his return, Weiss was inspired to help these children, and as a result, created the Bernard and Elsie Weiss Dago Scholarship Fund.
The scholarship's mission is to "provide bright, needy students of Dago, Kenya with the opportunity for a high school education." According to Weiss, it costs approximately $3,000 for a high school education and, to date, the scholarship has provided 32 students with a high school education.
"I have always wanted to go to Africa to see what I could do to help," said Weiss. "The work I have done has inspired and move me so much that I have felt compelled to share my story with others."
"Weiss shares his personal journey to help Kenyan kids find hope through educational opportunities," a reviewer wrote in a five-star review of "Easy." "It's inspiring to read his first-hand account of how we minister to one another in a broken world."
To learn more about the author and his foundation, please visit his website.
"Just Give Them a Hug … and the Rest Will Be Easy"
By Brett Weiss
ISBN: 978-1-5320-1963-0 (softcover); 978-1-5320-1961-6 (hardcover); 978-1-5320-1962-3 (electronic)
Available at iUniverse Bookstore, Amazon and Barnes & Noble
About the author
Brett Weiss is a writer and former teacher living in Naperville, Il. He is a member of "The Children of Abraham Coalition" and received his bachelor's degree in political science and economics from Northern Illinois University.
Review Copies & Interview Requests:
LAVIDGE - Phoenix
Bryan Beach
480-998-2600 x 510
bbeach(at)lavidge(dot)com
General Inquiries:
LAVIDGE - Phoenix
Chris Pena
480-998-2600 x 519
cpena(at)lavidge(dot)com
Related Articles View More Books

Stories
More Hot Stories For You