Secret Betrayal - How to Heal Female Rivalries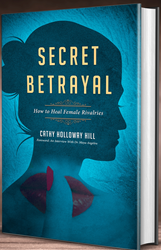 What motivates females of multiple ethnicities to bully, trash-talk, sabotage, and humiliate one another? How can so many women form close relationships while at the same time secretly gossiping, competing, betraying, backstabbing, and envying?
This book will show women how to have closer, healthier and more authentic relationships with each other and themselves.
Cathy Holloway Hill, Life Strategist and Psychologist breaks it down with her own experiences, tools, and behaviors to stop this epidemic head on. Cathy Holloway Hill has seen this behavior crush confidence, kill commitment, and destroy dreams. As an Author, Life Coach, Keynote Speaker, and Talk Show Host, Cathy compiled the same formula that has helped thousands of others into her new book. Cathy is a member of National Speakers Association, and has been featured in Black Enterprise, and Ebony Magazines. Cathy is highly sought nationally, and was honored as the 2012 Recipient of the Indiana Torchbearer Award by the Indiana Commission for Women and Governor Mitch Daniels, the highest honor a woman can receive in the State of Indiana. This book is timeless and a must have!
Secret Betrayal; How to Heal Female Rivalries - release date: May, 2018.
Research suggests that close to 90% of females conduct a thorough assessment upon meeting other females, and this "first impression" can have overall negative outcomes and consequences. This is an epidemic that spans multiple ethnicities and cultures resulting in a significantly negative impact on the quality of relationships among "sisters". Secret Betrayal uncovers the truth behind the root cause of the "epidemic". Included are interviews from female celebrities on the topic and the Foreword is a transcribed interview with the late great Dr. Maya Angelou.
Secret Betrayal will provide knowledge on:

Why it happens
How society reinforces hostile behavior
What men think and how it affects their opinions of women
How the female brain is wired
Numerous influences
Critical steps for healing
How to improve all relationships (with males & females)
and much more!
The book is available at http://www.chollowayhill.com or contact the Author at cathy(at)chollowayhill(dot)com.
Related Articles View More Books

Stories
More Hot Stories For You