San Diego Symphony Announces 2019 Bayside Summer Nights Lineup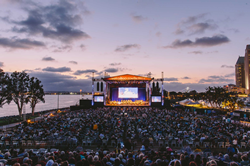 The San Diego Symphony has announced the lineup for its popular Bayside Summer Nights, packing the summer full of amazing screenings of the most classic films, some of the most beloved names in rock and a world premiere. At the heart of every Bayside Summer Nights season is the incredible San Diego Symphony Orchestra.
The 2019 season includes some very special concerts including a celebration of the San Diego Padres 50th anniversary with a musical tribute to America's favorite pastime; a symphonic night of hip hop featuring Common; two nights of Star Wars: The Empire Strikes Back™ In Concert with John Williams' unforgettable score performed live to the film; the Queen of Funk Chaka Khan; rock music's beloved The B-52s; J.K. Rowling's classic tale Harry Potter and The Half-Blood Prince™ In Concert; singer, composer and actor Lyle Lovett; and two special Comic-Con week concerts inside Copley Symphony Hall, Jacobs Music Center featuring the world premiere of Galaxy Quest™ In Concert and Back To The Future™© In Concert.
The San Diego Symphony's long-running summer concert series located on the Embarcadero Marina Park South provides audiences with a quintessential San Diego experience of live music paired with one of the most beautiful settings in America. Each summer the San Diego Symphony offers a great variety of concerts and experiences in the 10-week season. Holding with tradition, opening the series is the patriotic Star Spangled Pops on June 28 and 29, and the summer season concludes with a bang at the 1812 Tchaikovsky Spectacular on August 30 and 31 and September 1.
"Bayside Summer Nights is a ritual for many, and a new discovery for countless San Diegans who are learning what we all know - that it is a special combination of the San Diego Symphony Orchestra with some of today's top talents in the most beautiful location that is unique to San Diego," said San Diego Symphony CEO Martha Gilmer. "This summer's programming brings together artists across genres - with more classical programming, great films on the big screen, our annual tribute to Broadway, and fabulous guest artists. We cannot wait to welcome even more people to our Bayside Summer Nights where memories are made."
"It's also an extremely exciting time as we start bringing to life the details of our work on Bayside Performance Park. This new and improved Bayside Summer Nights experience will include a spectacular new park with a concert venue featuring a dramatic and iconic stage, state-of-the-art sound and lighting systems and high def LED screens. When Bayside Performance Park is complete it will instantly become one of California's most popular places to experience every kind of music," added Gilmer.
Some series highlights of the season include:
Thursday Night Jazz
Gilbert Castellanos returns for the fourth year as curator of the Symphony's popular Jazz Series, Thursday Night Jazz. The three-concert series offers a wide-range of styles and begins on July 25 with Congas and Bongos: Celebrating "Mongo" Santamaría and Jack "Mr. Bongo" Costanzo. The evening will be a fiery musical salute to Latin percussion pioneers Mongo Santamaría and Jack Costanzo featuring the many flavors of Latin Jazz/Afro-Cuban music. On August 8, we present A Nancy Wilson Tribute. Nancy Wilson was one of the leading songstresses of our era whose jazz, pop, R&B and soul crossing hits catapulted her to fame. Her death in 2018 was a great loss to popular song. The series concludes on August 22 with Miles Davis: Miles Ahea+19 In Concert, a follow-up to the sold-out success of Kind of Blue In Concert last Spring. This summer we'll showcase another Miles Davis masterpiece with the 19-piece KSDS Jazz Orchestra.
Movies by the Bay
The Harry Potter™ Film Concert Series continues with Harry Potter and the Half-Blood Prince™ In Concert on Saturday, July 13 and Sunday, July 14. The San Diego Symphony will perform the magical score live while the entire film plays in high-definition on a giant screen and guests can join in on Harry's adventures as never before.
On Thursday, August 1 and Friday August 2, one of the most popular science fiction films of all time, Star Wars: The Empire Strikes Back™ In Concert, will be shown on the big screen with John Williams' unforgettable score – from the brassy foreboding Imperial March to the noble "Yoda's Theme" – performed by the orchestra and conducted by Lawrence Loh.
Called the greatest musical ever filmed – Singin' in the Rain In Concert – dances its way to Bayside Summer Nights on Friday, August 23. Guests can experience the charm of Gene Kelly, Debbie Reynolds and Donald O'Connor on the big screen with the score played live by the San Diego Symphony Orchestra.
Get Your Geek On
On July 19 and 20 the San Diego Symphony encourages guest to get their geek on at our indoor home for two special Comic-Con week concerts. The cult-classic-sci-fi spoof Galaxy Quest™ In Concert arrives at Copley Symphony Hall, Jacobs Music Center on July 19 for its concert world premiere just in time for Comic-Con! Academy Award nominated composer David Newman conducts the San Diego Symphony performing the score he wrote.
On Saturday, July 20, power up the DeLorean and get ready to relive Back to the Future In Concert. Fans old and new will experience the thrill of this unforgettable movie classic on the big screen with the San Diego Symphony conducted by David Newman performing Alan Silvestri's musical score live.
The Ultimate Experience: Eight Concert Series
The Ultimate Friday or Saturday series is a way for guests to see it all. It provides a mix of performances and is the perfect mix for summer weekends. The series includes Star Spangled Pops (July 28-29), The Doo Wop Project (July 5), The Midtown Men (July 6) with stars from the original cast of Broadway's Jersey Boys, Legendary Women's Voices: An Evening with Cynthia Erivo (July 12), Hooray for Hollywood: A Night at the Oscars (July 26-27), The B-52s (Aug. 3), Classic Albums Live Presents The Beatles' Sgt. Pepper's Lonely Hearts Club Band (Aug. 9-10), Singin' in the Rain In Concert (Aug. 23), Chaka Khan (Aug. 24), and 1812 Tchaikovsky Spectacular (Aug. 30-31).
An annual event always looked forward to is the performance of the annual "Concert Under the Stars," a free concert for military families. This special day allows us to express our thanks and admiration to our military families.
All Bayside Summer Nights concerts begin at 7:30 p.m. (unless noted); gates open at 6 p.m. Fireworks happen at the conclusion of most Friday and Saturday night concerts—and also on Sunday nights at the Star Spangled Pops, Play Ball: A Symphonic Celebration of the Padres at 50 and 1812 Tchaikovsky Spectacular.
Pricing
Beginning Single Ticket prices will range from $17-$108 (all prices subject to change). Pre-paid parking is $30, and subscribers will reserve first with their orders.
Box Office: 619.235.0804
Website: http://www.sandiegosymphony.org
San Diego Symphony - Bayside Summer Nights 2019
Embarcadero Marina Park South
206 Marina Park Way
San Diego, CA 92101
BAYSIDE SUMMER NIGHTS 2019 CALENDAR OF EVENTS
*San Diego Symphony does not appear on these programs
STAR SPANGLED POPS FRI JUNE 28 | SAT JUNE 29
PLAY BALL: A SYMPHONIC CELEBRATION OF THE PADRES AT 50 | SUN JUN 30
*Lyle Lovett AND HIS LARGE BAND: CELEBRATE AMERICA WITH Lyle Lovett | THU JULY 4 at 7PM
THE DOO WOP PROJECT | FRI JULY 5
*THE Midtown Men SAT | JULY 6
DVO?ÁK'S NEW WORLD SYMPHONY | SUN JULY 7
LEGENDARY WOMEN'S VOICES: AN EVENING WITH Cynthia Erivo | FRI JULY 12
HARRY POTTER AND THE HALF-BLOOD PRINCE™ IN CONCERT | SAT JULY 13 | SUN JULY 14
GALAXY QUEST™ IN CONCERT AT COPLEY SYMPHONY HALL AT JACOBS MUSIC CENTER |
FRI JULY 19
BACK TO THE FUTURE IN CONCERT AT COPLEY SYMPHONY HALL AT JACOBS MUSIC CENTER | SAT JULY 20
*JAZZ: CONGAS AND BONGOS: CELEBRATING "MONGO" SANTAMARÍA AND JACK "MR. BONGO" COSTANZO | THU JUL 25
HOORAY FOR HOLLYWOOD: A NIGHT AT THE OSCARS | FRI JULY 26 | SAT JULY 27
A SYMPHONIC NIGHT OF HIP HOP FEATURING COMMON | SUN JULY 28
STAR WARS: THE EMPIRE STRIKES BACK™ IN CONCERT | THU AUG 1 | FRI AUG 2
*THE B-52s | SAT AUG 3
BEETHOVEN BY THE BAY | SUN AUG 4
*JAZZ: A TRIBUTE TO Nancy Wilson | THU AUG 8
CLASSIC ALBUMS LIVE PRESENTS THE BEATLES' SGT. PEPPER'S LONELY HEARTS CLUB BAND | FRI AUG 9 | SAT AUG 10
SOME ENCHANTED EVENING: THE BROADWAY HITS OF RODGERS, HAMMERSTEIN & HART | FRI AUG 16 | SAT AUG 17
*JAZZ: ULTIMATE Miles Davis | THU AUG 22
SINGIN' IN THE RAIN IN CONCERT | FRI AUG 23
*Chaka Khan | SAT AUG 24
*THE O'JAYS PLUS THE COMMODORES | SUN AUG 25
1812 TCHAIKOVSKY SPECTACULAR | FRI AUG 30 | SAT AUG 31 | SUN SEP 1
Bayside Summer Nights Subscription Packages
Subscriptions are on sale now.
Ultimate Friday: 8 Concerts: $152 - $680
Bravo or Encore Friday: 4 Concerts: $88 - $360
Ultimate Saturday: 8 concerts: $192 - $760
Bravo or Encore Saturday: 4 concerts: $104 - $392
Sunday Classical: 3 Concerts: $66-$270
Jazz: 3 Concerts: $51-$195
San Diego Symphony acknowledges the following corporate sponsors: Frank Subaru, MSI Production Services, The Fish Market, US Bank, Qualcomm, Hornblower Cruises & Events, The University Club, HME, Sycuan Casino, Bank of America, Cox Communications, The San Diego Union-Tribune, Van Cleef & Arpels, Fashion Valley Mall, The Port of San Diego, San Diego Commission for Arts and Culture, The Westgate Hotel, Marsh & McLennan Agency, Wells Fargo Private Bank, Southwest Airlines, Pacific Tugboat Service, Univision, California Bank & Trust, and Ashford University.
Subscriptions are currently on sale. Single tickets go on sale April 28. To purchase, visit http://www.sandiegosymphony.org or call the ticket office at 619.235.0804. Guests may also visit the San Diego Symphony Jacobs Music Center Copley Symphony Hall Ticket Office in person at 750 B Street, San Diego, CA 92101. An Embarcadero box office will be open beginning at noon of every concert day.
About the San Diego Symphony
Founded in 1910, the San Diego Symphony is the oldest orchestra in California and one of the largest and most significant cultural organizations in San Diego. The Orchestra performs for over 250,000 people each season, offering a wide variety of programming at its two much loved venues, Copley Symphony Hall in downtown San Diego and the Embarcadero Marina Park South on San Diego Bay. In early 2018, the San Diego Symphony announced the appointment of Rafael Payare as music director designate. Payare will lead the orchestra's 82 full-time musicians, graduates of the finest and most celebrated music schools in the United States and abroad. The SDSO also serves as the orchestra for the San Diego Opera each season, as well as performing at several regional performing arts centers. For over 30 years, the San Diego Symphony has provided comprehensive music education and community engagement programs reaching more than 65,000 students annually and bringing innovative programming to San Diego's diverse neighborhoods and schools. For more information, visit http://www.sandiegosymphony.org.
Related Articles View More Books

Stories
More Hot Stories For You