Rapidx X5 Car Charger Selected as One of This Year's Oprah's Favorite...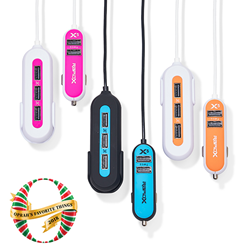 RapidX announced today that the X5 Car Charger is included in this year's Oprah's Favorite Things holiday gift list featured in the December issue of O, The Oprah Magazine and on OprahMag.com. The Oprah's Favorite Things annual list is a must-have holiday shopping guide that features the most decadent desserts, ingenious gadgets, and finest finds in home, fashion, and beauty. The X5 Car Charger will be available for purchase at
http://www.rapidx.io
(Use coupon code OPRAH for 20% off!), and in the Oprah's Favorite Things storefront on Amazon at amazon.com/oprah or on the Amazon App anytime, anywhere. New this year, shoppers will also be able to shop the list via shoppable video content streaming from their Amazon Fire TV devices by opening the Amazon Shopping App on their Fire TV device and selecting Oprah's Favorite Things to browse video content.
As Oprah says in the December issue of O, The Oprah Magazine, "Each of these X5 car chargers with an extra-long cord that can simultaneously boost up five devices, from phones to tablets. Translation: Both front- and backseat drivers can get some juice without coming to blows."
The X-5 charger was born from necessity. Being tired of the family fighting for the power cable, we decided it was time to find a way for all car passengers to charge their USB powered devices at the same time. The X-5 delivers fast charging speeds and supports up to 5 devices at once. Its intelligent recognition technology identifies your device, adjusts to its capabilities, and delivers the fastest charge possible. The extended USB hub, with its color-accented rubberized finish, offers flexibility for everyone in your car. Simply clip the USB hub extension onto your carseat pocket to enable those in the back to charge their devices, tangle free. Available in 8 stunning colors (Blue, Orange, Red, Green, Pink, Purple, Grey, and White).
Twelve lucky readers will have the chance to win every item, including the RapidX X5 Car Charger, on Oprah's Favorite Things List in the 12-Day Give-O-Way Sweepstakes (http://www.oprah.com/12days), which runs from November 28 through December 9. One additional winner will have the chance to win all 107 items with the Instant Win Code (http://www.oprah.com/instantwin18) found in the magazine kicking-off on December 10 and ending on December 14.
To see the full list of items please visit http://www.oprahmag.com/favorite-things.
The December issue of O, The Oprah Magazine, featuring the RapidX X5 Car Charger on this year's list, hits newsstands nationwide on November 20.
RapidX - Products for Modern Life