Powerful Emotions, a Gripping Plot and Two Islamic Heroines Feature in the Novel, 'A Thousand Splendid Suns'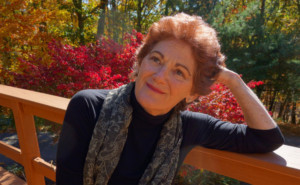 Author Khaled Hosseini did not think that his second novel, A Thousand Splendid Suns, was opera material - until composer Sheila Silver convinced him otherwise. "I had written him several letters," the Spencertown resident said. "But it wasn't until I sent him a very, very heartfelt letter, explaining why this is an opera, that he called me and said 'okay'."
That was more than 5 years ago - after Silver had listened to the best seller on tape and followed it up with a sit down read of the actual book. "I thought it would be the perfect opportunity for musicalization," the composer explained. "The emotions are powerful, the plot is gripping and it features two Islamic heroines."
With the fortuitous award of a Guggenheim fellowship, Silver gained the time necessary to work on the project - the most challenging and complex of her operas to date.
"Last summer we presented Act I as a workshop performance at Trinity Church in Manhattan," she added. "That enabled us to get funding and support from American Opera Projects (AOP) to continue. And Seattle Opera has committed to premiere the completed work in 2020."
But, the local Hudson Area Library has the jump on them both. The institution will be the venue for the only workshop performance of Act II - complete with a cast of 6 singers and 7 supporting musicians, on Saturday, November 18th. Performances will take place at 1pm and again at 4pm and are free.
"It's thrilling to have this opportunity," said Library Program Director Brenda Shufelt. "We've organized several events to emphasize the importance of this production." A Humanities NY discussion series: Muslim Journeys with Karuna Foudriat, began on the 18th (completely filled). Then, on Thursday, Sept. 28th, the composer will appear along with librettist Stephen Kitsakos for a discussion of the process involved in creating a libretto from the novella and ultimately, an opera. "That's a night to learn about the nuts and bolts," Shufelt added. Next, the Library Book Group will discuss the novel on November 8th. Followed the next evening by a film screening of Act 1. Finally, the workshop performances of Act II will occur on Saturday, the 18th of November.
"Hosseini has an exceptional following," Shufelt concluded. "To be able to share in the process of transition to an opera is a rare opportunity. Everyone should take advantage of this chance to see a great story set to extraordinary music."
For information and to make reservations, go to www.HudsonAreaLibrary.org.
Related Articles View More Books

Stories
More Hot Stories For You