Ohio Physician, Author Releases Revelations-Based Christian Novel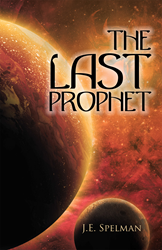 An Ohio-based physician and author has released her debut Christian novel, which puts forth a futuristic fictional account of the world's swift decline after the conclusion of Jesus' 1,000-year reign over humanity. In "The Last Prophet," J.E. Spelman delivers the story of Satan's return to Earth after a millennium of imprisonment and the destruction waged by hate and greed as it intrudes upon a long-peaceful society.
Based on a verse from the book of Revelations, Spelman's novel takes place more than 1,000 years in the future at the end of Christ's Millennial Kingdom, during which war, crime and hatred have all been eradicated and world peace has been achieved. However, the society's prosperity comes to a swift end when a mysterious group, guided by the Devil, attempts to overthrow Christ's kingdom and incites the spread of violence and evil across the globe.
"The majority of Christian apocalyptic fiction centers around the Rapture, Tribulation and Battle of Armageddon, but I wanted to take my book one step further to the true end of this world," Spelman said. "Ultimately, I hope that 'The Last Prophet' can serve as a fun, simple way to answer important faith-focused questions many Christians face in modern society."
Told from the perspective of a 15-year-old boy, the book explores the power of faith in God and the destructive nature of temptation and sin. As the book's protagonist explores his own questions about Christianity, he must overcome peer pressure, bullying, propaganda and the death of his parents and seek out spiritual truth through Jesus Christ.
"The Last Prophet"
By J.E. Spelman
ISBN: 978-1-5127-6923-4 (paperback); 978-1-5127-6921-0 (electronic)
Available at the WestBow Press Online Bookstore, Barnes & Noble and Amazon
About the author
J.E. Spelman is a primary care physician specializing in internal medicine and pediatrics. In her free time, Spelman teaches Sunday school and leads women's Bible studies and enjoys gardening and spending time with her husband and four children. She currently resides in Marion, Ohio. To learn more, please visit http://www.jespelman.com.
Review Copies & Interview Requests:
LAVIDGE - Phoenix
Danielle Grobmeier
480-998-2600 x 557
dgrobmeier@lavidge.com
General Inquiries:
LAVIDGE - Phoenix
Maggie Driver
480-998-2600 x 584
mdriver@lavidge.com
Related Articles View More Books

Stories
More Hot Stories For You