New Poetry Book Sheds Light on Human Struggle, Faith, and the Meaning...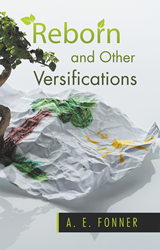 A.E. Fonner was struggling through a rough time in his life when he started writing poetry. With his hope almost gone, he dropped out of church and had frequent bouts of depression and thoughts of suicide. Through writing poetry, he was able to slowly heal.
In his new book, "Reborn and Other Versifications," Fonner's personal struggles are underscored through his poetry and accompanied by drawings that revolve around themes of faith, hope, life, death and more.
Arranged in an evolutionary fashion, the poems demonstrate personal growth and the process of grieving. It also portrays the series of emotions we all experience as we make sense of the world around us and our life within that world.
"My poems are proof there is hope when you are lost," Fonner said. "They run the gamut of emotions, but my intention is that every reader can learn from the highs and lows of life and how they help us understand our place in the world."
In "Reborn and Other Versifications," poetry fans can delight in prose from the author's heart and find inspiration and hope as they walk through their own life journeys.
"Reborn and Other Versifications"
By: A.E. Fonner
ISBN: 978-1-5320-3558-6 (sc); 978-1-5320-3559-3 (e); audiobook format
Available at the iUniverse Online Bookstore and Amazon
About the author
A. E. Fonner grew up in southwestern Pennsylvania. After spending six years in the U.S. Navy, he settled in Illinois but moved on to other opportunities after ten years. The father of two adult daughters, he currently lives in southwestern Michigan and works in quality assurance in the electrical generating industry. He holds a bachelor of science degree in technical management from DeVry University and has published another novel called "Ones Such as These." For more information about the author and his book, please visit: http://www.aefonner.com.
Related Articles View More Books

Stories
More Hot Stories For You