New Novel Weaves a Spellbinding Web of Secrets, Suspense, and Misdeeds...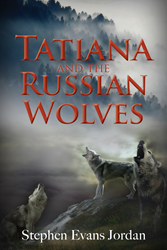 Jim Lehrer
, journalist, author, and former news anchor of the PBS NewsHour says, "There is for me, a first test of any novel. Do I want to turn to the next page and keep reading it? After reading the first 83 pages of Tatiana and the Russian Wolves, I can say, 'Stephen Evans Jordan knows how to write and how to tell a story.'"
New novel Tatiana and the Russian Wolves by first-time author Stephen Evans Jordan, weaves a spellbinding web of secrets, suspense, and misdeeds of the rich and powerful. A psychological thriller tying into today's headlines, social issues, and political environment that leads the protagonist, Alexander Andreivich Romanovsky, to reconciliation with himself, his mother, his ancestral country and the woman he loves.
A work of historical fiction set in San Francisco in the 1980s against the reverberations of the Russian Revolution, Jordan's forceful and engaging prologue invites readers inside the fortunes and fate of Alexander Andreivich Romanovsky. Historically layered with intellectual heft, readers' fascination with Russia, clandestine affairs, long-hidden secrets, blackmail, and sex will be drawn to Tatiana and the Russian Wolves. Especially readers with an interest in historical fiction.
Kirkus Reviews calls Tatiana and the Russian Wolves a "Serpintine journey that leaves readers curious about the fates of the people Alexander meets along the way."
Alexander adored his mother, Tatiana, an exotic and magical woman. Tatiana's imagination kept her past at bay until insanity—the Russian wolves— took her and unleashed Alexander's mental breakdown.
Although Alexander inherited many of Tatiana's gifts, he wonders if Tatiana's bequest includes insanity. Alexander sees himself as fragile; confronting Tatiana's past is a daunting task.
Ignoring Tatiana's gifts, Alexander has become an international banker and leads a comfortable life in San Francisco. However, he is blackmailed over an unconventional relationship and loses his job while piecing together Tatiana's suicide and family secrets.
An ex-lover is dying of AIDS and offers Alexander his business, an art dealership that Alexander would love. Will he withstand the gales that are sweeping through his life? Will he atone for his past dishonesty and be reconciled with those he loves? Or will he too succumb to the Russian wolves? Secrets––which to keep and which to share.
To learn more, visit: stephenevansjordan.com
Books are available online and in bookstores.
About the Author
Stephen Jordan's fiction is inspired from living overseas combined with a passion for history. He grew up in the Napa Valley in the 1950s in a family of readers—conversations often centered on books. Of his parents' gifts, love of literature is his most cherished.
Stephen discovered art history at Stanford and considered a career in the arts. He opted instead for international banking—with assignments in Southeast Asia and Africa. His short stories have been published in Ireland and in online journals.
Stephen and his wife, Susan, reside in Elmhurst—just west of Chicago—with their cat Lucy.
Related Articles View More Books

Stories
More Hot Stories For You