New Book Recounts Struggle to Find Spiritual Calling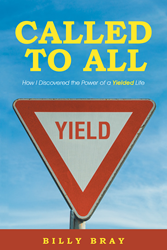 CHARLOTTESVILLE, Va. (July 17, 2017) - A Christian activist, campus speaker and author has released his latest and most personal book. It highlights his journey to find personal mission and make the will of God his own. "Called to All: How I Discovered the Power of a Yielded Life," by Billy Bray, is the powerful telling of one student's personal struggle against well-meaning authorities, family, friends, and religious traditions to find God's unique call on his life.
In sharing his story of crisis, Bray hopes he can help others deal with similar "crossroad decisions" in their own lives-understanding God's purpose and plan. The book, from Thomas Nelson/Westbow Press, covers nearly four years of youthful angst. Readers follow Bray as he navigates the trials and tribulations of finding his true purpose, often against the advice and wishes of well-meaning friends.
"I wrote this book to help raise up the next generation of international student leaders," said Bray. "I want my readers to understand the high costs of the missional claims of Christ on their lives-but it will strike a chord with readers from all walks of life. The lessons apply to all vocations and life stages."
"You will love Billy Bray's honesty as he shares his story with you," a reviewer wrote in a five-star review of the memoir, "I highly recommend this book to anyone serious about walking the Christian walk."
A captivating, compelling story of being empowered by God to take a leap in the dark, "Called to All: How I Discovered the Power of a Yielded Life" has a universal message for all spiritual seekers.
"Called to All: How I Discovered the Power of a Yielded Life"
By Billy Bray
ISBN: 978-1-5127-7049-0 (softcover); 978-1-5127-7050-6 (hardcover); 978-1-5127-7048-3 (electronic)
Available at the WestBow Press Online Bookstore, Amazon and Barnes & Noble
About the author
Billy Bray works with chosen individuals who dare to say "yes" to a supernatural calling on their lives. As an author, collaborator, editor and journalist he has spent a lifetime telling their stories and sharing their passions. He has traveled to over 55 countries focusing on international leaders and movements that are changing the destiny of cultures, nations, tribes and tongues. Based in Charlottesville, Virginia, he is chairman of the Overseas Students Mission and in demand as a special speaker.

Review Copies & Interview Requests:
LAVIDGE - Phoenix
Chris Peña
480-998-2600 x 519
cpena(at)lavidge(dot)com
General Inquiries:
LAVIDGE - Phoenix
Bryan Beach
480-998-2600 x 510
bbeach(at)lavidge(dot)com
Related Articles View More Books

Stories
More Hot Stories For You