New Book Interprets the Biblical Book of Genesis for Modern Times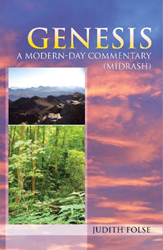 Judith Folse has always had a life-long love for the church, which has given her a "lens of love" as a worldview. In order to give back to those who have impacted her spiritually throughout her life, from multiple trips to Israel to study scripture to attendance at many different churches, Folse decided to add to the treasure trove of Christian materials that have been available over the last 2,000 years with her new book, "Genesis: A Modern-Day Commentary (Midrash)."
Folse's work is the examination of the book of Genesis in the Bible which presents every story in the book, from Adam and Eve to Noah's Ark and more.
The book is based upon Folse's interpretation of the scriptures, making it a Midrash, enabling it to be written based on the words in the Bible without commentary from previous interpreters.
Folse also utilized her professional background as a Certified Public Accountant to distill complex materials into an easily readable book on Christianity for Christians and non-Christians alike.
The book also highlights how the Bible is relevant to today's modern world, such as how God took Abraham and made a great nation from him despite Abraham coming from a Pagan background. Paganism was historically looked down upon in the Bible, though Folse shows how no matter where you come from, you are never beyond God's plan for your greatness.
"One of the most important things we can do today is understand the Bible, as it is increasingly relevant to modern times," Folse said. "'Genesis' is a new way for us to understand how in our modern world, the creation story can show us the path to God's plan of redemption for humankind."
In "Genesis: A Modern-Day Commentary (Midrash)," Christians and non-Christians alike can understand the history and relevance that the Bible gives them through moral and practical guidance about how to navigate life successfully.
"Genesis: A Modern-Day Commentary (Midrash)"
By: Judith Folse
ISBN: 978 -1-9736 -1658 - 0 (sc); 978 -1-9736 -1659-7 (hc); 978 -1-9736 -1657-3 (e)
Available at the WestBow Press Online Bookstore, Barnes and Noble and Amazon
About the Author
Judith Folse has practiced different denominations of Christianity throughout her life from being raised as a Catholic to becoming part of the Baptist Church after marrying her husband. She's had a life-long love for the Church and scriptures, has studied the Bible as well as traveled to Israel to further her Bible and scripture studies several times in her life. Folse is a Certified Public Accountant by profession with 31 years' experience with the IRS and owns a CPA practice, Judith Folse Witteman, CPA, PLLC. She is currently a member of the Kingsland Baptist Church and has been singing in the church for over 25 years. For more about the author and her book, please visit: http://www.judithfolse.com/
General Inquiries, Review Copies & Interview Requests:
LAVIDGE – Phoenix
480-998-2600 ext. 557
dgrobmeier@lavidge.com

Related Articles View More Books

Stories
More Hot Stories For You