New Book Claims Twelve Years A Slave is Fake News From 1853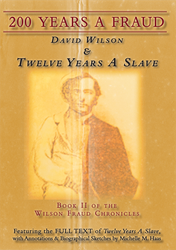 A new book penned by historical researcher Michelle M. Haas says Twelve Years A Slave is actually a literary fraud, written by a serial fraudster.
Haas, an editor and historical researcher in Texas, was fact-checking a bogus 19th century Texas Ranger memoir when she discovered its author also wrote Twelve Years A Slave. The slave memoir was made into the 2013 Oscar-winning movie by the same name. It was purportedly written by freed slave Solomon Northup and was originally published in 1853.
That discovery sent Haas on a fact-checking journey of the book that has been called "the most accurate account of American slavery ever written." What she found was a crazy-quilt of fabrication and plagiarism, stitched together in a money-making scheme hatched by two New York lawyers, according to the book.
"I saw an opportunity to answer some important historical questions." said Haas. "I knew my work would anger some people. We live in a racially charged time where a book like this is going to touch some sensitive nerves. But it's the duty of a researcher to follow the evidence, to follow history. History can lead us to some very dark places."
Haas' new book, 200 Years A Fraud - David Wilson & Twelve Years A Slave is the result of two years of full time research into the story of Solomon Northup. It contains the full text of Twelve Years A Slave and examines the Northup narrative scene by scene, with annotations throughout and back stories on all of the characters-even the villains other historians have ignored.
This is her third book exposing historical frauds. Her first book, Dad & Doc, debunked the mythology about the discovery of the great East Texas Oilfield and revealed the two principle characters as con men. Her second, David Wilson and Three Years Among the Comanches, exposed the supposed Texas Ranger memoir as a fraud, actually comprised of material the author intended for a book about a female Indian captive. "After researching that book, I couldn't let David Wilson's involvement in Twelve Years a Slave go unexplored," she said.
"200 Years A Fraud - David Wilson & Twelve Years a Slave"
By Michelle M. Haas
Hardcover | 428 pages | ISBN 978-1941324424
Available at Amazon and from the publisher at Americography.com
Kindle | 373 pages | ASIN B072TNGKN8
Available at Amazon
About the Author:
Michelle M. Haas has been the managing editor, chief designer and all-around hellraiser at Copano Bay Press for the last decade. Her interests include typefaces, Texas history, bugs and judging your grammar. She dislikes The Beach Boys and does a pretty solid Sam Houston impression.
About the Publisher:
Americography is a new imprint of Copano Bay Press, specializing in American history.
Related Articles View More Books

Stories
More Hot Stories For You