New Autobiography Relives a Childhood of Freedom from a Baby Boomer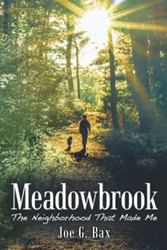 Joe G. Bax returns to the publishing scene with the release of "Meadowbrook: The Neighborhood That Made Me" (published by Archway Publishing). Told through the point of view of an adolescent, the autobiography depicts the life of the baby-boomer generation — "a childhood of absolute freedom, limited only by our imaginations."
Set in Meadowbrook, a subdivision in southeast Houston, during the 1950s, Bax guides readers through his childhood, during "a much simpler time." Meadowbrook was an average neighborhood of ordinary people; yet, each person made an impact on one another, and their influence lasted a lifetime.
The book shares the candid, uncensored response of Bax's adolescent mindset, made contemporaneously with each event. He believes that the comments will simultaneously shock, entertain and educate readers.
"Have you ever wondered what your child is really thinking? 'Meadowbrook: The Neighborhood That Made Me' will give you the answer, an answer that will amaze and amuse you," Bax says. "Baby boomers will enjoy the walk down memory lane. All parents will be quickly educated in the true world of an adolescent. Youngsters will now be able to understand their grandparents. 'Meadowbrook' encourages the interaction we now miss."
To know more and purchase the book, readers can visit [add landing page link].
"Meadowbrook: The Neighborhood That Made Me"
By Joe G. Bax
Hardcover | 6 x 9in | pages | ISBN 9781480869943
Softcover | 6 x 9in | pages | ISBN 9781480869936
E-Book | pages | ISBN 9781480869929
Available at Amazon, Barnes & Noble, ArchwayPublishing.com and Ingram Book Distributor
About the Author
Joe G. Bax, a product of Meadowbrook, a subdivision in southeast Houston, Texas, lives in San Antonio with his wife, Michele. He graduated from the University of Houston and Texas A&M University with a bachelor's in American history and a master's in Southern history. He also earned a doctorate of jurisprudence. He has written many nonfiction articles and two historical novels: "The General and Monaville, Texas" and "A Texas Destiny, the Saga Begins." He and his wife have two daughters, Brittani and Courtney (deceased). He retired from the practice of law in 1994 and returned to his agrarian roots as a rancher until 2012.
Related Articles View More Books

Stories
More Hot Stories For You