Marimba One Hosts International Marimba Academy in Arcata, Calif.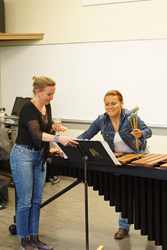 IKMMA 2017 in Arcata
The resonant sound of marimba echoed from locations all across the small town of Arcata, CA when percussion artists and students came together to play marimba at the eighth annual International Katarzyna Mycka Marimba Academy (IKMMA). Led by world-renowned Polish marimba artist Katarzyna Mycka, the academy was held in the United States for the first time from June 2nd-11th. This year, the academy was hosted by Marimba One, a manufacturer that designs and builds marimbas 100% in California.
This year, thirty-one IKMMA participants came to Arcata from as far away as China and Sweden, and as close as our very own Humboldt State University. In preparation, students were given scores to practice before they arrived at the academy. Once there, the students got together and practiced their pieces in ensembles.
"My aim is to create an environment in which students have a chance to play with people who are active in the field," Katarzyna Mycka explained. Each day, the students got individual lessons from the faculty of professional marimba artists which included Katarzyna Mycka, Jean Geoffroy (France), Andreas Boettger (Germany), Juan Forero (Colombia) as well as composer Arkadiusz Katny (Poland). Staff included Conrado Moya (Spain) and Filip Mercep (Croatia).
In the evenings, students and teachers alike performed the pieces that they practiced at the academy for the general public. At the opening and closing concerts at the Arcata Playhouse students and teachers performed for overflowing audiences and standing ovations. During the week, the concerts and lessons took place at Humboldt State University.
Bringing IKMMA to the United States and Arcata was a leap of faith because the academy had only been held in the European countries Poland, Germany, and Luxembourg in years past. However the long-standing friendship between Marimba One founder Ron Samuels and Katarzyna Mycka convinced her to bring her academy to Arcata. In Ron's words: "our relationship is rooted in deep trust, we really believe in each other."
For Ron, bringing IKMMA to Marimba One's hometown of Arcata was an opportunity to share the instruments he loves with his community. While many locals know Marimba One's reputation, not all were familiar with the sound of the marimba before IKMMA came to town.
A highlight of the week was a tour of the Marimba One workshop with owner Ron Samuels. Marimba players got to see how their beloved instruments were built, listened as master tuners tuned the rosewood bars and watched craftsmen hand assemble the resonators. From the assembly of the metal frames to the hand picked rosewood keyboards, students were able to see the entire process because every part of a marimba one is handcrafted in Arcata, California.
Thirty-five years ago, when Ron first heard the marimba, he instantly fell in love with the sound. He was in college at the time and couldn't afford a marimba. However after looking at the parts he decided that he would make his own. Without any prior building experience, Ron said that his first marimba turned out "so bad [he] had to make another one." Ron kept building marimba after marimba on a quest for the perfect sound. Once he had the instrument he wanted, he wasn't ready to stop. Only five years after discovering marimba, Ron founded Marimba One. He started selling his marimbas driven by a love for building the instrument and sharing the music of the marimba. Today, Marimba One is the world's leader in concert marimbas and vibraphones, with instruments shipping to over 40 countries worldwide.
"What I got out of IKMMA the most above all else was the friendships I made with everyone." Felix Reyes, IKMMA student, said. Some other favorite memories of IKMMA include hanging out with fellow musicians outside of rehearsals and exploring the local beaches and redwood forests. Students and staff alike had fun dancing at the final concert after party at the Marimba One factory, where musicians improvised on the One Vibe, Marimba One's latest product.
When explaining why she is so dedicated to IKMMA, Katarzyna Mycka said: "the marimba has a very special sound….its direct influence on the player and audience is obvious. It's important to organize events like IKMMA - with no competition, big support for everyone and a lot of chamber music with people from different countries - a real "Bridging the World" - as one performed work was called."
Related Articles View More Books

Stories
More Hot Stories For You