MCP Books announces the launch of The ProportionFit Diet & Health...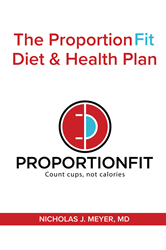 The ProportionFit Diet & Health Plan is a simple, effective, and inexpensive plan for weight loss and improved health. Dr. Meyer's book is filled with comprehensive instructions and everyday tips that educate readers about losing weight and maintaining a healthy physique by counting cups of food and following meal plans using this measurement. With a scientific background and a history of success, this is the most informative, practical, and efficient diet and health book to enter the market. ProportionFit serves as a step-by-step guide that will teach you how to battle weight loss on your own and create a better version of yourself.
The ProportionFit Diet & Health Plan is a scientifically proven method for fighting obesity in today's society, in which overweight individuals comprise about 70 percent of the US population, despite the billions of dollars spent annually in the diet industry. Nutritional information, school programs, and even Michelle Obama have failed to bend the obesity curve, but with the tested ProportionFit plan, losing weight and sustaining a beneficial diet becomes an easy and successful process. This fundamental diet and health plan will help you begin to regulate your body weight and nutrition to achieve real and lasting results.
About the Author
Nicholas J. Meyer, MD grew up in White Bear Lake, Minnesota, as a son of two social workers. After attending the US Military Academy at West Point and playing Division One hockey, Meyer became an orthopedic surgeon and has used his skills to raise awareness about the importance of physical health and fitness. He has been awarded "Top Doctor" status in Minneapolis/St. Paul Magazine for five years running.
For further information, visit ProportionFit.com or contact NickMeyer(at)ProportionFit.com.
Related Articles View More Books

Stories
More Hot Stories For You