Johnny's Pizza House Inducted into Pizza Hall of Fame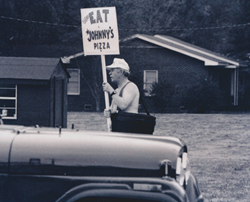 May 3, 2018 -Johnny's Pizza House in West Monroe, Louisiana, has been inducted into the Pizza Hall of Fame, which celebrates America's oldest and most beloved pizza restaurants.
Created by PMQ Pizza Magazine, the world's authority on pizza, the Pizza Hall of Fame, located at http://www.PizzaHallofFame.com, pays tribute to the rich cultural history of American pizza and honors the perennially popular U.S. pizzerias that have been in business for 50 years or longer.
In 1967 Johnny's Pizza House had enjoyed 22 years of growth, but despite the 42 locations, sagging economy and low-priced competition forced the pizzeria into Chapter 11.
"Johnny put on a barrel held up by suspenders-the stereotypical poor-person look-and stood at the busiest corner in West Monroe holding a sign that said, 'Please eat Johnny's Pizza,'" recalls Melvin DeLacerda, president and CEO of Johnny's Pizza House. "He was all over TV, and business picked up. He was willing to embarrass himself for the good of the company."
His efforts won the hearts of locals, and made an impressive rebound from bankruptcy. The company now has 33 corporate-owned and 10 franchised locations. Hunstman, who passed away in 2017 after a battle with Alzheimer's, left a legacy that reaches beyond his legendary pies. With no family members interested in ownership, he established an employee stock ownership plan (ESOP), which creates retirement accounts for all employees after one year.
Conceptually, the Pizza Hall of Fame has existed for nearly 10 years, since PMQ publisher Steve Green inducted Lombardi's Pizza in New York on November 1, 2005. The Pizza Hall of Fame website was launched in October 2014 as part of National Pizza Month. All inductees have been featured in the "Pizza Hall of Fame" section of PMQ's print magazine.
"Pizza is such an integral part of the American experience," Green said. "We wanted to commemorate its role in our culture. Every pizzeria in the Pizza Hall of Fame-and each one that will be inducted in the future-is a local landmark. These pizzerias are more than restaurants-they are institutions in their communities."
Visit http://www.PizzaHallofFame.com to learn more about this story and others in the Pizza Hall of Fame. For more information about PMQ Pizza Magazine, visit http://www.PMQ.com.
Related Articles View More Books

Stories
More Hot Stories For You