Helping Children Discover a God-Given Purpose in 'Company for the...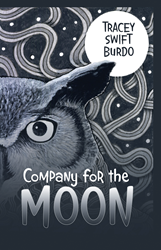 Author Tracey Swift Burdo decided to embrace her love of writing after she began creating entertaining stories for her daughter. She makes her author debut with "Company for the Moon," an inspiring juvenile fiction book that chronicles the story of a young girl with a disability who embarks on a journey in search of her life purpose and path God has planned for her.
In this tale, a young girl named Abigail sets out on a journey to find out if God has a purpose for her, despite her learning disability. Along with Abigail, readers discover that another character, who is part of the animal world, is also on the same journey to discover and learn about his own purpose and place in life.
"Company for the Moon," peppered with Burdo's own black and white illustrations, mirrors Abigail's journey to self-actualization through members of the animal kingdom and their own search for truth and purpose.
"The book came about during a family crisis and reflects my own continuing search for God's purpose in my life," Burdo said. "On this journey, I've learned that God created every human being with an individual purpose and that fulfilling that purpose will always bring God glory."
Burdo hopes the main character, Abigail, will inspire children with disabilities to discover the meaning of their own lives. "I want children to know that having a learning disability or other challenges does not prevent them from seeking and fulfilling their own purpose," she said.
"Company for the Moon" will help all children realize they have a God-given purpose that will glorify the kingdom of God as well as enrich their own lives.
"Company for the Moon"
By Tracey Swift Burdo
ISBN: 978-1973607540 (softcover); 978-1973607533 (hardcover); 978-1973607557 (electronic)
Available for purchase at Burdo's website and Amazon
About the author
Tracey Swift Burdo is a married mother of three and a New York native. She has extensive experience as a designer and illustrator. She attended Parsons School of Design and Pratt Institute in New York. She and her husband Hal reside in the New York Area. Burdo is excited to provide complimentary or discounted copies of "Company for the Moon" to churches, children's organizations and children with disabilities. To learn more and get in touch, please visit http://www.traceyswiftburdo.com.
Related Articles View More Books

Stories
More Hot Stories For You