Expert Hunter Documents Travels to Remote International Regions in...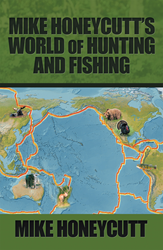 An experienced globetrotter and expert hunter and fisherman has released his one-of-a-kind travel book that, through short, journal-style entries, sweeps readers up on an international escapade, taking them to some of the world's most remote locations in search of exotic trophies.
In "Mike Honeycutt's World of Hunting and Fishing," author Mike Honeycutt relives nearly two decades of his travel experiences, inviting armchair adventurers to come along with him as he tracks dangerous game in the Gobi Desert, embarks on a polar bear hunting expedition through the Arctic ice pack and fishes in Red Lake, Ontario.
"Through this book, I want to reach out to anyone with the spirit of adventure or the desire to learn more about remote areas of the world, such as those with proximity to the Ring of Fire," Honeycutt said. "Experiencing new cultures, foods and environments has been the passion of my life, and my hope is that my escapades in 'Mike Honeycutt's World of Hunting and Fishing' will instill within others the desire to do the same."
A unique and exciting portrait of the global hunting and fishing landscape, Honeycutt's book gives readers an intimate look into the author's experiences traveling the world and learning about other cultures while also detailing some of the basic aspects of being an exotic game hunter, such as how he was able to get the trophies he claimed through airport security.
"Mike Honeycutt's World of Hunting and Fishing"
By Mike Honeycutt
ISBN: 978-1-4907-8805-0 (hardback); 978-1-4907-8804-3 (paperback); 978-1-4907-8925-5 (electronic)
Available through Trafford Publishing, Barnes & Noble and Amazon
About the author
Mike Honeycutt is passionate about global travel, hunting and fishing and has decades of experience in pursuing and claiming exotic trophies. Honeycutt is the CEO of Lady Lou LTD and holds a degree from Southwest Missouri State University. He currently resides in remote South-Central Missouri. To learn more, please visit http://www.mikestravelringoffire.com or view a trailer for the book on YouTube.
General Inquiries, Review Copies & Interview Requests:
LAVIDGE – Phoenix
480-648-7557
dgrobmeier@lavidge.com
Related Articles View More Books

Stories
More Hot Stories For You