Essex Books Presents Shelf Awareness: Baby University
Quantum theorist Chris Ferrie's Baby University series (Sourcebooks Jabberwocky; $9.99 each, ages 0-3) began as something of a joke: he wanted to create a "prop nerdy baby" book. When his wife and children enjoyed his creation, Ferrie decided independently to publish Quantum Physics for Babies in paperback. Then, Mark Zuckerberg posted a picture on his Facebook page of him and his wife reading the paperback to their newborn, and Ferrie's joke quickly became very serious.
In this board book series, Ferrie makes his knowledge accessible to the youngest of readers--and probably some adults, too. Though the four titles in the series offer "simple explanations of complex ideas for your future genius," the books may be a bit beyond the comprehension of your average baby, but the subject material will certainly be enjoyable for trendy caretakers to read aloud. (And the pictures of babies chewing on the covers are going to be #instaworthy.)
General Relativity for Babies starts with a ball that "has mass," introduces the reader to "flat space" and "warp" and explains how "space drags mass." With simple circles, lines and arrows, baby learns how "waves stretch and squish space throughout the universe."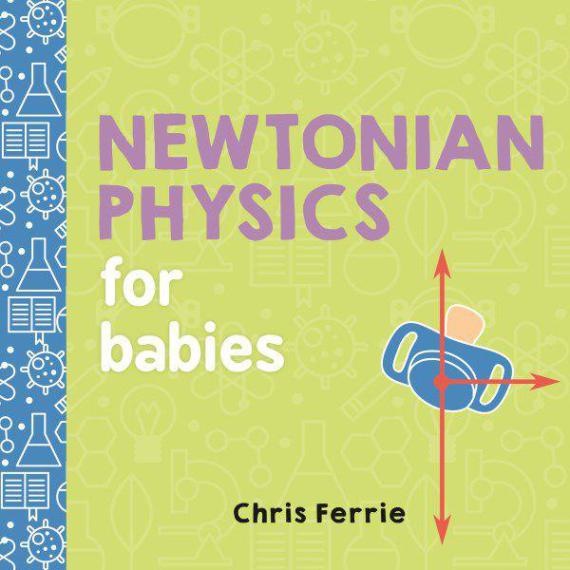 Newtonian Physics for Babies uses only circles and arrows to explain how "the force of the ground always equals the force of gravity."
Quantum Physics for Babies states that "all balls are made of atoms." It breaks atoms down into protons, neutrons and electrons and explains that an "electron can take energy to jump up. And it must give energy to fall down. This amount of energy is a quantum."
Rocket Science for Babies changes the shape of the ball with which all the other books have begun in order to change the air flow around it: "If the air goes down, the shape goes up!"
Written by Siân Gaetano, editor children's and YA editor, Shelf Awareness
Related Articles View More Books

Stories
More Hot Stories For You