Education Expert Presents Fresh Approach to Classroom Leadership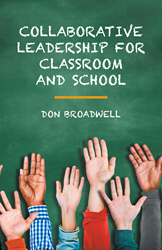 A Seattle-area educator has released his practical guidebook for teachers and education administrators, which introduces his fresh perspective on cultivating collaborative leadership environments in institutions of learning.
In "Collaborative Leadership for Classroom and School," Don Broadwell, who has more than 25 years of experience teaching at the college level, presents a twin-poled model that empowers teachers to pursue school reform one classroom at a time. Broadwell's linear model reconciles authority with participatory leader designs and modernizes classroom leadership to include the voices of students.
"Teachers who embrace my model can hammer out their own set of preferred styles," Broadwell said. "They can become captains of their own reform, separate from the political demands of Corporate America, right-wing foundations and governing agencies."
"Broadwell's leadership approach is brilliant," a Readers' Favorite reviewer wrote about the book. "… I share Broadwell's hopes that the current administration continues to define an education policy that makes each school 'a place of vitality and excitement rather than fear and loathing.'"
An antidote to the current education system's ills, Broadwell addresses the demise of No Child Left Behind and the limited interaction provided to millennial students on issues that affect them. Through Broadwell's contemporary approach to leadership, he seeks to enhance the student-teacher relationship and empower educators to instigate change.
"Collaborative Leadership for Classroom and School"
By Don Broadwell
ISBN: 978-1-532-00907-5 (paperback); 978-1-532-00908-2 (electronic)
Available at the iUniverse Online Bookstore, Barnes & Noble and Amazon
About the author
Don Broadwell teaches collaborative leadership at Green River College and Seattle Pacific University, where he has been for the past 25 years. He currently resides in Maple Valley, Wash., and directs the Institute for the Study of Collaboration and Teamwork. To learn more, please visit http://www.the-collaborative-center.org.
Review Copies & Interview Requests:
LAVIDGE - Phoenix
Danielle Grobmeier
480-998-2600 x 614
dgrobmeier(at)lavidge.com
General Inquiries:
LAVIDGE - Phoenix
Maggie Driver
480-998-2600 x 584
mdriver(at)lavidge.com
Related Articles View More Books

Stories
More Hot Stories For You