Debut Novel on Breaking Life's Rules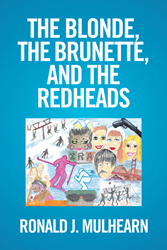 Living life to the fullest while enjoying adventures and accepting mistakes, Ronald J. Mulhearn guides readers through an unconventional journey in his debut novel "The Blonde, the Brunette, and the Redheads."
Dan Holloran is naïve and obedient until he decides to rebel. Divorcing his wife, he lives in wonder and exploration, having a variety of experiences with women and a love affair with alcohol.
"I knew I had a story in my head for many years," said Mulhearn. "Many of my personal journal entries helped inspire this novel."
Dan finds sanctuary in a group that ultimately becomes his undoing as he learns that there is no justification when one loses his soul.
"The Blonde, the Brunette, and the Redheads" serves as the first book in Mulhearn's proposed trilogy. He is currently working on the second manuscript.
"The Blonde, the Brunette, and the Redheads"
By Ronald J. Mulhearn
ISBN: 978-1-52452-884-3 (hardcover); 978-1-52452-883-6 (softcover);
978-1-52452-882-9 (eBook)
Available on Amazon, Barnes & Noble, and Xlibris
About the author
Ronald J. Mulhearn was born and raised in Brooklyn, New York and Valley Stream, Long Island. After four years serving in the Vietnam-Era US Navy, Mulhearn attended and secured a B.S.C.S. degree with a minor in English from Loyola College at Baltimore. His dream has always been to write a novel, but his fifty-plus hours per week in the Military-Industrial Complex only allowed him to write a box full of journals. Many ideas for his debut novel came from these journals. Mulhearn still likes to ski, hike, camp, exercise, travel, dance, cook, entertain, and socialize. To learn more, please visit http://www.rjmulhearn.com.
Review Copies & Interview Requests:
LAVIDGE - Phoenix
Bryan Beach
480-998-2600 x 510
bbeach(at)lavidge(dot)com
General Inquiries:
LAVIDGE - Phoenix
Chris Pena
480-998-2600 x 519
cpena(at)lavidge(dot)com
Related Articles View More Books

Stories
More Hot Stories For You