Best Practices Handbook for Parent Artists and Employers Compiled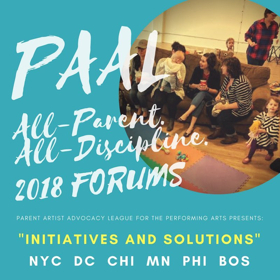 Parent Artist Advocacy League for the Performing Arts (PAAL) has compiled the first contributions to their Best Practices Handbook for Parent Artists and Employers to be available nationally to theatres in the United States. The handbook consists of principles that can apply to a wide range of institution levels, from Broadway to Regional to Festival-size theatres, and features credited theatres and artist testimonials from around the country. Topics include the intersectional and intergenerational effects of parent discrimination, true stories of individual parent-artist discrimination and job loss, and research recommendations for reducing discrimination. The body of the work presents recommendations for a variety of best practices, including Top-Down Foundational Principles, Work Culture and Language, Work Location and Provision, Work Schedule and Technology, Creative Childcare Initiatives, Sensitivity Training and Resources, Benefits Beyond Parent-Inclusive Culture, and more.
The Best Practices Handbook for Parent Artists and Employers is designed for institutions of various size and will be provided free of charge. Portions of the handbook will be presented at the Statera Conference in Milwaukee this October with a focus on motherhood, mentorship, and intersectional gender equity. The handbook first excerpts will be available nationally by the end of fall 2018.
Discipline-specific pregnancy and parenthood handbooks are underway to synergize the resources available to individual parent artists and institutions, including a pregnancy and parenthood handbook for Actors and Stage Managers in collaboration with the Actors' Equity Parents Committee and a pregnancy and parenthood handbook for Directors, led by PAAL Chief Chicago Rep Lydia Milman Schmidt and contributions collected with SDC Member Aili Huber. Other disciplines are scheduled to follow.
The national best practices handbook features research recommendations, testimonies and initiatives from various theatre companies around the country. If a theatre company or organization is interested in being featured for their initiatives in the handbook, the company or organization can submit for a PAAL award, which is recognition award for theatres with family-friendly practices that corresponds to a master list on the PAAL website of recommended theatres. Individuals who would like to contribute to best practice recommendations can submit their experiences by contacting PAAL.contact@gmail.com. If an individual artist has a story of discrimination that they would like to submit anonymously, PAAL is also collecting stories of discrimination in order to report on the status of parent artists' accessibility to work, opportunity, and healthy work culture. PAAL is most interested in expanding their chapters on solo parenting, parents of children with disabilities, and parent artists with disabilities.

Theatre companies with family-supportive practices can submit themselves here. Stories of discrimination can submit here. Inquiries and individual contributions can be submitted to PAAL.contact@gmail.com.
Related Articles
View More Books

Stories
More Hot Stories For You