Author Unravels God's Love Story in Debut Christian Book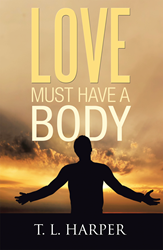 A California-based writer has released his debut Christian book, which delivers a clear and impactful exposé to the "why" behind God's astonishing expression of love within His personal connection with humanity.
In "Love Must Have a Body," T. L. Harper, who has more than four decades of experience working among national and international ministry leaders, presents readers with a timeless depiction of the power and transformative nature of God's love. Through this, Harper invites readers to enter into the unique purpose and destiny God has specifically designed for them.
"Having traveled extensively both in the U.S. and abroad, I want all cultures to see the inseparable interface between God and humankind through a different lens than perhaps traditional theological perspectives view it through," Harper said. "Many Christians are at a loss to explain the 'why' behind God's decision to reveal himself to humankind the way he has done. This book will draw you into a more intimate understanding of the attention God has for each one of his human creations."
A scripture-driven, easy-to-digest and stimulating guide, "Love Must Have a Body" will enlighten readers to God's intense desire toward them. Harper invites the reader to ponder the essence of his or her existence at their very core within the timeless dimensions of God's epic love story.
"Love Must Have a Body"
By T. L. Harper
ISBN: 978-1-5127-9783-1 (hardback); 978-1-5127-9782-4 (paperback);
978-1-5127-9781-7 (electronic)
Available at the WestBow Press Online Bookstore, Barnes & Noble and Amazon
About the author
T. L. Harper is the director of The Phileo Foundation. Harper holds degrees in music and theology and has spent more than 40 years in ministry, 10 of which include experience conducting full-time ministry and leading a gospel singing group in the U.S. and abroad. He currently resides in San Diego. To learn more, please visit http://www.lovemusthaveabody.com.
Review Copies & Interview Requests:
LAVIDGE - Phoenix
480-648-7557
dgrobmeier(at)lavidge.com
General Inquiries:
LAVIDGE - Phoenix
480-998-2600 x 584
mdriver(at)lavidge.com
Related Articles View More Books

Stories
More Hot Stories For You