Author Ashtar Tashi Shares her Experiences of Self-growth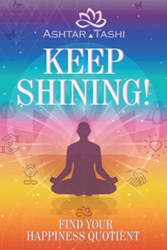 A woman who has lived life well, growing up in a well-known business family and travelling the world and being exposed to global cultures and experiences from a young age, Ashtar Tashi has seen and explored the world all her life. But as every human being, she too has gone through several emotional journeys and her learning helped her discover herself. This prompted her to write "Keep Shining!: Find Your Happiness Quotient" (published by Balboa Press), a book of her experiences and she shares this so that others may also benefit from her learning.
"Keep Shining!: Find Your Happiness Quotient" is a compilation of stories and insights that emanated from Tashi's own journey within. A fashionista who loves to live life fully, she discovered that one could find happiness and live life in harmony without having to give up on the pleasure and joy that life offers. Balance is the key.
Readers may visit https://www.balboapress.com/Bookstore/BookDetail.aspx?BookId=SKU-001140223 to purchase and to know more about the book.
"Transformation is a magical experience. Let go right now of all that stops you. Release your old beliefs and have absolute faith in your potential to soar. The minute you start believing in this, you will watch your wings sprout and become the butterfly you are meant to be," Tashi declares.
Tashi firmly believes that readers will resonate with her stories of life that have brought forth a lot of learning and understanding of life's various challenges. The book will give readers the courage to face their challenges knowing that they are not alone in their struggles and they too can overcome their difficulties and become stronger souls, just like Tashi has.
"Keep Shining!: Find Your Happiness Quotient"
By Ashtar Tashi
Hardcover | 6x9in | 120 pages | ISBN 9781504380256
Softcover | 6x9in | 120 pages | ISBN 9781504380232
E-Book | 120 pages | ISBN 9781504380249
Available at Amazon and Barnes & Noble
About the Author
Ashtar Tashi channels energies from divine realms and using the gift of psychic and intuitive abilities, she helps people in resolving various issues ranging from personal, professional and spiritual. She also is blessed to be a soul medium and helps connect with other dimensions. It is her soul mission to guide people to explore their highest potential within oneself and achieve self-realization and feel empowered. Tashi helps each individual to be on this path of becoming cleansed, healed and content. The process begins with love. "With passion, love yourself," is the vibrant message Tashi has for all.
Related Articles View More Books

Stories
More Hot Stories For You