A Fun and Educational Resource for Teaching Kids Safety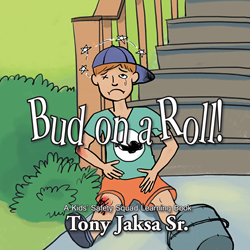 For parents, grandparents, and everyone who wants to help little ones stay safe from those nasty scrapes and bruises while out playing or helping in the yard, there is an answer. "Bug in the Eye" and "Bud on a Roll" are the first two books in a series of eight children's picture books designed to be fun to read while they educate our kids about at-risk behaviors and how to avoid the pain from unintentional injury. Join Pops, Bud and Bug on a Kids Safety Squad adventure today.
Written by construction site safety officer Tony Jaksa Sr., the series showcases real-life incidents that can occur when children play hard and fast and do not know of erring on the side of caution.
Jaksa said that while babysitting his grandkids, he felt their pain when they came to him in tears with scrapes and bruises. So, after rendering first aid, Jaksa and his grandkids sat down and talked about what had happened. They drew pictures and talked about what they could do different the next time the incident happened so there would be less pain, less crying, and more fun in Pop's big yard. Always being safety minded, Jaksa wrote pictorial reenactments of these incidents that happened while caring for his grandchildren. Thus, the Kids Safety Squad children's picture books were born.
The book series helps kids understand injuries are preventable and demonstrates what us adults mean when they say, "be careful." The picture book series teaches kids how to recognize hazards and how to avoid them.
Book 1 - "Bug, In the Eyes! A Kids' Safety Squad Learning Book"
Book 2 - "Bud on a Roll: A Kids' Safety Squad Learning Book"
Book 3 - "Bud on a Mow" (Coming Soon)
By Tony Jaksa Sr.
ISBN: 9781493181643 (softcover); 9781493181636 (eBook)
Available at Kidssafteysquad.com, Amazon, and Barnes & Noble
About the author
Tony Jaksa Sr. has worked a lifetime around the country, as a site safety officer, while instructing workers on safe response to fire, confined space dangers, electrical hazards, and hazardous material releases. He has also facilitated investigations on over 400 process and/or injury incidents. During that time, Jaksa has reviewed, written and/or updated safety programs and procedures for many industrial and construction companies. During his off-work hours, he spends time developing his mission and hobby; writing children's picture books on kid's safety and in this effort hopes to find a new path to early childhood injury prevention and to help build the next ready to work safety generation. To learn more, please visit http://www.kidssafetysquad.club.
General Inquiries:
LAVIDGE - Phoenix
Bryan Beach
480-306-6554
bbeach(at)lavidge(dot)com
Related Articles View More Books

Stories
More Hot Stories For You