A Celebrated Romance Series Reaches its Climax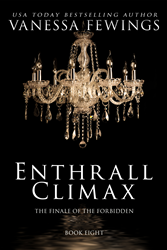 February 12, 2018 will bring the release of ENTHRALL CLIMAX by USA TODAY bestselling romance author Vanessa Fewings. The novel will be the eighth and final installment of the ENTHRALL SESSIONS, stories about the most exclusive private club for the wealthy in Los Angeles.
At the center of this sensual milieu is the fiery couple Mia Lauren and Cameron Cole. In a literary genre that has seen an explosion of interest in recent years, sparked by the release of FIFTY SHADES OF GREY, Vanessa Fewings has entranced readers worldwide with intimate tales marked with indelible characters fueled by a thrilling narrative.
From the release of the first book ENTHRALL, the series has captured the imagination of romance fans by creating a unique, provocative story tinged with an intellectual edge. The distinctive and captivating images of chandeliers supply simple, yet stunning cover art for the novels, branding the ENTHRALL SESSIONS with a visual touch recognizable to readers around the globe.
The forthcoming ENTHRALL CLIMAX has already stirred the romance community with a feverish anticipation. "Writing about these characters has been an emotional journey I will forever cherish," remarked Fewings. "I look forward to readers diving into the world of ENTHRALL one final time."
British-born Vanessa Fewings is also the author of the popular ICON TRILOGY from HarperCollins: HQN Books. She's represented by premiere literary agent Kimberly Whalen of The Whalen Agency. International interest has been led with the foreign rights sale of the ENTHRALL SESSIONS to Paris French publishing house J'ai lu pour elle which will also be releasing the ICON TRILOGY as SUBLIMES VERTIGES in 2018.
For press inquiries and requests, visit Vanessa Fewings's official website or contact Vanessa(at)VanessaFewings(dot)com or Buoni Amici Press.
Related Articles View More Books

Stories
More Hot Stories For You