MEDUSA VOLUTION Comes To Brookyn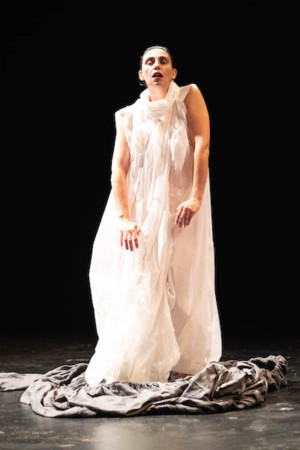 SAMIEVA THEATER is pleased to present Medusa Volution, written by Sophie Amieva and Suzanne Bagert, directed by Sophie Amieva. Medusa Volution will play a three-week limited engagement from February 8th through February 24th, 2019 at happylucky no.1 (734 Nostrand Avenue, Brooklyn, NY 11216).
"It all started with the story of Medusa: a young maiden is turned into a monster as punishment for being raped by Poseidon. The piece actively presents classic female archetypes and rejects them, ultimately allowing Medusa to transcend her condemnation, expressed through grotesque, storytelling and butoh." - shares writer/director Sophie Amieva. "Reading Ovid's version triggered images and emotions about her isolation and the slow loss of her humanity. The play explores the male and female duality by stripping us of our imposed social and societal roles in order to open new possibilities of partnership and interaction."
Medusa Volution, inspired by Medusa's story, is about women and the stories of their bodies and pleasures. From Salome to Eve, how do we define a woman's ascent to pleasure and orgasm? To be feminist, do we need to redefine sexuality as a whole? Today, can we look Medusa in the eyes?
Casting and design team will be announced at a later date.
Medusa Volution plays the following schedule through February 24th:
Thursdays through Saturdays at 8:00 P.M.
Sundays at 5:00 P.M.
Tickets are $20.00 ($15.00 Students/Artists/Seniors)and are currently available to purchase at www.artful.ly/sophie-amieva
Running Time: 80 minutes with no intermission
More Hot Stories For You