BAM And Aga Khan Music Initiative Present QYRQ QYZ (FORTY GIRLS)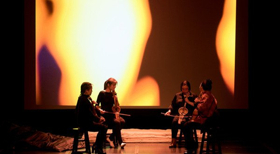 A popular oral and musical epic of women's power from the steppes of Central Asia receives a contemporary multimedia treatment in Qyrq Qyz, directed by Uzbek filmmaker Saodat Ismailova, with music by Tashkent-based Dmitri Yanov-Yanovsky and nine young musicians trained in the oral tradition. The production is co-presented by BAM and Aga Khan Music Initiative.
The legend of Qyrq Qyz (literally "40 girls") is widely known across Central Asia, home to one of the world's great traditions of epic. It tells the story of Gulaim, the 16-year-old daughter of Allayar, a ruler of the semi-nomadic Karakalpak people, who lives in the fortress of Sarkop. When an enemy troop invaded Sarkop and killed Allayar, Gulaim and her 40 companions rose to the challenge, vanquished the enemy, and liberated their people. Belonging in the same rank as other legendary female warriors such as Tomyris, Artemisia, Joan of Arc, and Hua Mulan, Gulaim's story is a vivid testament to the universal fascination with strong women in patriarchal societies and the reversal of conventional gender power.
Ismailova's retelling of the story is both ancient and modern, honoring its oral tradition while enriching a contemporary audience's experience of it. Video-filmed in the wind-sculpted Karakalpak steppes with local, nonprofessional actors-is paired with a musical score by Yanov-Yanovsky that merges on-location ambient sounds and staged performance by a group of young bards. Meshing full-throated singing, plangent instrumental music, and quasi ritualized action, these bards perform songs and instrumental music drawn from the traditional styles and genres of epic reciters. This is a rare window into a story and a culture that is not often featured on a New York stage.
Photo Credit: Jennifer Hauk

Related Articles View More Brooklyn

Stories

Shows
More Hot Stories For You