Photo Flash: The Un-Common Theatre Co Begins Rehearsals For 13
The Un-Common Theatre continues their 30th season by presenting "13 - A New Musical" at the Orpheum Theatre, Foxboro, April 16th through April 18th. This hilarious, high-energy musical by Tony Award-winning composer Jason Robert Brown opened on Broadway in 2008 and was the first show ever to feature an all teen cast.
The show revolves around Evan (
Alex Fullerton
, Mansfield MA), who resents being uprooted from his home in New York City to move to Appleton, Indiana following his parent's divorce. Soon to turn 13 and be Bar Mitzvahed, Evan is desperate to be accepted by the cool kids at his new school so that the guest list for his party will include more than just his family.Those "cool kids" include the beautiful, multi-talented cheerleader Kendra (Michal Clayton, Lexington MA), her best friend, gossipy Lucy (Rosie Meyer, Watertown MA), and self-confident star athlete Brett (Soyer Wilson, Westwood MA). Not included in the cool constellation are Evan's only real friend, Patrice (Mikayla Sabatino, Mansfield MA), who is a resolutely independent spirit, and the nerdy Archie (Matthew Hawley, Norwood MA), an automatic outcast due to his crutches. Evan faces an internal struggle when he decides not to invite Patrice to his party in favor of the cool kids and then begins to do whatever it takes to be accepted by them. The modern musical score and dialogue showcase the adolescent struggles of today with a comical and engaging touch.The Un-Common Theatre production will be held at the Orpheum Theatre in Foxboro on Friday and Saturday, April 16th and 17th at 7:30 p.m., and two matinees, Saturday and Sunday, April 17th and 18th at 2:00 p.m. Ticket Prices are $20.00 for adults and $15.00 for seniors and students.To order tickets 24/7 please call Brown Paper Tickets at (800) 838-3006 or order online at www.brownpapertickets.com and search for "Orpheum". For Un-Common Theatre members, handicapped or group sales tickets please call The Un-Common Theatre Co. at (508) 698-3098. The Un-Common Theatre Co. is currently in its 30th season of providing a safe, exciting and creative place for children and adolescents to develop life skills through exposure to the professional theatrical experience. For more information on the Un-Common Theatre Co. and "13" please visit our website at
www.uncommontheatre.org
. This program is supported in part by grants from the Foxboro, Franklin, Mansfield and Westwood Cultural Councils, local agencies which are supported by the Massachusetts Cultural Council, a state agency.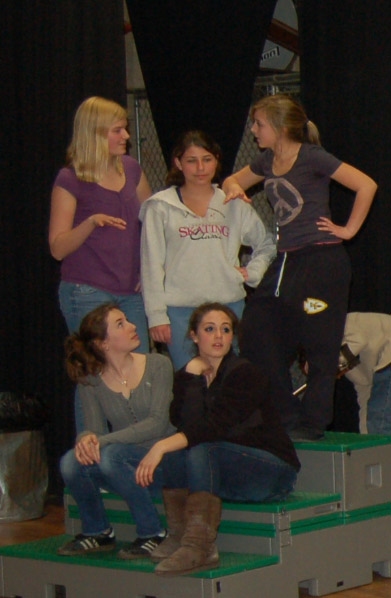 Jill Proto, Katie Armstrong, Michal Clayton, Lexie Lieberthal, Rosie Meyers, Matt Hawley, and Alex Fullerton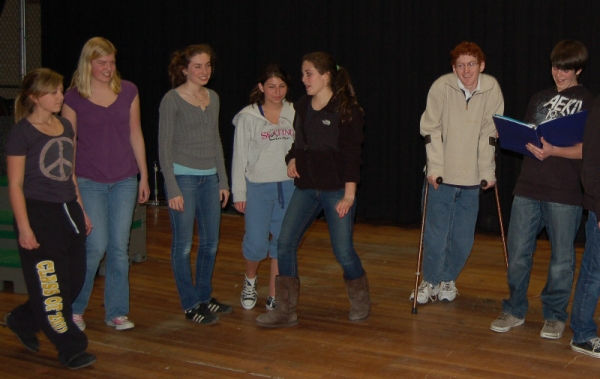 Michal Clayton, Rosie Meyers, Katie Armstrong, Lexie Lieberthal, Jill Proto