Photo Flash: Ocean State Theatre Company's LEGALLY BLONDE THE MUSICAL Starring Alyssa Gorgone
Ocean State Theatre Company (OSTC), the not-for-profit which brought new life to the historic Theatre By The Sea for the past five years, is currently presenting their first summer production in their new state-of-the-Art Theatre in Warwick - the all-singing, all-dancing, feel-good musical comedy, Legally Blonde The Musical, which opened on July 10, 2013. We've got the first production shots by Mark Turek below!
Based on the novel by Amanda Brown and the 2001 hit film of the same name, Legally Blonde The Musical tells the story of Elle Woods, who can handle anything. When her boyfriend Warner Huntington III, dumps her to start getting "serious," she decides to drop everything and follow him toHarvard Law School to win him back. With some help from new-found friends Paulette, Emmett and her Chihuahua Bruiser, she learns that it's so much better to be true to yourself. Winner of seven major awards including the coveted Best Musical 2011 Olivier Award, Legally Blonde The Musical is so much fun it shouldn't be legal!
Ocean State Theatre Company welcomes back Russell Garrett, who directed OSTC productions of 9 to 5: The Musical, Hairspray andThe Full Monty at Theatre By The Sea. This will be Mr. Garrett's debut as a director and choreographer at the new Warwick theatre. He will be joined by Justin P. Cowan, who music directed OSTC's production of How to Succeed... last summer at TBTS. Alyssa Gorgone, who portrayed the role of Sophia in Fools earlier this season, stars as Elle Woods. She is joined by Adam Ryan Tackett, recently seen in the dual roles of Captain Orton and Sir Edward Ramsey in OSTC's The King and I, as Emmett Forrest, Nicole Paloma Sarro, who will be making her OSTC debut, as Paulette, andChristopher Swan, who won rave reviews for his portrayals of Jack Lawson in Race and The King of Siam in The King and I as Professor Callahan. Local performers include Caroline Bateson of East Greenwich, Taunton native Michael J. Borges, Derek Capobianco of Cranston, Amanda Ellis Kouri of Narragansett, Sarah Pierce of North Kingstown, Jenica Reed of Providence, and Alexis Berlinger, Sara Berlinger, Meghan Lydon and Kevin PatRick Martin, all from Cumberland.
Legally Blonde The Musical will be presented at Ocean State Theatre from July 10 - 28. Previews are scheduled for Wednesday, July 10 at 7:30 pm and Thursday, July 11 at 2:00 and 7:30 pm. All other performances will be held Wednesday through Saturday evenings at 7:30 pm and Sundays at 2:00 pm. Conducting Conversations Live!, a free post-show discussion hosted by WCRI's Mike Maino, will follow the 2pm performance on Saturday, July 13.
The theatre is located at 1245 Jefferson Boulevard, Warwick, RI. Tickets are $35 for preview performances and $39-$49 for all other performances. Discount rates for groups of 20 or more are available by calling (401) 921-1777 x112. $25 "Rush" tickets are available on a limited basis one hour prior to curtain on the day of the performance. Tickets are on sale at the box office Monday through Friday from 12 noon - 6:00 pm, Saturdays from 12 noon - 4:00 pm, and from 12 noon until curtain on performance days. Tickets are also available online 24 hours a day at www.OceanStateTheatre.org and via telephone during normal box office hours by calling (401) 921-6800.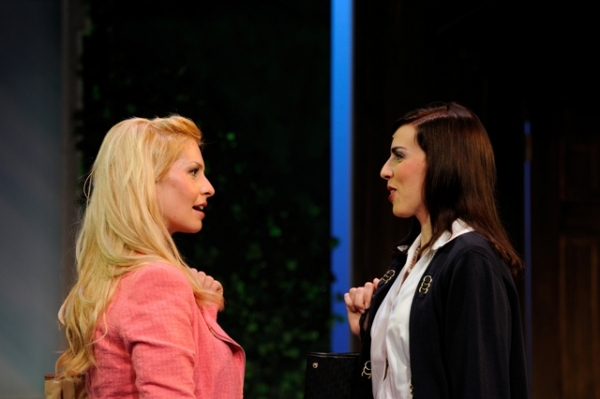 (from left) Alyssa Gorgone and Laura Scherf portray Elle Woods and Vivienne Kensington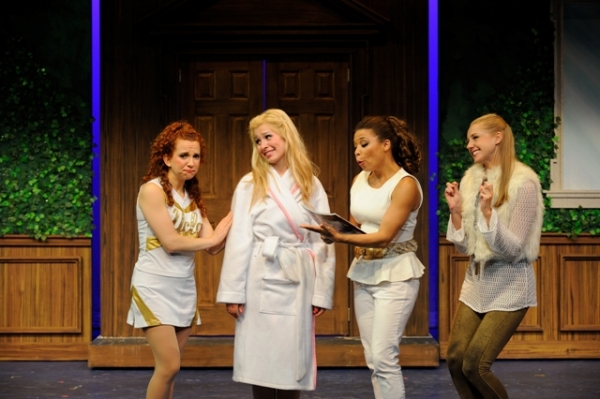 (from left) Arielle Kook as Serena, Alyssa Gorgone as Elle Woods, Jenica Reed as Pilar and Caroline Bateson as Margot

Alyssa Gorgone stars as Elle Woods

Alyssa Gorgone and Adam Ryan Tackett star as Elle Woods and Emmett Forrest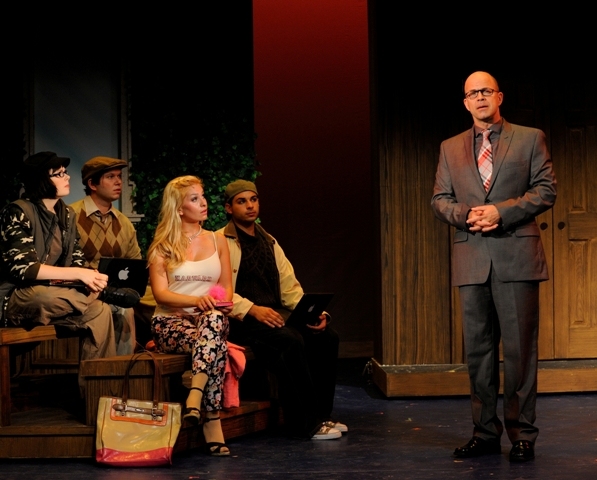 Christopher Swan as Professor Callahan (right) teaches his students portrayed (from left) by Sarah Pierce as Enid, Brad W. Kirton, Alyssa Gorgone as Elle Woods, and Derek Capobianco about 'Blood in the Water'

Alyssa Gorgone, Nicole Paloma Sarro and Michael J. Borges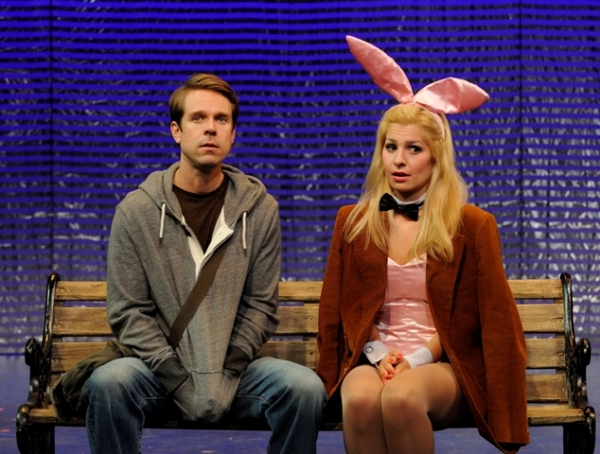 Alyssa Gorgone and Adam Ryan Tackett star as Elle Woods and Emmett Forrest

Alyssa Gorgone (center) stars as Elle Woods