Full Cast Announced For A.R.T.'s BARBER SHOP CHRONICLES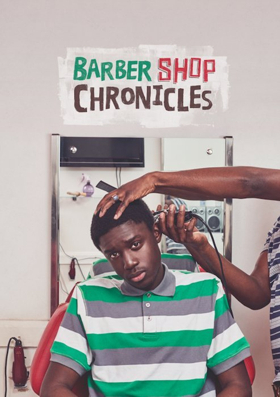 American Repertory Theater (A.R.T.) at Harvard University, under the leadership of Terrie and Bradley Bloom Artistic Director Diane Paulus and Executive Producer Diane Borger, announces the cast and creative team for Barber Shop Chronicles. The Fuel, National Theatre, and West Yorkshire Playhouse co-production begins preview performances on Wednesday, December 5, 2018; opens Friday, December 7; and closes Saturday, January 5, 2019 at the Loeb Drama Center in Cambridge, MA.
One day. Six cities. A thousand stories. Newsroom and political platform, confession box and stadium-for generations, barber shops have been places where African men gather to discuss the world. Leaping from London to Johannesburg, Harare, Kampala, Lagos, and Accra, Inua Ellams' dynamic new play traces the global ties between these spaces where the banter can be barbed and the truth is always telling. Barber Shop Chronicles arrives in Cambridge as part of its North American premiere tour following critically acclaimed runs at London's National Theatre and the West Yorkshire Playhouse.
"In the UK, as I imagine it is in America, the barber shop is a space where we can sit, chill for hours, and loiter in public space without fear," said Nigerian-born, London-based playwright Inau Ellams. "They are safe spaces for men to speak about things associated with masculinity. That harkens back to traditional African communities where men would gather to talk and, now and then, someone would cut their hair."
The Guardian called Barber Shop Chronicles, "a razor-sharp portrait of African masculinity, fatherhood, diaspora and colonial legacy. A cut above in every way, and such fun." The Independent praised it as, "joyous, brilliantly acted, and life-affirming."
Barber Shop Chronicles features a company of twelve actors who portray dozens of roles:
Barber Shop Chronicles was co-commissioned by Fuel and the National Theatre. Development funded by Arts Council England with the support of Fuel, National Theatre, West Yorkshire Playhouse, The Binks Trust, British Council ZA, Òran Mór and A Play, a Pie and a Pint.
Additional production support for Barber Shop Chronicles is provided by The Hutchins Center for African & African American Research at Harvard University and the Harvard University Center for African Studies.
Tickets start at $25 and are available now online at americanrepertorytheater.org, by phone at 617.547.8300, and in person at the Loeb Drama Center Ticket Services Offices (64 Brattle Street, Cambridge). Discounts are available to Subscribers, Members, groups, students, seniors, Blue Star families, EBT card holders, and others.