BWW Review: THE TRAGIC ECSTASY OF GIRLHOOD: Teen Angels?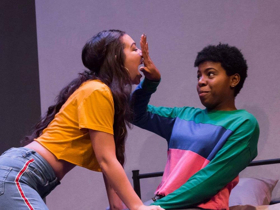 The Tragic Ecstasy of Girlhood
Written by Kira Rockwell, Directed by Leila Ghaemi; Scenic Design, Michelle Sparks; Lighting Design, Kat C. Zhou; Sound Design, Lee Schuna; Costume Design, AJ Jones; Assistant Costume Design, Emily Keebler; Fight Choreographer, Jessica Scout Malone; Dramaturg, Eliana Pipes; Stage Manager, Katherine Humbert; Assistant Stage Manager, Grace Hill; Production Manager, Jeffrey Petersen; Properties Master, Daniel Blanda
CAST: Tatiana Chavez, Sarah Hirsch, Stephanie Castillo, Amanda Figueroa, Danielle Palmer
Performances through October 21; a BU New Play Initiative production, produced by Boston Playwrights' Theatre and the Boston University College of Fine Arts School of Theatre, at Boston Playwrights' Theatre at Boston University, 949 Commonwealth Avenue, Boston, MA; Box Office 866-811-4111 or www.bostonplaywrights.org
A playwright grows up in Texas, moves nearly 2000 miles away from home to pursue an MFA in playwriting at Boston University, and mines her Southern roots to come up with an idea for a play that is near and dear to her heart. Inspired by her experiences working in the recreation department at a youth residential care facility in the Lone Star State, Kira Rockwell has written a fictional story about five adolescent girls that portrays their back stories, personalities, and behaviors with authenticity, while trying to erase the misconception that they are all bad girls and gently educating her audience about the challenges they face. Under the direction of Leila Ghaemi, an ensemble cast of BU School of Theatre undergrads coalesces into a seamless unit that definitely fights above its weight.
After their mundane existence has been shattered by the suicide of their friend Amber (Sarah Hirsch), Charlie (Tatiana Chavez), Audi (Stephanie Castillo), Izzy (Amanda Figueroa), and Mercy (Danielle Palmer) try to regain equilibrium, each in her own way. Izzy is the youngest who basically struggles with her identity, not getting much support from her jaded big sister, Audi. Charlie is the cool one, but keeps her feelings close to the vest. Streetwise Mercy has plans to bust out before her parents come to take custody of her. Lacking satisfactory family connections, the quartet looks upon each other as a family, of sorts, while holding back just enough for self-preservation.
Although Amber's suicide precedes the action of the play, she appears in many flashback scenes with Charlie, providing a window into their emotional attachment to each other, somewhat based on their shared trait of being motherless. Rockwell is skilled in differentiating her characters and the actors inhabit them fully, giving us the feeling of being a fly on the wall of the girls' bedroom as they figure out their lives. In typical adolescent fashion, they may be best buddies one moment, and at each other's throats in the next. Hurt feelings come and go, but they are there for each other when it counts. I'm sure it is by design that there are no grownups in the play, although a supportive staff member is mentioned, as if to illustrate that the girls have to rely on themselves because there is no one to take care of them.
The Tragic Ecstasy of Girlhood has been developed under the tutelage of Boston Playwrights' Theatre and will receive a Los Angeles production next month. In its current form, it runs 80 minutes with no intermission. The performance I saw ran overtime, prompting me to recall scenes that lagged. In one of the flashbacks with Amber and Charlie, they spend an inordinate amount of time discussing why you can't see the inside of your eyelids, and then experimenting with their eyes closed to try to visualize something, anything. It may be the stuff of teenage girl bonding, but it goes on too long. However, that was the only scene that suffered from noticeable excess. For the most part, Rockwell's writing is on point and I'd rather see too much time spent on developing the characters than too little. Girls like this are not often seen or heard and, to borrow from a famous playwright, attention must be paid.
Only two performances remaining: Sat, Oct 20 @ 8 pm; Sun, Oct 21 @ 2 pm
Photo credit: Kalman Zabarsky (Stephanie Castillo, Danielle Palmer)

Related Articles View More Boston

Stories

Shows