BWW Review: New England Premiere of CARDBOARD PIANO at New Repertory Theatre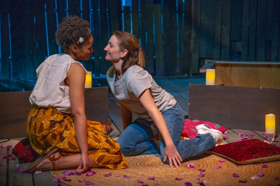 Cardboard Piano
Written by Hansol Jung, Directed by Benny Sato Ambush; Scenic Designer, Jon Savage; Costume Designer, Leslie Held; Lighting Designer, Scott Pinkney; Sound Designer/Composer, Dewey Dellay; Stage Manager, Becca Freifeld; Fight & Intimacy Coach, Jessica Scout Malone; Dialect Coach, Bryn Austin
CAST (in alphabetical order): Rachel Cognata, Marge Dunn, Michael Ofori, Marc Pierre
Performances through April 14 at New Repertory Theatre, Mosesian Center for the Arts, 321 Arsenal Street, Watertown, MA; Box Office 617-923-8487 or www.newrep.org
What does God want, and who truly knows? Who gets to decide what is right? These are just a couple of the questions raised in Hansol Jung's wrenching new play, Cardboard Piano, in its New England premiere at New Repertory Theatre. Set in Northern Uganda at the turn of the millennium, a forbidden love story unfolds with the backdrop of rising civil unrest, setting in motion a series of events that spans fifteen years in the lives of the principals who survive the violence and hostility that is endemic to the African nation.
Director Benny Sato Ambush (The Whipping Man, Thurgood) is the right man for the job as he focuses attention squarely on the human strengths and frailties that drive the actions of the characters. Where there is something broken in one, a measure of healing is offered by another. When trauma is inflicted on one, another seeks to restore wholeness. Tragic loss leads to hatred and grief, but time and maturation contribute to understanding and equanimity. There may be no happy ending, but growth and awareness signal some progress and a glimmer of hope.
Cardboard Piano features scenic design by Jon Savage, a rough-hewn church interior with a hole in its corrugated ceiling through which rain pours. Dewey Dellay provides the evocative sound of rain hitting on the roof, as well as some atmospheric underscoring, and lighting designer Scott Pinkney's effects augment the drama. Dialect Coach Bryn Austin has done excellent work with the actors to capture the accents of their Ugandan counterparts, and Jessica Scout Malone is on board as fight and intimacy coach.
The first act introduces 16-year old Chris (Marge Dunn), the daughter of American missionaries whose church serves the spiritual needs of the township, and Adiel (Rachel Cognata), a local teenage girl who has lost her parents to the ongoing strife. Like Romeo and Juliet, or Tony and Maria before them, the girls share a passionate, yet illicit love and make vows to commit to each other as husband and wife, while planning to escape to a safer, friendlier region. Their joyous, clandestine celebration is cut short by the appearance of a bleeding, gun-wielding young boy soldier, more frightened than he is menacing. Kidnapped into the army as a ten-year old, Pika (Marc Pierre) hopes to escape after three years of seeing and doing horrific acts, and makes a desperate plea to Chris to leave with them.
Chris weighs the situation. After all, Pika threatened her life, but, as the Pastor's daughter, she believes in the possibility of redemption, even for the most damaged souls. She tells him about a cardboard piano that her father made for her from scraps and, because she was disappointed to not have a real piano, that she destroyed it. Undaunted, her father put it back together to teach her that broken things can be fixed, implying that Pika could also be repaired. In this scene, the connection between Chris and Pika is woven with great care and sincerity by Dunn and Pierre, allowing us to let down our guard, just a bit, about the inherent danger, believing that the two young people might forge a tenuous partnership. However, circumstances change rapidly when a machine gun-toting soldier (Michael Ofori) enters the church in search of Pika and tries to take advantage of Adiel. In the span of an explosive few minutes, the lives of all four are drastically altered.
Fifteen years have passed when the second act opens in the refurbished church. Pastor Paul (Ofori) and his wife Ruth (Cognata) are celebrating their wedding anniversary with lukewarm tea when Chris wanders in, carrying a parcel and looking lost. When she reveals that her late father built the church and she wishes to plant a tree containing his ashes, Ruth is excited to ask Chris questions, to clear up rumors about an event that took place there on the eve of the millennium. It is uncomfortable for Chris, but eventually all of the layers are peeled away to get at the truth of what happened and who's who. Enter Francis (Pierre), a young man who is obviously not welcomed by the Pastor because he is a homosexual. However, Ruth has invited him to visit, and Francis recognizes Chris as Adiel's good friend, further thickening the plot.
In act two, three of the four actors take on new characters and, although they are descended from the happenings of the first act, it takes a level of concentration to sort out the connections with clarity. That being said, Cognata, Ofori, and Pierre do an excellent job of differentiating between their roles, augmented by the work of costume designer Leslie Held. The personalities they portray demand a broad range, with Ofori taking the largest leap. His noxious, strutting soldier, although seen only briefly, is fearsome and makes a searing impression, while Paul presents as a man of faith and loving husband who tries to do the best for his flock, until the denouement when his demons arise.
Cognata is feisty and self-assured as Adiel, and compassionate and devoted as Ruth. Pierre's turn as Pika is nuanced, showing him as dangerous, numb, and remorseful. Dunn has a longer arc to travel as Chris, going from passionate teen to the adult woman who has been living with her ongoing grief. Her facial expressions provide a road map for the journey; love, fear, shock, anger, resignation - they're all clearly on display in Dunn's compelling characterization. She is totally present and a key cog in the play's machinery, but when all is said and done, it isn't about her. Chris is the outsider, the foreigner whose family came to the country with the best of intentions, yet departed with broken dreams, forever changed.
Photo credit: Andrew Brilliant/Brilliant Pictures (Rachel Cognata, Marge Dunn)