BWW Review: Theatre Tuscaloosa's CABARET Entertains with Song, Dance and Decadences of the Dark Side of Love.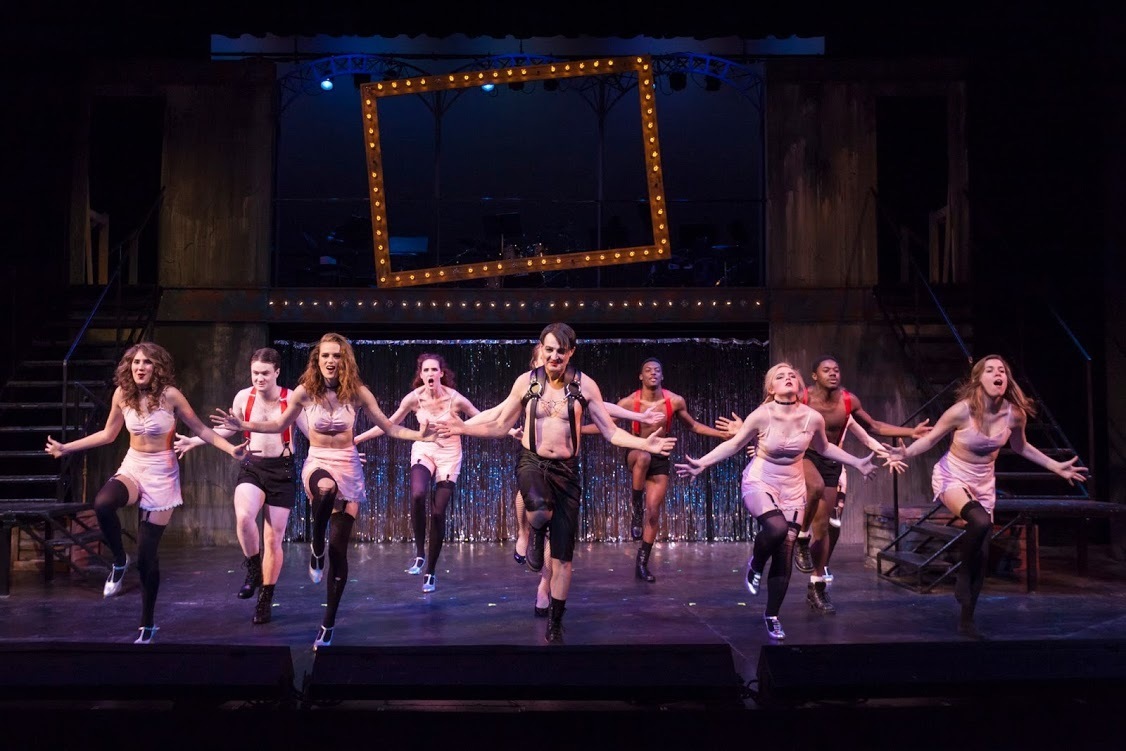 The inviting line "Willkommen! And bienvenue! Welcome!" is a gateway to a legendary steamy tale of love, acceptance and social ignorance. Theatre Tuscaloosa is offering a riveting production of "Cabaret." It entertains you with song, dance and decadences of the darkside of love. The production leaves you breathless with a wagon train of thoughts and emotions to process. Director Tina Turley structured the play to come to life as memories of a wondering American writer, Clifford Bradshaw (Jack Skeean). The story is set in the seedy underbelly of Berlin during the early 1930's. While traveling on the train through Germany, Bradshaw is befriended kindly German businessman Ernst Ludwig (Glen Johnson). Ludwig encourages Bradshaw to stay in Berlin to complete his novel. Bradshaw takes his advice. Ludwig sends him to a friendly boarding house run by the stern Fräulein Schneider (Ava Buchanan). Habitual decadence has saturated the city. Bradshaw wastes no time looking to expand his horizons and is drawn to the seedy Kit Kat Club. His sexual naiveté leads him to cross paths with the vivacious and troubled headliner of the club, Sally Bowles (Bridget Winder). They soon engage in a decadent affair straining in selfish uncertainty. Cliff is using Sally to fill in a part of himself and Sally is doing the same with him. Fräulein Schneider finds her own unexpected love at the hands of the kind and charming fruit vendor Herr Schultz (Charles Prosser). She is not concerned with Schultz's Jewish heritage. The same can't be said for the Nazi's in Berlin, whose numbers are steadily growing. The narrator of the tale is the impishly unabashed and comical Emcee (Ray Taylor). The character's brooding to manic persona adds energy to the progression of the play. Taylor chews up the stage in the role. The character skates near to insanity, giving proper reflection of the societal and political developments in Germany at that crucial period in history.
The cast and crew give paced intensity to deliver very memorable performances. Bridget Winder brings stacks of emotional layers to the tumultuous Sally Bowles. Her voice is rich with the nuances of a woman jagged with bad decision. Jack Skeean gives Cliff a demeanor of idealistic apple pie Americana that's covering valleys of insecurity. Ava Buchanan and Charles Prosser give touching and relatable nuances in delivering these two sweet characters coming together.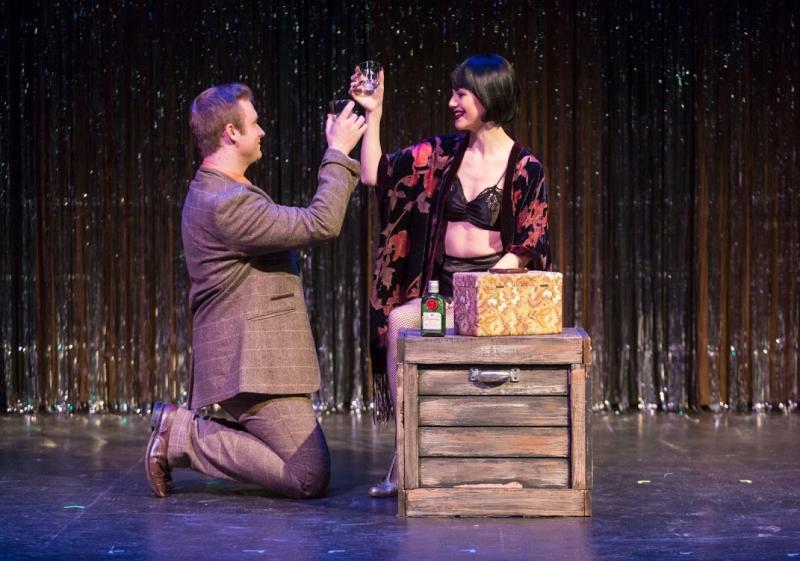 The chemistry and pacing are a highlight of this performance. I spoke with director Tina Turley to reflect on how she made this combination so effective. "This show is tough because they are so many incarnations of the script. I've read and seen several versions of this show. The movie version is different than the musical. The Christopher Isherwood books are very far removed from the play. The books different had a bigger influence on me than I thought they would. There is an essence in that story that stands out."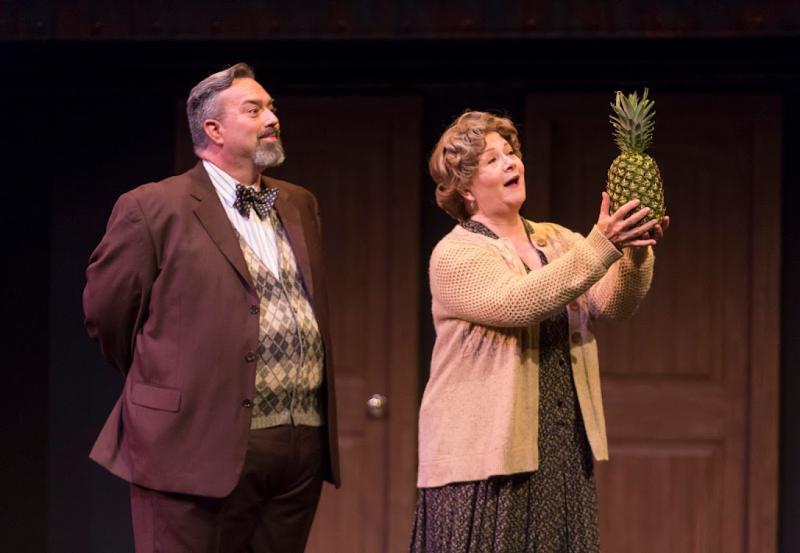 I was entertained by the play but at the same time shaken. This show acts as a bridge to the raw emotions of those struggling of acceptance in the face of violent oppression. Turley delivered a very personalized and surreal experience with this collection of extremely talented performers. "They are so committed. We all felt the level of importance to tell this story right now." The passion is evident in leading the audience to connect with these relatable characters. You can't help but get emotional with the rising threat of the Nazi's. I was one of the many in the audience affected with tears and fear for what is about to come. An acting coach once told me that good theater makes a bridge to the soul. This production is proof of that.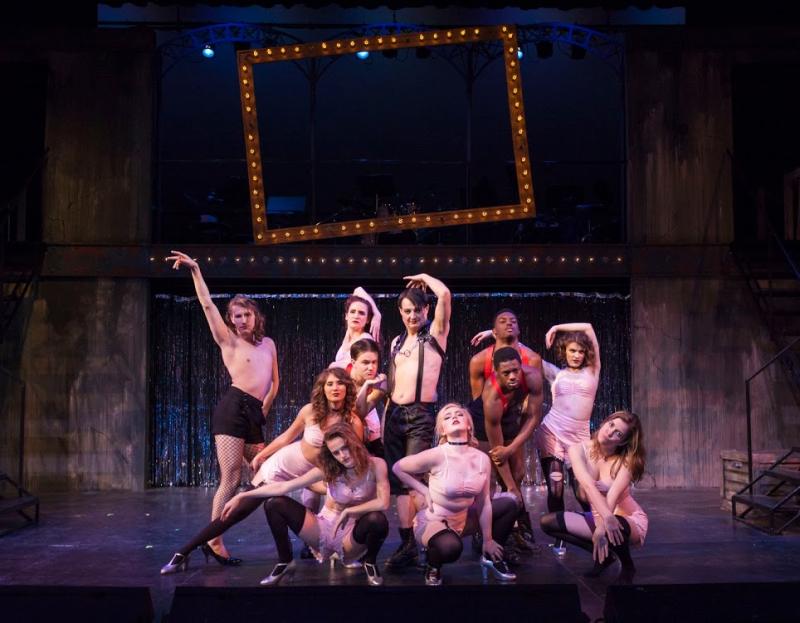 Scenic designer Andy Fitch and lighting designer Richard Dunham made a vibrant and simple set that easily flows from location to location. Several moments of the play are accentuated by the design and Turley's direction. Staging the band overhead added to the intimacy of the performance. Blair A. Andersen's hot choreography gave the dancers much steam. Musical director Leslie S. Poss helmed a tight and expressive band.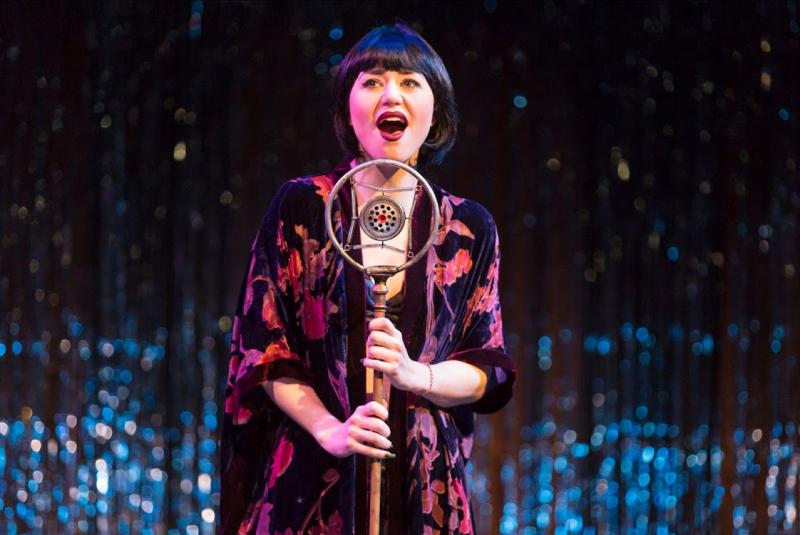 Sally has this powerful line in the show that sums up her character. It also is a line of dialogue that can be used to define who each of us are. "I used to love pretending I was someone else - someone quite mysterious and fascinating. Until one day, I grew up and realized. I was mysterious and fascinating. I'm Sally Bowles." "Cabaret" is a show with layered characters that are blissfully ignorant to the perils unfolding. In the Kit Kat Klub, life is beautiful, the girls are beautiful, and even the orchestra is beautiful. Why would anyone want to leave? After this striking performance you will be asking why indeed.
Theatre Tuscaloosa
Cabaret
Book by Joe Masteroff Based on the play by John Van Druten, and Novel by Christopher Isherwood Music by John Kander Lyrics by Fred Ebb
Directed by Tina Turley
Cast
Emcee - Ray Taylor
Sally Bowles - Bridget Winder
Clifford Bradshaw - Jack Skeean
Ernst Ludwig - Glen Johnson
Max - Royce G. Garrison
Fräulein Schneider - Ava Buchanan
Fräulein Kost - Laura White
Herr Schultz - Charles Prosser
Boy - Avery May
Showdates:
Friday, February 23 - 7:30 pm
Saturday, February 24 - 7:30 pm
Sunday, February 25 - 2:00 pm
Wednesday, February 28 - 2:00 pm
Thursday, March 1 - 7:30 pm
Friday, March 2 - 7:30 pm
Saturday, March 3 - 2:00 pm
Sunday, March 4 - 2:00 pm
Theatre Tuscaloosa
9500 Old Greensboro Road (on the campus of Shelton State Community College)
Tuscaloosa, AL 35405
Tickets and more info at (205) 391-2227 and www.theatretusc.com
The show has one 15-minute intermission.
Cabaret is a mature performance and not recommended for children.
Related Articles View More Birmingham

Stories

Shows