BWW Review: SMOKEY JOES CAFE is a Vibrant Jukebox of Hits Come to Life at RED MOUNTAIN THEATRE COMPANY.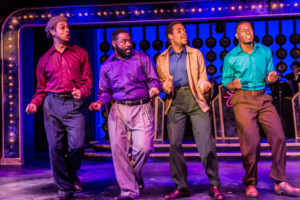 If you are not familiar with the names Jerry Leiber and Mike Stoller, you most definitely know their songs. They were two young friends who broke into the recording industry as composers back in the 1950's. They took a shine to the era's teen lingo and engrained it into their songs for humor and appeal with the young crowd. This effect was part of their appeal. They embraced fun word play and theatrics give their songs a hook. They enjoyed the music coming from black artists and saw great potential in increasing engineering quality of the music. Enhancing its emotional power with orchestral elements, layering and effects. For decades the duo made hit songs that filled the charts. "Smokey Joe's Café" at Red Mountain Theatre Company celebrates their legacy with a rockin song and dance revue showcasing their works with an impressive cast of singers and musicians. This show is a hit fest including classic songs like "Stand By Me," "Jailhouse Rock," "Charlie Brown," Poison Ivy," ""Baby, That's Rock 'n' Roll," "Yakety Yak,' "On Broadway," "Hound Dog," "Spanish Harlem" and many more.
The musical is a visual playlist of hits popping off the stage in both Technicolor and surround sound. 1950's Jazz club lighting and set design by Brad Cozby create the feeling of those classic MGM musicals. This effect is enhanced by designer Amy Rankin's costumes that pop with vibrant colors. Musical director Regi Yarbrough is bringing a hyped band with plenty of skill in keeping the house filled with the soul of rhythm and blues. The band is presented as one would be in the bandstand Jazz era. The podiums in front of each musicians are set with the "Smokey Joe's Café" logo. A small detail but it gives a mighty classy effect.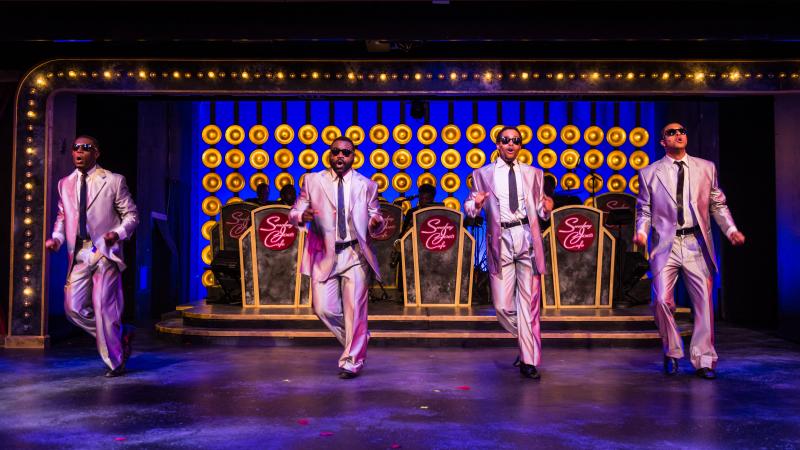 Director Henry Scott brings an appreciation to the music and message of all the songs in the show. His talent is evident in actor's performance. His direction gives a boost to what is sung in this show. There is creative nitrous oxide running through this entertaining performance from start to finish. Scott's skills as choreographer are abundant as the actors fill the space with a signature energetic motion. Combined with the tight vocals, this makes for one killer performance right after another.
The talented cast raises the bar with fun stage presence, abundant confidence, and an honest connection to the meaning of each lyric. A huge highlight of the show is when the whole cast get to sing together. Caprenia Anthony, Jordan Cyphert, Nicole Lamb, Brandon McCall, Darrick Penny, Natalie Vallentine, Cameron White, Tracy Winborn and Tray Wright each bring life into this show with impressive vocals and killer showmanship.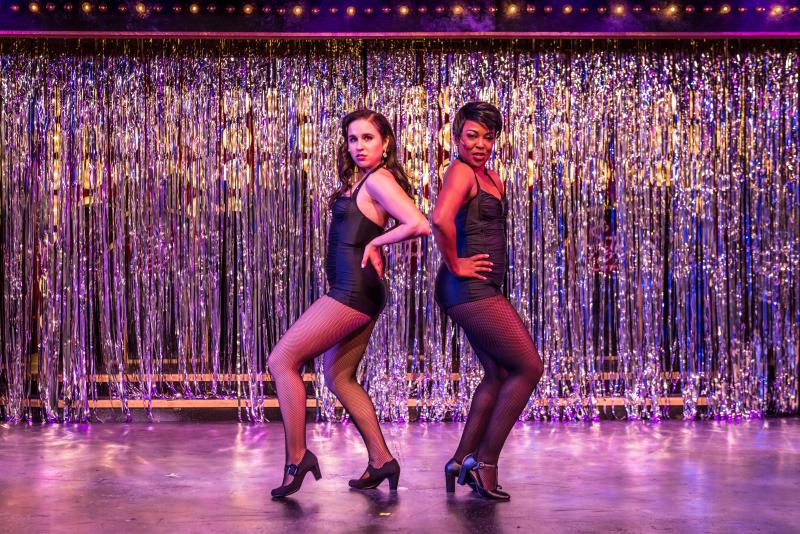 Buckle up and get ready for your ears and soul to be energized with voices that are crisp with harmonies. Power, heart and soulful intonation are found in each number. This production takes the definition on entertaining seriously. "Smokey Joe's Café" is musical revue not a linear play. The show is a wonderful presentation of Leiber and Stoller's songs. From one hit to the next, each number is sure to unlock memories and smiles that have been tucked away.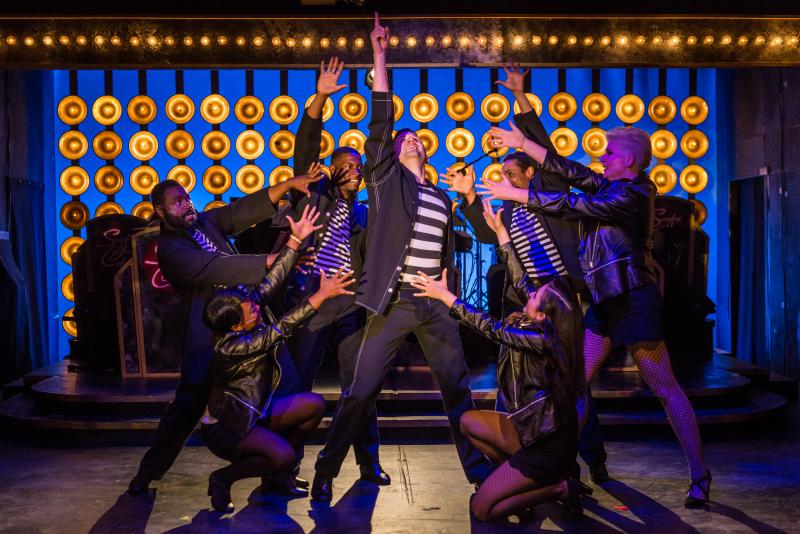 The joy seen, felt and heard from my fellow audience members was infectious. The smiles lit up the room with each song. People were touched by this production and I was victim to it as well. Leiber and Stoller wrote songs touching on a wide range of emotions. This musical does the same. You will be treated to production numbers that are spicy, soulful, gospel, rockin, funny and reflective. Those that grew up with these wonderful songs will be gleeful with nostalgia. Those that are new these songs are sure to be sparked with interest in hearing more. There are no repetitions in any aspect of this presentation. Each musical number is fresh and full of energy.
Respect to the presentation of these songs is evident in each intense production number. Red Mountain Theatre Company's production of "Smokey Joe's Café" is a vibrant jukebox of a musical come to life in both song and motion.
Red Mountain Theatre Company
"Smokey Joe's Café"
Words and Music - Jerry Leiber & Mike Stoller
Directed by Henry Scott
Musical Director - Regi Yarbrough
Chorographer - Henry Scott
Starring: Caprenia Anthony, Jordan Cyphert, Nicole Lamb, Brandon McCall, Darrick Penny, Natalie Vallentine, Cameron White, Tracy Winborn, Tray Wright
Red Mountain Theatre Company
301 19th St N, Birmingham, AL 35203
May 11 - 27 / Thurs-Sat, 7:30 pm / Sat-Sun, 2:00 pm
Tickets $19 to $55
Purchase online at redmountaintheatre.org or call (205) 324-2424
Photo Credit - Stewart Edmonds
Related Articles View More Birmingham

Stories

Shows