BWW Interview: Wil Love and Carl Schurr, Veteran Actors Of The Everyman Theatre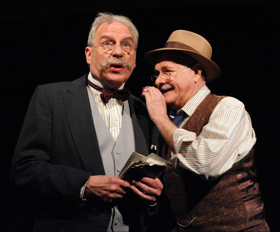 I have been a huge fan of both
Wil Love
and
Carl Schurr
for many years. They are currently both performing in Everyman Theatre's THE IMPORTANCE OF BEING EARNEST which ends its run Dec. 30, 2018. They have become two patriarchs of the Baltimore theatre scene. Since their meeting at Center Stage in 1971, they have performed, produced, and adapted hundreds of performances both regionally and nationally. Now in their 10th year as Resident Company Members at Everyman Theatre, Wil and Carl have plenty of war stories and advice to share. I connected with these two venerable performances to learn more about their story.
How did you get into theater?
Schurr:
I always dreamed of a life in the theatre. Some of my earliest memories
(and this is when I was 3 and 4 years old) were of 'putting on a show' in the archway between the living and dining rooms of our old house in Port Huron, Michigan. Decades later my mother told me that the family always wondered how I even knew what a stage curtain was as I had never actually seen a show.
Love:
I was enchanted by a beautiful girl in high school to follow her into the drama
class beginning in my junior year. This was in Wichita, Kansas at East High with 3000 students and the only full-time drama teacher in the state.
Where and when was your first show?
Schurr:
I like to think it was "The Pirates of Penzance" in 10th grade but the real answer is perhaps at Center Stage, "The Trial of the Catonsville Nine" on North Avenue.
Love:
In high school at age 16, I played the Stage Manager in Our Town.
What has been the highlight of your career? The lowest event?
Schurr:
When I think back of all the shows at Everyman and beyond, oddly enough my
thoughts invariably return to a production of "Dracula" in 1978 at Totem Pole Playhouse. In fact, many folks still identify me with the Count. As for low points? Perhaps when there was not an income when I was "between engagements." Fortunately, I have always been able to earn a living working as a professional actor and director for nearly fifty years.
Love:
Many highlights that include repeating the role of the Stage Manager in Everyman's Our Town during the repertory season 3 years ago. Also, playing
John Adams
in 1776 during the early '80s, and 13 productions as Scrooge in A Christmas Carol that
Carl Schurr
and I adapted.
When did you meet? How often have you worked together?
Schurr:
Wil Love
and I met at Center Stage in the fall of 1971. We were both company
members. As for how many shows together? We have traversed the land to many theatres and I truly have no idea. We've acted together and directed one another in a myriad of productions.
Love:
We lost count of how many shows we've done together after about 100.
What was it like to work in Baltimore theatre in the 70s/80s?
Schurr:
Professional theatre during those decades was dramatically different than it is
today--perhaps because there were so many resident companies and now the concept is pretty much non-existent. All of us who are embraced by Everyman love Vinny's keeping the resident company approach alive and well. We all love being part of a family and I like to think our work is better as a result.
Love:
At that time there was only Center Stage as the professional theatre in town.
When the artistic director was replaced and the company was disbanded we were forced to look for theatre residencies elsewhere but Baltimore remained the home base .We have always loved this city, warts and all.
How has the theatre scene changed?
Love:
When I left graduate school at Wayne State University in Detroit there were many theatres with resident companies. My 4 years at Wayne as a paid fellow with the Hilberry Classic Repertory Theatre was the most rewarding time for me and fortunately, there were many resident companies in the professional theatre world at that time.
What is it like to be an older actor?
Schurr:
As actors, our tools are our body and voice, and in some ways, they don't
always behave as they should. Almost all older actors will admit that memorization is more of a challenge. It's all different now that I'm 3000 years old.
Love:
Of course as one gets "more mature" the choice of roles begin to diminish and it's somewhat sad to realize you will never have the chance to play the roles you missed out on. You also have to be very careful not to say to a younger actor "well, I did it..."
How did the work at Totem Pole Theatre begin?
Schurr:
When I moved to Baltimore in 1971, I met
Henry Strozier
, who had just returned
from a summer of stock at Totem Pole. When the Center Stage season closed, Henry and Wil returned to the Gettysburg area theatre, and I became a regular visitor. In 1975, I was asked to star in leading roles in two shows, and to direct "Sleuth." The summer of 1978 became my first full season, and it was then that I played Count Dracula, among other delicious roles. I still maintain that every actor should be exposed to 2-week stock as there is no time to dilly-dally. Our shows were mounted with a mere fifty hours of rehearsal. One jumped into the deep end of the pool and quickly learned to swim-or sink. During the 1984 Totem Pole season, I was asked to take the reins as Artistic Director. For the next twenty-five years, Wil and I were artistic directors until we resigned in 2008
and became company members at Everyman (although we'd both worked with Vinny previously).
Love:
In the spring of 1970 I was finishing my first season as a company member at
Center Stage and
Henry Strozier
, a wonderful actor and fellow company member, told me that he had just auditioned for a summer theatre in south central Pa-Totem Pole Playhouse. He said the producer/artistic director, Bill Putch, was looking for another actor to be the 2nd resident actor for the summer (10 shows in 15 weeks). Henry and I both spent the summer there before returning to our 2nd season at Center Stage. In the space of a year, Henry and I did 16 shows together between Center Stage and Totem
Pole.
What is it like to be an Everyman Resident Company Member?
Schurr:
A blessing in so many ways. Resident Companies are pretty much a thing of the past but I would never refer to them as "Dinosaurs." We (the Everyman Theatre Resident Company) are alive and well and kicking, and we all genuinely like one another.
Love:
It's a wonderful position to be in, and it takes me back to the heyday of regional
theatre resident companies. They are a rarity now. It's so rewarding to work with the same artistic staff and actors and to become a tight-knit and loving group. To be able to live at home in Baltimore is the icing on the cake.
For Wil...I will never forget Irma Vep at Center Stage. Can you talk about it?
Love:
Doing Irma Vep with
Derek Smith
, an amazingly fine actor, was such a workout and great fun once we got the technical challenges under our belt. I lost 12 lbs. during the run, and wish it had stayed off! The quick change crew backstage were brilliant. A local TV station recorded the many quick changes and then on a news broadcast played it at top speed...viewers saw the entire backstage show in less than 2 minutes!
Any advice for young people who desire to act for a living?
Schurr:
Talent is only a part of the equation and one must explore every opportunity; don't think you're too good to do community theatre or some other job that doesn't pay much if anything. Experience and building up the resume are essential, so don't get cocky-there are more actors than jobs, and colleges are grinding out more of them every day. It is a reality that networking is important. I always say, "If there is anything else you want to do with your life--go for it." On the other hand, I always say, "If you absolutely HAVE to act--go for it." Never take anything for granted.
Love:
Take every opportunity given to you to be in a show, good or bad. Some of the best lessons can be learned by being in a "turkey." I've been in many and learned a lot, and have funny stories of disasters. Don't "censor yourself" in acting choices. As children, we all play acted without deciding if it was good or bad, and great truth came out of that. If we could retain that child-like ability to just "be", we would all flourish as actors.
cgshubow@broadwayworld.com