BWW Interview: DANCING AT LUGHNASA at Everyman Theatre Director Amber Paige McGinnis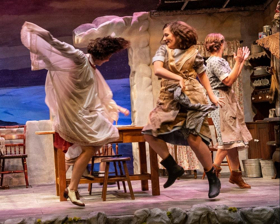 I had the opportunity to meet the Director/Choreographer of Everyman Theatre's DANCING AT LUGHNASA after opening night at Forno's Restaurant. She was a real delight and I thought would make a good interview. I was so right!
How did you get involved with DANCING AT LUGHNASA at Everyman?
Vincent Lancisi the Artistic Director approached me about directing when he was planning the season and Lughnasa was an instant fit. I told Vinny that I had been looking for an opportunity to direct some Tennessee Williams, Chekhov, or Sam Shepard, and somehow Friel's style of writing seemed to combine and hit all of the qualities that I love most about each of those writers but in his own distinctive Irish way.
Have you been to Everyman before? If so...what did you see?
Yes I've seen numerous shows at Everyman, I can't even remember them all! I know a lot of the artists in the resident company, so I've been a long-time fan of their work.
How did you get the opportunity to do Direct AND do the Choreography?
I offered! I come from a dance background- my mom ran a dance studio in my hometown in North Carolina so dancing and choreography is in my blood. I was thrilled to do both in the show- movement seems to make its way into every piece I direct.
Did the actors have difficulty learning the Irish steps which I thought looked really authentic?
They picked it up really fast! I had a few years of training in Irish step dancing from my old dance studio days, so we started with the basics and then grew the choreography from that. We were also heavily influenced by African dance, and so the fun part was figuring out ways to marry the two styles.
Have you ever lived in Ireland and if so where and when?
No, I've never lived there, but my husband Matt Torney grew up in Belfast, so we go there to visit at least once a year. My family immigrated from Ireland before the civil war so the first time I visited there I remember it feeling like going home.
You mentioned your husband Matt Torney is also a Director (and Associate Artistic Director at the Studio Theatre). He is directing IF I FORGET at there in DC. Have you found yourselves directing at the same time before?
Yes, we're both directors and after everyone sees Lughnasa they should go see his show at Studio! It's stunning and funny and heartbreaking. We were in rehearsals for both at the same time, which we've only done once before. It's wonderful having a partner who knows exactly what you're going through when you direct a show- you put so much of your emotions and creative energy into a play when you direct it. So yeah, for the last month the McGinnis-Torney household has had one foot in 1936 Donegal Ireland, and the other in 2001 Tenleytown, DC.
You now have two shows running at the same time. Besides Everyman's production, you are directing HOW I LEARNED TO DRIVE at the Round House Theatre in Bethesda. Has that every happened before?
Yes, last year I was in previews for TOP GIRLS at Keegan Theatre at the same time I was in rehearsals for THE LAST NIGHT OF BALLYHOO at Theater J. The overlap can be exhausting, but I'm just so grateful for the work and it makes it easier when you're working with such amazing companies.
Have you ever directed a Brian Friel play and if so what?
No, this was my first time directing Friel. My husband had recently directed TRANSLATIONS at Studio, so it was exciting to do LUGHNASA right after that- it felt like the two plays were in conversation with each other. One focused on language, the other on movement.
How would you describe the play for patrons who have never seen a Brian Friel play?
LUGHNASA is a masterpiece of contemporary theatre. This play does everything good theatre should do: it makes us laugh, makes us cry, makes us love characters even when they are flawed, and doesn't spoon feed us theme or plot. It leaves us thinking: both enchanted by the memory of the past, and also disturbed by it.
What do you hope patrons will get from this production?
This is such a rich piece...I feel like audiences can walk away with a lot of different things. I hope they feel that they've spent time with characters they care about. I hope it triggers some of our own memories from the past; those defining moments where we experienced, as Michael does in the play, that "widening breech between what seemed to be and what was." I hope it engages our eternal struggle (or dance if you will) between the hopes/desires that come from within, and the pressures/expectations the outside world puts on us.
What do you have next on the agenda?
APM -HOW I LEARNED TO DRIVE at Round House Theatre in Bethesda is up next- We open in October (I'm already thrilled with how it is coming together- the cast is brilliant!) I also just finished producing and directing my first feature film called INTERNATIONAL FALLS. We're in the process of submitting it to film festivals around the country which is really exciting. So...hopefully we'll have an exciting premiere for that in early 2019.
DANCING AT LUGHNASA continues at the Everyman Theatre until October 7, 2018. It's a real treat.
Related Articles View More Baltimore

Stories

Shows
Originally from Boston, Charles' first college show was "Barefoot in the Park," he played the role of the telephone repairman. Next came "How to Succeed..." (read more...)