Robert Gould - Page 9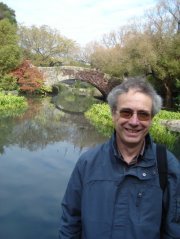 Robert Gould taught history and wrote history textbooks before beginning to write librettos and lyrics for musical theatre. With Christopher J. Orton, he has co-written the musicals "Based On A True Story" (a workshop production of which was presented at the Jermyn Street Theatre in 2010), "My Land's Shore" (which received its world premiere production at Ye Olde Rose & Crown Theatre, London in February 2017, garnering an Off West End Award nomination as Best New Musical), and "Grace Notes" (a finalist in the Leicester Square Theatre New Musical project in 2014).
He also writes songs with Joe Sterling (including lyrics for the album "Somewhere In My Mind - the Songs of Joe Sterling") and with Alex James Ellison (including songs for their EP, "Favourite Sins"). With composer Rob Eyles, he has written the musical "A Pebble For Aaron" (a finalist for the 2016 Stiles And Drewe Mentorship Award), and a musical based on the Grimm Brothers' fairy tale, "The Wonderful Musician" (which was work-shopped at the Arts Educational School in April 2017). Eyles and Gould staged a sell-out concert – "I Wasn't Thinking At All" – at The Pheasantry in 2015 and their debut album "As Long As I Have Music" was released in June 2016.
An album of songs with Robert Gould's lyrics, "Words Shared With Friends", was nominated for a 2014 BroadwayWorld Album Award as Best Compilation Album.
MOST POPULAR ARTICLES
LAST 365 DAYS
The Spider Woman Prepares To Weave Her Web At The Donmar

January 7, 2007

The Donmar Warehouse will stage a new production of Manuel Puig's 'Kiss Of the Spiderwoman' from April 25 to May 26, with previews running from April 19. Puig's dramatization of his own novel set in a Latin American prison places Marxist revolutionary Valentin Arregui in a cell with Luis Molina, a homosexual imprisoned for gross indecency with a minor, who takes his mind into a glamorous fantasy world he remembers from the movies, where the seductive spider woman dwells. Both powerful and touching, the play demonstrates the resilience of the human spirit in the midst of the greatest despair.
---
The King Of Broadway Surrenders His West End Crown

January 7, 2007

The smash Broadway phenomenon 'The Producers' will play its last performance at the Theatre Royal, Drury Lane on January 6, ending a run that began on November 9, 2004. Its UK life will not end, however, as it opens in Manchester on February 18 for a 3 month run.
---
January Joy For The Watermill

January 5, 2007

In the wake of the sad news concerning the fate of the Theatre Museum in Covent Garden, it is cheering to read in the theatre's January newsletter that the necessary funds have now been raised to save the Watermill Theatre in Newbury. Backed by a loan of £750,000 from the Boris Karloff Foundation, the Board of Directors were able to meet their deadline and commit to purchasing the theatre. In addition, over 2,600 donors assisted in raising £1,77000 in just 18 months. Richard Price, Chairman of the Board, said: 'We are hugely grateful to all those generous people who have supported the Save The Watermill appeal.' With the future of the theatre secured, the Board's efforts will now be poured into raising the remaining funds needed for essential renovations and improvements to the premises, which will commence in April 2007.
---
Finborough Theatre witnesses controversial Sobol play
January 4, 2007
---
Finborough Theatre Witnesses Controversial Sobol Play

January 4, 2007

The Finborough Theatre's staging of Joseph Sobol's play 'IWitness' from January 2 to 27 joins a number of other recent London stage productions that highlight in differing ways courageous defiance of Nazism in Germany. In 'The Sound Of Music' Captain von Trapp's refusal to bow to Nazi German rule and join their navy inspires him to flee his beloved Austria with his wife and family and 'Climb Every Mountain' to head for freedom. In 'Cabaret', Cliff Bradshaw finally opens his eyes to the reality of the Nazi menace that is beginning to raise its ugly head in the once divinely decadent Berlin and takes his leave of the city, while Sally Bowles refuses to accept what is happening around her. In Martin Sherman's 'Bent', concentration camp inmate Max Berber stages the ultimate defiance by eventually openly admitting his homosexuality and taking his own life. And in total contrast the musical 'The Producers' promotes Mel Brooks' premise that the best way to oppose the ideology of nazism is to ridicule it.
---
The New Year Enters Another Rocky Horror Time Warp

January 3, 2007

The West End rocks into a time warp in January as Richard O'Brien's cult rock and roll musical 'The Rocky Horror Show' makes a welcome return for a limited run at the Comedy Theatre. Although it's been previewing since December 21, the show officially opens on January 4 and will play until January 27.
---
Extra Classes For The History Boys

January 2, 2007

West End audiences will get an opportunity to take their seats in the classroom with the History Boys for a limited run (to April 17) at the Wyndham's Theatre from January 3rd (following 2 weeks of previews which began on December 21). Simon Cox's recreation of Nicholas Hytner's original staging of Alan Bennett's multi-award winning play (6 Tony Awards, 5 Drama Desk Awards, 4 Outer Critics Circle Awards in addition to the Best Play accolades at the Evening Standard and Olivier Awards in the UK) comes to the West End with a huge reputation built by successful runs at the National Theatre, on Broadway, on film and two UK tours. And the reputation is thoroughly deserved - this play is Alan Bennett's master work.
---
Out With The Old, In With The New

January 1, 2007

Another year draws to a close and a new year beckons. Almost as the clock turns between the years we say adieu to Idina and say hello to Kerry, wave a fond goodbye to Caroline or Change and The Producers and welcome the brief return of The Rocky Horror Show and The History Boys. As we sing Auld Lang's Syne, it gives cause to look back on and look forward to the respective years in London theatre.
---
Blondel's New Crusade Comes To An End

December 30, 2006

The revival of the Tim Rice/Stephen Oliver musical 'Blondel' ends its run at the Pleasance Theatre in Islington on Sunday, December 31. The original production, starring Paul Nicholas and Sharon Lee Hill, opened in the West End in November 1983 and ran for just under two years. The revival, with an excellent cast led by ex-soap star from Hollyoaks, Chris Grierson and feisty How Do You Solve A Problem Like Maria semi-finalist, Abi Finlay, has enchanted London fringe theatre audiences for just six weeks.
---
John Barrowman Ties Welsh knot in Cardiff

December 29, 2006

On Wednesday, December 27 veteran West End and Broadway leading man John Barrowman and his partner of 16 years Scott Gill formally embarked upon a Civil Partnership in a ceremony in Cardiff, Wales. Barrowman, ceremoniously dressed in a Scottish kilt, swore his 'marriage' vows with architect Gill in front of a small group of 40 friends at the St. David's hotel in Cardiff bay. Scottish born Barrowman, who was brought up in Joliet, Illinois, has recently made his home in the Welsh capital.
---