Robert Gould - Page 4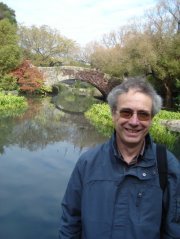 Robert Gould taught history and wrote history textbooks before beginning to write librettos and lyrics for musical theatre. With Christopher J. Orton, he has co-written the musicals "Based On A True Story" (a workshop production of which was presented at the Jermyn Street Theatre in 2010), "My Land's Shore" (which received its world premiere production at Ye Olde Rose & Crown Theatre, London in February 2017, garnering an Off West End Award nomination as Best New Musical), and "Grace Notes" (a finalist in the Leicester Square Theatre New Musical project in 2014).
He also writes songs with Joe Sterling (including lyrics for the album "Somewhere In My Mind - the Songs of Joe Sterling") and with Alex James Ellison (including songs for their EP, "Favourite Sins"). With composer Rob Eyles, he has written the musical "A Pebble For Aaron" (a finalist for the 2016 Stiles And Drewe Mentorship Award), and a musical based on the Grimm Brothers' fairy tale, "The Wonderful Musician" (which was work-shopped at the Arts Educational School in April 2017). Eyles and Gould staged a sell-out concert – "I Wasn't Thinking At All" – at The Pheasantry in 2015 and their debut album "As Long As I Have Music" was released in June 2016.
An album of songs with Robert Gould's lyrics, "Words Shared With Friends", was nominated for a 2014 BroadwayWorld Album Award as Best Compilation Album.
MOST POPULAR ARTICLES
LAST 365 DAYS
Slovick, O'Reilly & Stott to Perform Live At Dress Circle Showcase Of Debut Album SOMEWHERE IN MY MIND - THE SONGS OF JOE STERLING, April 21

April 14, 2012

BWW reports on the live showcase and album signing event at Dress Circle on April 21, when Jos Slovick, Rosa O'Reilly and Ben Stott will perform songs from Joe Sterling's debut album, 'Somewhere In My Mind'.
---
2012 Welsh Musical Theatre Young Singer Of the Year Finalists Announced

February 28, 2012

Robert Gould reports with news of the prestigious Welsh Musical theatre Young Singer Of the Year contest in Swansea.
---
Brunger, Cleary, Passey, Miller and Sterling to feature in SimG Productions' EASTER WITH THE COMPOSERS

February 16, 2012

Robert Gould reports on upcoming SimG productions cabaret on the Battersea Barge featuring some of the best of the UK's new generation of musical theatre songwriting.
---
West End Stars GIGGIN4GOOD at Actors' Church, Covent Garden, Feb 5

January 8, 2012

Following the success of the 2011 Giggin4Good showcase, a follow-up charity concert will take place at St. Paul's Church, Covent Garden on Sunday February 5th, 2012 with an all-star cast.
---
Jonathan Eio Presents LOVE LOVE LOVE With Jodie Jacobs & Dan Clews At The Pheasantry, Feb 5

January 7, 2012

Singer/songwriter and musical theatre performer Jonathan Eio will present a special Valentine's treat at The Pheasantry in Chelsea on Sunday February 5th. "Love Love Love" will be a musical evening of love related songs old and new - an eclectic mix of pop and musical theatre, 80s "cheese" and classic pop songs!
---
SUMMER WITH JACK SHALLOO Plays Battersea Barge, August 28

August 28, 2011

The final evening in SimG Productions' 'Summer With.....' Cabaret season at The Battersea Barge on Sunday August 28th will feature Essex-born actor/singer/songwriter, Jack Shalloo 'and Friends'.
---
---
The Stephen Sondheim Society Launches New Website

July 26, 2011

The Stephen Sondheim Society, which counts Mr Sondheim himself amongst its patrons, has announced the launch of its new website, to coincide with the new Charitable Trust status for the Society.
---
Leanne Masterton Announces Jerry Herman Birthday Cabaret, Jermyn Street, July 10

July 10, 2011

Robert Gould reports on London's sole theatrical celebration of Broadway legend Jerry Herman's 80th birthday.
---
---
BWW Reviews: THE ROAR OF THE GREASEPAINT - THE SMELL OF THE CROWD, Finborough Theatre, June 22, 2011

June 23, 2011

Robert Gould reviews Ian Judge's London premiere of Leslie Bricusse and Anthony Newley's 1965 Broadway musical.
---
The "Sunday Singers" will sing The Songs Of Jonathan Eio at the Canal Cafe Theatre on June 26

June 21, 2011

An evening of new songs by one of the UK's brightest new song-writing stars, Jonathan Eiø, will be presented by members of the Sunday Night Singers at the Canal Café Theatre in Little Venice, London on Sunday June 26.
---
BWW Reviews: SPRING AWAKENING, Greenwich Playhouse, June 11 2011

June 13, 2011

Based on Frank Wedekind's dramatized polemic against the sexually repressive culture of nineteenth century Germany, Spring Awakening - a tale of the sexual awakening of a group of teenagers with a beautiful and highly energised rock score by Duncan Sheik and Steven Sater - earned 8 Tony Awards in 2007
---
Iris Theatre's Dramatic Verse Workin Process 2 at St Paul's Church on June 9

June 1, 2011

On June 9th Iris Theatre will present the second instalment of their search for new, creative talent at St. Paul's Church, Covent Garden. Following the success of Workin Process 1 in March, which showcased some of the greatest new musical theatre writing in the UK, the company will perform a selection of exciting new pieces of dramatic verse from emerging writers.
---
Iris Theatre's CIRCUIT will bring 'total theatre' to St Paul's Church, Covent Garden in May

April 24, 2011

News of new theatrical work at the theatre at St Paul's Church, Covent Garden in May.
---
Eio Heads Cast of SPRING AWAKENING UK tour

April 20, 2011

Singer/songwriter Jonathan Eio releases brand new album and leads cast of UK premiere Spring Awakening tour.
---
BWW Reviews: THE JUNGLE BOOK, Old Rep Theatre, Birmingham, April 8 2011

April 9, 2011

A review of the latest touring show
---
BWW Reviews: MILLION DOLLAR QUARTET, Noel Coward Theatre, Feb 28 2011

March 1, 2011

Bob Gould reviews the new West End show
---
PRINCIPALITY WELSH MUSICAL THEATRE YOUNG SINGER OF THE YEAR, Swansea Grand Theatre, February 26, 2011

February 27, 2011

Wales has a proud musical heritage, not least in the realm of musical theatre, with many of the West End's current and recent hit musicals filled with Welsh talent in lead roles
---
BWW Reviews: SPAMALOT, Swansea Grand Theatre, Feb 2011

February 17, 2011

Robert Gould reviews Phill Jupitus in the role of King Arthur
---
« prev 1 2 3 4 5 6 7 … 9 next »