Rob Lester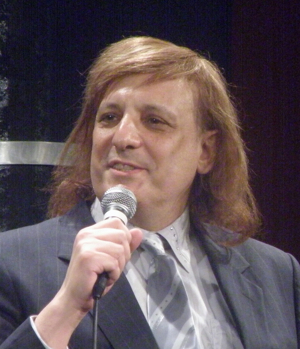 Rob Lester, native New Yorker, has been covering entertainment for 15 years for various outlets and has just joined the Broadway World writing staff.  His involvement in cabaret has also led to involvement with the genre's awards as a voting judge and he helps curate the Artists In Partnership (AIP) Cabaret Festival each May on Long Beach, Long Island and co-moderates its panel discussions. As far as musical theatre he loves attending, researching, reviewing, directing, writing songs and scripts as well as being as a dramaturg.  He also worked with author Deb Berman on her forthcoming book for kids about what happens before birth called "9 Months in The Play Womb: The Inside Story." He personally hails from the womb of a mother who loves the Great American Songbook and its singers, instilling that appreciation in him. 
MOST POPULAR ARTICLES
LAST 30 DAYS
LAST 365 DAYS
BWW Review: BROADWAY BY THE YEAR RADIANTLY REVISITS MUSICALS at The Town Hall

March 10, 2020

Highlights of Broadway are in the spotlight, sung (and occasionally danced) in the valued and audience-pleasing concert series at The Town Hall in NYC. Shows from the first five years of the 21st century were represented in the season opener.
---
BWW Review: NEW YORK: BIG CITY SONG BOOK Brings Cheer at Birdland; Crowds Cheer Marilyn Maye At Dizzy's

February 28, 2020

Birdland collects songs about NYC in the return of the three-singer revue New York: Big City Songbook the same week that Marilyn Maye reigned supreme once again at Dizzy's. Lots of solid entertainment.
---
BWW Review: DIFFERENT PERSONALITIES (J. MARK MCVEY; ALEXIS COLE) FIND A HOME at Birdland

February 27, 2020

J. Mark McVey's reference point was Broadway (mostly) with some bombast, with a band and guests, while Alexis Cole showed that less can be more with relaxed, classy jazz stylings.
---
BWW Review: Songwriters Susan Werner & Brian Gari Share Their Wares at Joe's Pub And Don't Tell Mama

February 27, 2020

Singer-songwriters doing their own material cuts out the usual intermediary interpreter so we get the intentions and first take from the horses' mouth, so to speak. Recent examples; Susan Werner and Brian Gari.
---
BWW Review: JAZZY JANE MONHEIT GETS COZY at Birdland

February 26, 2020

Many Great American Songbook standards and jazz classics fill the air as Jane Monheit settles into her two-shows-a-night run til the very end of February, with four strong musicians.
---
BWW Review: WITH YOU I LIKE, LYRICS & LYRICISTS EMBRACES JERRY HERMAN at 92Y (and an earlier side order of Irving Berlin)

February 26, 2020

When Jerry Herman's songs fill the air, it's always 'The Best of Times.' 92Y's Lyrics & Lyricists concert series proves that again with a strong presentation to enrich afternoons and night-time (February 22-24). The sturdy arts hub continues to honor Broadway's best, whether with a grand staged program like this or a casual classroom chat by Irving Berlin biographer James Kaplan.
---
BWW Review: Jungr, DeLaria, Oberlin, Mulder: These 4 Females Focus on Songwriters and Love at Joe's Pub & Birdland Theater

February 20, 2020

Barb Jungr, Lea DeLaria, Karen Oberlin, Marissa Mulder...Each of these female vocalists had plenty to say about love and made some 20th century popular music their own, each in her own quite original way.
---
BWW Review: IN ALONE TOGETHER CATHERINE RUSSELL & BAND REALLY HAVE IT ALL TOGETHER at Birdland Jazz Club

February 14, 2020

Catherine Russell makes her show like a party with happiness overflowing as she and hr band swing sets early and late thru February 15. Birdland is the place.
---
BWW Review: Singers Capture THE ONES THAT GOT AWAY at Feinstein's/ 54 Below

February 10, 2020

Eager, competent company members amply demonstrated their wares and polish. (I don't mean bringing shiny silverware from their place of employment.) a?oeWe don't just carry meatloaf!a?? remarked the gregarious host.
---
BWW Review: The Loser's Lounge TRIBUTE TO THE RAT PACK Packs 'Em In at Joe's Pub

February 10, 2020

At Joe's Pub, the eclectic collective of entertainers offers something for almost everyone, in a parade of approaches that ranges from sincere to oh my dear --- a mixed bag to be sure. Even though uneven, the odds are that most would find reason to smile and happily hop into the hipster heyday melee.
---
BWW Review: BARBARA FASANO IS SLEEK AND CHIC IN THE WHOLE OF THE MOON at Birdland Theater

February 9, 2020

When at her blissful best, Barbara Fasano makes the appealing onion-peeling of phrases judiciously considered, mining the potential of points of view and images that wordsmiths articulate. She luxuriates in the moods that melodists and instrumentalists paint.
---
BWW Review: SONGWRITER TRIBUTES Glow Affectionately at 92nd Street Y

January 26, 2020

Two prolific writers who put the a?oeGreata?? in a?oeThe Great American Songbooka?? were celebrated and explored in the same week at Manhattan's 92nd Street Y. In different presentations, there were embraces of the legacies of lyricist E.Y. (a?oeYipa??) Harburg and composer/lyricist Cole Porter.
---
BWW Review: KARRIN ALLYSON SINGS MOSE ALLISON ...and Soars at Birdland

January 22, 2020

Now at Birdland, Karrin Allyson is a great muse for Mose Allison. His wit and satirical edge sound interestingly freshened sung by a modern female voice who is clearly in sync with the way he used to think.  
---
BWW Review: MARISSA MULDER Warms Cold NYC Night (and Hearts) at Beach Cafe

January 20, 2020

Witnessing the bliss of Marissa Mulder singing gems from vintage Broadway scores and classic movies, accompanied just by longtime musical director/pianist/pal/pro Bill Zeffiro, is worth risking frostbite.  
---