Naomi Serviss

Naomi Serviss is an entertainment/spa writer whose roots include covering Broadway. She has written for Newsday, The New York Daily News, The New York Times and numerous magazines and websites.

MOST POPULAR ARTICLES
LAST 30 DAYS
LAST 365 DAYS
BWW Interview: Now Holley Fain Does the Dazzling in THE FERRYMAN
Posted: Jun. 12, 2019


Interview: Erik Lochtefeld Takes His Lumps in KING KONG
Posted: Dec. 27, 2018



Interview: Chuck Cooper Preaches to the CHOIR BOY
Posted: Feb. 5, 2019



BWW Interview: Marylouise Burke Is a Conflicted Mom in TRUE WEST
Posted: Feb. 4, 2019


Interview: Criss Angel Appears on Broadway to Levitate Your Spirits
Posted: Jul. 1, 2019


Interview: Aneesa Folds Masters the Full-Contact Wordplay of FLS
Posted: Sep. 27, 2019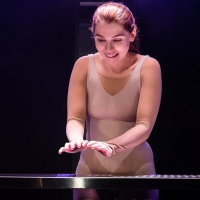 Interview: Milly Thomas's DUST Tackles Suicide With Wit
Posted: Aug. 19, 2019


BWW Interviews: THE OTHER PLACE's Zoe Perry on Memory, Mothers and Red Meat

January 17, 2013

Acting in a Broadway play comes with a bonus for Zoe Perry: She shares a stage with her mother, the formidable Laurie Metcalf.
---
Under the Radar Theater, From Around the World

December 28, 2012

An explosively diverse festival celebrates international performances from seven countries ranging from emerging talents to masters in their field.
---
BWW Interviews: In This Corner, Danny Mastrogiorgio of GOLDEN BOY

December 28, 2012

Danny Mastrogiorgio, a member of a heavyweight ensemble cast, explains why GOLDEN BOY still packs a punch with audiences.
---
BWW Interviews: Broadway Vet Natalie Toro Releases New Single 'Just in Time for Christmas'

December 24, 2012

Natalie Toro, Broadway veteran and popular chanteuse, talks about releasing her latest single, JUST IN TIME FOR CHRISTMAS, just in time for the holidays.
---
BWW Interview: A Searing Dramatic Break for Daily Show's Aasif Mandvi

November 5, 2012

DISGRACED, starring Aasif Mandvi, brings to a rolling boil the issues of identity, racism, marital infidelity and the high cost of ethnic assimilation.
---
BWW Interviews: Annie Funke Makes Waves With IF THERE IS I HAVEN'T FOUND IT YET

October 8, 2012

Annie Funke draws on her on past as a bullied child to deliver a memorable performance in Nick Payne's inventive and dark examination of a family on the edge.
---
BWW Interviews: CHAPLIN's Jim Borstelmann on the Humor-Drama Balance

September 11, 2012

Jim Borstelmann, the Broadway song and dance veteran, tackles a meaty role as Charlie Chaplin's lifelong friend and business manager.
---
BWW Interviews: Robert Cuccioli Finds It's Not Easy Being Green Goblin

August 30, 2012

Robert Cuccioli is no stranger to playing complicated characters, but the Green Goblin has unusual challenges, starting with his slithery green exterior.
---
BWW Interviews: Chip Zien Heads INTO THE WOODS (Again)

July 11, 2012

After originating the role of the Baker, Chip Zien is INTO THE WOODS all over again, in the Shakespeare in the Park production.
---
BWW Interviews: Eddie Cahill of 3C, an Unsweetened THREE'S COMPANY

June 28, 2012

Also stirring the emotional stew inside 3C is Terry (Eddie Cahill), a swaggering, jumpsuit-attired friend of the three roommates who looks as if he has come cross-country from the Bay Ridge disco of SATURDAY NIGHT FEVER.
---
BWW Interviews: Marilyn Sokol on OLD JEWS TELLLING JOKES

June 21, 2012

Based on a series of popular YouTube videos of the same name, the "Old Jews" stage version serves up 90 minutes of stories and quips stacked like an overstuffed funny-on-rye.
---
BWW Interviews: Carol Kane on the Magic of HARVEY

June 15, 2012

A prolific veteran of film, TV and theater, Carol Kane can be found these days in the Broadway revival of "Harvey" at the Roundabout Theatre.
---
Summer Stages: BWW's Top Summer Theatre Picks - Broadway!

June 7, 2012

Broadway sizzles with hot shows all summer long … here are five not to miss.
---
BWW Interviews: PERFECT CRIME's Catherine Russell Celebrates 25 Years Thrilling Audiences

April 12, 2012

Leading lady Catherine Russell has performed the role of Margaret Thorne Brent more than 10,000 times since the play's Off Broadway opening on April 18, 1987, and she has yet to take a single sick day off.
---
BWW Interviews: Rory O'Malley - A MORMON Send-Off for NYC Half-Marathon

March 16, 2012

Rory O'Malley, the Tony-nominated actor in THE BOOK OF MORMON, will be singing the National Anthem on March 18 before 15,000 runners competing in the seventh NYC Half Marathon.
---
BWW Interviews: A Big Step for SMASH Choreographer Joshua Bergasse

March 15, 2012

Joshua Bergasse, choreographer of NBC's musical drama SMASH, has found an outlet for the sort of work inspired by the old MGM musicals he grew up watching. "Those old shows used dance as part of the story,' he said, 'and I try to make the dance sequences part of the SMASH story."
---
BWW Interviews: Petula Clark Extends Her Run Uptown at Feinstein's at Loews Regency

February 9, 2012

Petula Clark has fallen in love with New York audiences. And judging by the demand for tickets, the feeling is mutual. Her show at Feinstein's at Loews Regency has been so popular that her run has been extended to Feb. 11.
---
BWW Interviews: No Day But Today for RENT's Brandon Victor Dixon

February 4, 2012

Brandon Victor Dixon had a feeling that one day he would join the ensemble of the iconoclastic musical RENT. He was only 15 years old when the play debuted in 1996, but Dixon, who plays Tom Collins, says RENT still evokes a special enthusiasm from young audiences.
---
9