Gabor Szilagyi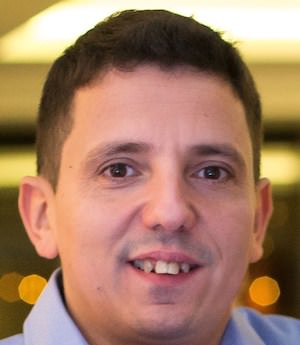 Gabor Szilagyi (39) is a freelance writer in Budapest, Hungary where he shares his free-time between family and theatre, covering musical theatre and classical music topics. He is the author of the only non-Anglo-Saxon biography about Stephen Sondheim, titled 'The Theatre of Stephen Sondheim' and the editor of a website dedicated to the works of Sondheim.
MOST POPULAR ARTICLES
LAST 365 DAYS
BWW Review: SISTER ACT at Budapest Operetta Theatre

September 13, 2018

It comes as no surprise for anyone to hear that Sister Act with its partly disco, partly R&B inspired score by multi-award winning Alan Menken is far from that of the all-time greatest musicals. But it is always pleasing to notice when a skillful crew such as the competent one of the Operetta Theatre in Budapest treats the material as if it would be the eighth wonder of the musical theatre world.
---
BWW Review: COUNTESS MARIZA at Seefestspiele Moerbisch

August 27, 2018

Seefestbuehne Moerbisch, situated next to the Austrian-Hungarian border in Niederoesterreich by the Lake Neusiedl is an exquisite venue to watch and listen to operetta. The enormous open-air theatre with its mighty stage has been a host to beautifully conceived classic operetta performances since 1957. The core repertoire covers the most popular works of Franz Lehar, Johann Strauss and Emmerich Kalman alongside with the occasional visit of musicals such as The Fiddler on the Roof and My Fair Lady.
---
BWW Review: CHICAGO at Átrium Theatre, Budapest

July 17, 2018

If you are a musical theatre aficionado and know all the notes of Kander's and Ebb's masterpiece by heart or if you want to hear better voices than Ute Lemper's or Ruthie Henshall's on the stage - then this is definitely not your kind of Chicago. But if you want to be entertained by media criticism, the extensive use of slang dictionary or scaled down, larger than life characters who can actually be your neighbors in suburban Chicago or even in Budapest - then go for it!
---
BWW Review: THE HUNCHBACK OF NOTRE DAME/DORIAN GRAY at Budapest Operetta Theatre

April 18, 2018

Budapest Operetta Theatre is one of the most important venues in Budapest when it comes to musical theatre. Its huge repertoire ranges from classic operetta (The Merry Widow or The Riviera Girl aka Die Csardasfurstin) to modern musicals (mostly Sylvester Levay pop-musicals along with some classical show tunes). Two of the brand-new musical productions from the theatre deals with the ever-lasting questions of good and bad, or to rephrase it, which is the more important, the outer appearance or the inner good?
---
BWW Review: RICHARD III at Radnóti Theatre, Budapest

March 2, 2018

Three and a half hour long without a single dull moment, that's quite an achievement in itself. But this new production of Richard III at Radnoti Theatre, the fancy art theatre venue in Budapest offers much more: polished reading of a classical tale with some twists, superb acting and boldly imaginative staging by world-class director, Andrei Serban.
---