Review: RICHARD III at Radnóti Theatre, Budapest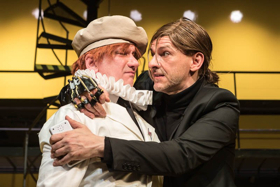 Prince Charming with some issues
Richard III by William Shakespeare, directed by Andrei Serban at Radnóti Theatre, Budapest
Three and a half hour long without a single dull moment, that's quite an achievement in itself. But this new production of Richard III at Radnóti Theatre, the fancy Art Theatre venue in Budapest offers much more: polished reading of a classical tale with some twists, superb acting and boldly imaginative staging by world-class director, Andrei Serban.
Ok, everyone knows Richard III. This guy is one of the most notable Shakespearean heroes, and almost such an evil than the other really wicked characters in theatre history altogether. But this Gloucester, portrayed by Róbert Alföldi, fun-favorite actor-director and former manager of National Theatre in Budapest, is a unique beast. A serpent in the garden of Roses. Prince Charming with some serious health and mental issues. A kid who has no intention to grow up. A narcissistic anti-hero with a troubled past (and future) who plays a king for a day or two. Alföldi utilizes his whole artistic oeuvre and his Richard has many colors and facets. Definitely a joy to watch from start to finish.
Most of the other actors play different roles as it often occurs in the case of these demanding historical dramas. Without doubt, everyone seems to be fully committed to the performance. Of course, there are some unorthodox casting choices (for instance, Zsolt László beautifully plays both the Prince of Wales and Queen Margaret) but they are fully justified in the end.
Andrei Serban's grand vision is on one hand faithful to the original play but on the other hand it offers so much more. His Richard III is partly historical drama, partly antique tragedy, partly political pamphlet and theatrical Zeitstück. Many of the spoken words are from the traditional translation of the play by István Vas but guest texts (mainly modern phrases) are also used to emphasize the timelessness of the story.
Spoiler alert: Richard even sings some lines from My Fair Lady ('I'm an Ordinary Man') in front of a mirror which not only reflects to the character's true nature but to the fact that the very same actor performs Professor Higgins in a successful production at another theatre in the capital.
Spoiler alert no 2: not a single member of the audience of any theatrical event is deserved to be punished by this extensive use of stroboscopic lights. The theatre warns everyone in advance but this might cause anything from mild discomfort to serious health problems at any time.
This new Richard III can easily be the hottest theatre ticket in town. And rightly so!
Photo Credit: Dániel Dömölky, Radnóti Theatre, Budapest