BWW Review: SISTER ACT at Budapest Operetta Theatre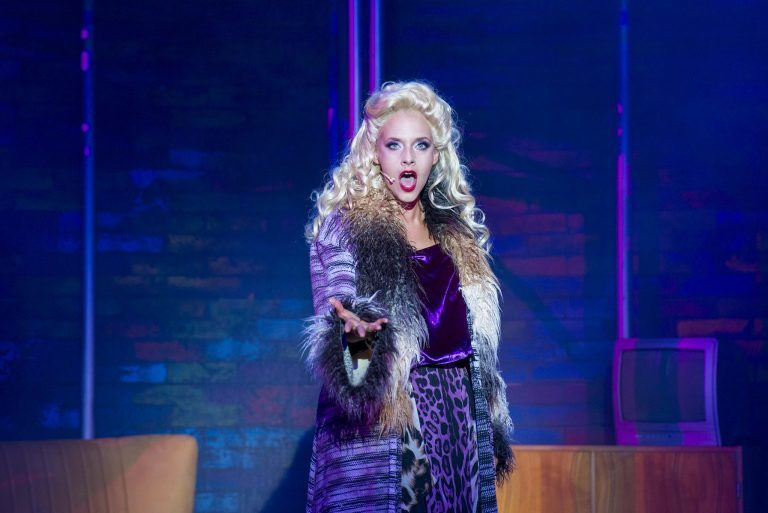 It comes as no surprise for anyone to hear that Sister Act with its partly disco, partly R&B inspired score by multi-award winning Alan Menken is far from that of the all-time greatest musicals. But it is always pleasing to notice when a skillful crew such as the competent one of the Operetta Theatre in Budapest treats the material as if it would be the eighth wonder of the musical theatre world.
Conceived by director Vajk Szente and choreographer Lajos Túri, the brand new Hungarian incarnation of Sister Act is definitely a joy to watch and listen to from start to finish. The staging has a lot to offer: huge but serviceable settings, eye-catching costumes, powerful dancing, and, most importantly, many possibilities for the actresses and some of the actors of the stalwart ensemble to shine through the average material.
The musical theatre version of the successful Hollywood comedy movie (music by Menken, lyrics by Glenn Slater and book by Bill and Cheri Steinkellner) is a one (and a half) women show: the best parts and solos were written for the female protagonist, the disco-singer-turned-to-nun Deloris Van Cartier aka Sister Mary Clarence (Anna Peller) and for the stern Mother Superior of the church (Kata Janza). Both actresses portray their roles beautifully with full involvement and in perfect vocal condition. Their showstoppers such as Take Me to Heaven and Haven't Got a Prayer are equally memorable.
The ensemble cast has less opportunities, but one can easily recognize the vocal talent of Kitty Jenes (as Mary Robert), the stylish singing-acting of Szilveszter Szabó P. (as the big bad boss, Curtis Jackson) or the wonderful supporting cast as the many nuns all called Mary-something.
Productions like this always proves that musical theatre is a wonder like nothing else. One does not need a masterpiece to entertain and even to amuse the audience with. Putting your heart to the stage is the only must!