Duncan Pflaster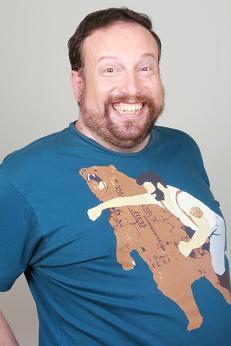 Duncan Pflaster is an award-winning playwright whose plays have been produced all over. He also has been known to direct, write music, play the ukulele, and (if his arm is twisted) act. He won second place in the 2009 Stage and Cinema's New York City Theater Review Contest. www.duncanpflaster.com


MOST POPULAR ARTICLES
LAST 30 DAYS
LAST 365 DAYS
BWW Reviews: MAY VIOLETS SPRING: Elseworld Elsinore

April 22, 2014

Dare Lab presents the new verse play 'May Violets Spring' in which James Parenti cleverly rewrites Hamlet to make Ophelia a central and active character.
---
BWW Reviews: SIR PATIENT FANCY - Patience Required

March 25, 2014

The Queens Company presents an all-female production of Aphra Behn's Restoration Comedy 'Sir Patient Fancy'.
---
BWW Reviews: NORWAY PLAYS: DRAMA BEYOND IBSEN: No Doll's Life

December 11, 2013

Ego Actus and Scandinavian American Theater Company (SATC) present the US Premiere of NORWAY PLAYS: DRAMA BEYOND IBSEN, two one act plays by contemporary Norwegian playwrights.
---
BWW Reviews: NAKED HOLIDAYS 2013: Bare Brr

December 11, 2013

EndTimes Productions presents the Seventh installment of 'Naked Holidays', their annual evening of flesh-filled comedy sketches and songs.
---
BWW Reviews: DISASTER!: Hope Floats

November 5, 2013

Seth Rudetsky and Jack Plotnick's DISASTER! a 70s Disaster Movie Musical is a laugh-out-loud musical spoof of 70s disaster flicks, featuring repurposed hits from the decade.
---
BWW Reviews: THE IMPORTANCE OF BEING ERNEST HEMINGWAY - Your Son Also Rises

August 28, 2013

Elliot B. Quick and James Rutherford's wild mashup of Oscar Wilde and Ernest Hemingway, The Importance of being Ernest Hemingway, is a fascinating deconstruction of manly posturing.
---
BWW Reviews: FringeNYC - HALF: A DIVORCE FARCE is a Tour-de-Force

August 14, 2013

Rebecca Foresman's delightful play "Half: A Divorce Farce" has two performers playing six roles in a set of tour-de-force performances.
---
BWW Reviews: HAMLET and ROSENCRANTZ AND GUILDENSTERN ARE DEAD

June 12, 2013

The Seeing Place Theater presents Shakespeare's Hamlet and Stoppard's 'Rosencrantz and Guildenstern Are Dead' in true repertory.
---
BWW Reviews: I WANNA DESTROY YOU: Pet Homosexuals

May 24, 2013

At Hand Theatre Company presents Joshua Conkel's hilarious and provocative new play 'I Wanna Destroy You', which takes and explodes the idea of the pet homosexual/gay best friend.
---
BWW Reviews: QUEERSPAWN: I Can't Believe It's Not Better

May 20, 2013

A Collection of Shiny Objects presents the premiere of 'queerSpawn' by Mallery Avidon, a play about a kid being bullied because of having lesbian mothers.
---
BWW Reviews: HONEY FIST: You've Got to Have Friends

May 5, 2013

Flux Theatre Ensemble presents August Schulenberg's 'Honey Fist', a thoughtful and comic play about old friends and their secrets.
---
BWW Reviews: SANS MERCI: In Thrall

May 1, 2013

Flux Theatre Ensemble presents 'Sans Merci' a powerful and searing play by Johnna Adams, in an excellently realized production.
---
BWW Reviews: HAPPY BIRTHDAY: Fizzy Lifting Drinks

March 23, 2013

The Actors Company Theatre (TACT) presents a revival of 'Happy Birthday' by Anita Loos (author of 'Gentlemen Prefer Blondes'), an utterly charming fizzy cocktail of fun from the 1940s.
---
BWW Reviews: LOOK HOMEWARD, ANGEL: Mountain Grills

March 23, 2013

Austin Pendleton directs a low-budget production of 'Look Homeward, Angel', Ketti Frings' 1958 Pulitzer Prize-winning play based on Thomas Wolfe's first and largely autobiographical novel.
---
BWW Reviews: Duncan's Top Ten 2012 New York Theatre Experiences

December 26, 2012

BroadwayWorld Critic Duncan Pflaster goes back and looks at his top ten favorite New York Theatre experiences from 2012.
---
BWW Reviews: NAKED HOLIDAYS 2012: Tree Trim

December 8, 2012

End Times Productions presents the 6th edition of their annual winter comedy/music revue 'Naked Holidays', which lives up to its name.
---
BWW Reviews: HEARTS LIKE FISTS: Love Doctors

December 7, 2012

Flux Theatre Ensemble presents the New York City premiere of Adam Szymkowicz's hilarious Superhero Romantic Comedy 'Hearts Like Fists' at The Secret Theatre in Queens.
---
BWW Reviews: THEN SHE FELL: All Mad Here

November 30, 2012

Third Rail Projects presents 'Then She Fell', an immersive theatrical experience based around Lewis Carroll's Alice books. Now extended through January 9th.
---
BWW Reviews: BY RIGHTS WE SHOULD BE GIANTS – Sister x 3

October 22, 2012

Lunar Energy presents 'By Rights We Should be Giants', a new play by Nadia Sepsenwol & Tim Van Dyck, inspired by Anton Chekhov's 'Three Sisters'.
---
BWW Reviews: IN THE BAR OF A TOKYO HOTEL: Color and Fight

October 19, 2012

Media At Large Productions presents a revival of Tennessee Williams' play 'In the Bar of a Tokyo Hotel', which incorporates dance as an atypical element.
---