Cybele Pomeroy
Cybele Pomeroy graduated from Loyola College, before it had grown up and become Loyola University, where she studied writing, literature, education and drama. She never studied costuming, improv or physical comedy but does them anyway. She thinks of herself as a theater tech though most of the money she's earned has been for performance. She's equally proud of her 17-minute limerick operetta with audience sing-a-long, Don Juan The Iguana and her 3 1/2-hour Watergate! The Musical (yes, intermission was 18 1/2 minutes) and was lead writer on a conflict-resolution computer game called Harmony Island. Her first name rhymes with "foretell", not "dribble".
MOST POPULAR ARTICLES
LAST 30 DAYS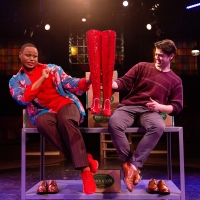 BWW Review: KINKY BOOTS Kicks Booty At Toby's In Columbia
Posted: Jan. 26, 2020


LAST 365 DAYS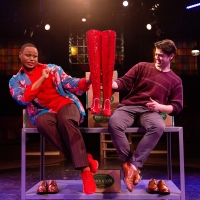 BWW Review: KINKY BOOTS Kicks Booty At Toby's In Columbia
Posted: Jan. 26, 2020


BWW Review: THE BODYGUARD Protects Toby's Superstar Reputation
Posted: Oct. 2, 2019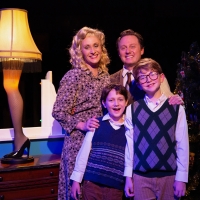 BWW Review: It All Comes Down To A CHRISTMAS STORY at Toby's
Posted: Dec. 2, 2019


BWW Review: THE PLAY THAT GOES WRONG Gets Classic Comedy Just Right
Posted: Jun. 8, 2019



BWW Review: Hear The Bells In Toby's HUNCHBACK OF NOTRE DAME
Posted: Apr. 19, 2019



BWW Review: Trippingly On The Tongue: HAMLET In Original Pronunciation At Baltimore Shakespeare Factory
Posted: May. 2, 2019


BWW Review: THE KING AND I Enchants Regally At The Hippodrome
Posted: Feb. 25, 2019


BWW Review: YOUNG FRANKENSTEIN Is Monstrous Great Fun At Toby's In Columbia

February 12, 2018

YOUNG FRANKENSTEIN, THE MUSICAL is packed with horrifying puns, die-laughing comedy, frightfully fabulous wigs, knock-em-dead singing and every iconic line you loved from the movie- Get tickets now to see it through Marc 11 at Toby's Dinner Theatre in Columbia and avoid horrified screams of disappointment.
---
BWW Review: Let THE REVOLUTIONISTS Spin You Right Round at Everyman Theatre

December 14, 2017

Playwright Lauren Gunderson, who marches boldly where political correctness fears to tread, delivers a stylized rendition of female revolutionaries, one famous, two obscure, one invented, reminding us that history is not only written by the victors, it's written by men. Director Casey Stangl presents a snappy, suspenseful, tense drama that is curiously chock-full of comedy. Everyman's resident actors and supporting artists are gifted in their range and variety.
---
BWW Review: Experience a MIRACLE ON 34TH STREET at Toby's in Columbia

December 11, 2017

Toby's Dinner Theatre in Columbia unwraps Meredith Willson's MIRACLE ON 34TH STREET, THE MUSICAL, which has enough sweetness to suit the season, enough sass to not be saccharin, and the delightful song 'It's Beginning To Look A Lot Like Christmas.' The many beautiful ensemble numbers that feature Macy's employees or happy holiday shoppers in their happy holiday coats and hats deliver a cozy, satisfying sugarplum, with moments of pure delight.
---
BWW Review: Tickled Pink by THE COLOR PURPLE at Baltimore's Hippodrome

October 21, 2017

THE COLOR PURPLE The Musical at the Hippodrome is a joy and a delight. The dramatic, often painful, sometimes hilarious story and the strong, well-defined characters function at a masterful theatrical level. Don't miss this one, hurry and buy a ticket. You will not be disappointed.
---
BWW Review: New Leading Lady Narrates An Amazing Technicolor JOSEPH At Toby's In Columbia

July 15, 2017

In celebration of Columbia's 50th year, Toby Orenstein, Artistic Director of Toby's Dinner Theatre in Columbia, rotates one powerhouse leading lady per decade into the well-written Narrator role of JOSEPH AND THE AMAZING TECHNICOLOR DREAMCOAT. Toby Orenstein and co-director Mark Minnick put together a fun, energetic production. Add new arrangements and musical direction by Ross Scott Rawlings, and the resulting show is engaging, sassy, funny, family-friendly and stuffed with talking points for the car ride home.
---
BWW Review: Heritage Players Perform Tuneful Feats Of Fun And Fantasy With SEUSSICAL THE MUSICAL.

July 14, 2017

If you're anywhere close to Catonsville, if you have (or have access to) children between 4 and 14, do your family a favor and come see SEUSSICAL THE MUSICAL, playing for one more weekend at the Rice Auditorium on the Spring Grove campus. It's a bright, juicy popsicle of a show, with fast moving action, familiar characters, child actors, audience interaction, and a temperature-controlled environment.
---
BWW Review: At Toby's In Columbia, JOSEPH's DREAMCOAT And Five All-Star Leading Ladies Dazzle In Amazing Technicolor.

June 22, 2017

Toby's Dinner Theatre of Columbia, in celebration of Columbia's 50th anniversary and its own 45th presents JOSEPH AND THE AMAZING TECHNICOLOR DREAMCOAT, gathering a beautiful assemblage of multi-cultural, multi-talented performers who shine in this unserious collage of an Andrew Lloyd Webber/ Tim Rice Old Testament crazy-quilt favorite.
---
BWW Review: Everyman Makes A Ruckus With NOISES OFF

May 26, 2017

Everyman Theatre pays exquisite attention to detail and creates an astounding feat of comedy in its production of NOISES OFF. The cast demonstrates comedic chops and executes pratfalls and buffoonery with commitment and perfect timing. Do yourself, your lungs and your liver a favor and laugh at the raucous riot. Don't be surprised if you find yourself craving sardines afterwards.
---
BWW Review: DO OR DIE Slays At The Sunset Restaurant; Don't Miss Murderous Mondays

April 27, 2017

Dinner and a murder? It's Monday, why not! Do Or Die delivers humor and homicide two weeknights a month at local Glen Burnie favorite The Sunset Restaurant. Get tickets early, because Do Or Die kills with comedy and serves sellout crowds.
---
BWW Review: BEAUTY AND THE BEAST at Toby's Enchants Young And Old

April 8, 2017

If you love Disney's BEAUTY AND THE BEAST, there's not a single reason you wouldn't like the show at Toby's Dinner Theatre. It's a fun production. There's a lot to love about it. Dinner is tasty. Everyone at Toby's is unfailingly polite, cheerful, helpful and speedy, including each member of the actor/wait staff. The productions are done with attention to detail and the actors are well cast. That combination of elements is rare in ANY public forum these days, so all credit to the management for creating this wonderful environment. If you enjoy dinner theatre, you will be pleased.
---
BWW Review: TWISTED MELODIES Wrings Laughter, Tears At Center Stage

March 29, 2017

If you are already a Hathaway fan, you really must not miss this show. If you are not already a fan, prepare to be converted. I walk into the show knowing very little of Donny Hathaway and walk out touched and changed forever. Writer/Performer Kelvin Roston has created a brilliant work of heartbreak, genius and intimacy to terrify and delight patrons of Center Stage.
---
BWW Review: And Yet She Persisted - STEEL MAGNOLIAS Perseveres With Heritage Players

March 28, 2017

The script of STEEL MAGNOLIAS celebrates the resilience of women, and this production of it particularly does so.It is a production of heart, from many hearts, and quite heart-warming.
---
BWW Review: STOMP Smashes Through The Hippodrome

March 19, 2017

STOMP is in town for just one more performance. If you've never seen it, prepare to be rocked. The percussive dance sensation is touring and it brings the house to its collective feet. It's more than a show: it's an experience.
---
BWW Review: Everyman Delivers a Rich Production of GREAT EXPECTATIONS

February 14, 2017

Director Tazewell Thompson, handling a tale that is heavy on narrative, guides the pliable ensemble to a performance that is dynamic, touching, amusing, lively and filled with gothic foreshadowing. Every sequence unfolds a new delight, from slapstick action to nuanced characterization to the most hilarious rendition of Hamlet it has ever been my privilege to witness. Script, direction, casting, performance and tech are each remarkable renditions of their kind. The beautiful language is retained, but made perfectly clear by action and diction. Additionally, it's heartily funny.
---
BWW Review: SHOW BOAT Sails Winning Course At Toby's Dinner Theatre

January 30, 2017

Toby's Dinner Theatre in Columbia, MD presents SHOW BOAT, an old-fashioned treasure of musical theatre history, complete with troubling ethical issues, a cast packed with talent, vintage choreography, a fashion parade of costuming and vocals that will alternately haunt you and have you humming. Including a tasty buffet meal pre-show, comfortable venue and impeccably congenial staff, an outing to Toby's is the complete package for a date or family fun day.
---
BWW Review: Shoot Your Eye at A CHRISTMAS STORY, THE MUSICAL at The Hippodrome

December 8, 2016

This musical is everything a piece of musical theater ought to be. There is a little prologue with the character of Jean Shepherd. We know immediately who is whom and the exact nature of the piece's dramatic crux. Devotees of the movie will find much that is familiar, though there has been some rearrangement, extension, enhancement and addition. Dialogue flows as stage dialogue should: with snappy delivery, different voices and more wit than is common in Real Life. Musical numbers are lively and either reveal character or move the plot. Scene changes are rapid and full of children's holiday pagent-styled elements. Ralphie's home is an adorable cutaway dollhouse. The cast is energetic and charming. This production should satisfy fans of musical theater, fans of the movie, fans of holiday shows, fans of family-friendly entertainment and really anyone who isn't a Grinch or a Scrooge.
---
BWW Review: Be Mystified by HOAX at MAP

July 28, 2016

If you've an interest in the unusual, if you have sampled traditional theatre and avant garde theatre and found them both not quite what you wanted, if you'd like to gather a few of your friends and your favorite '50s fancy duds, if you'd like an evening out that isn't clubbing and isn't pizza, do consider HOAX.
---
BWW Review: MILLION DOLLAR QUARTET Dominates Musically In Annapolis

July 18, 2016

If you belong to a particular subset of music aficionados, you may love this show. Vocally and instrumentally, the performers do an excellent job of animating beloved legends.Their musicianship is impressive and Musical Director Amy Jones has done a terrific job creating authentic-sounding renditions of well-known songs. JP Coletta's athletic interpretation of Jerry Lee is absurdly fun to watch. As Elvis, Travis Artz is enthusiastic and delivers excellent footwork. Adding some feminine energy to the show, Elvis' girlfriend 'Dyanne,' portrayed by Bella Muller in a saucy, sultry performance, blows the audience away singing 'Fever.'
---
BWW Review: Theatre Project Welcomes Back Happenstance With BROUHAHA

May 10, 2016

The performers of Happenstance Theater engage, intrigue, cavort, emote and display both physical precision and a remarkable range of organically produced sound effects. BROUHAHA's story, insofar as there is a story, lies in the development of the relationship between this cadre of classical clowns and the newcomers- that is to say, us, the audience. We become conspirators in the greatest of comi-tragic secrets: even in the direst of times, there is yet opportunity for playfulness and joy.
---
BWW Review: Center Stage's DETROIT '67 at Towson University Proves Worth The Geographic Challenge

April 20, 2016

Center Stage, though undergoing renovations, presents DETROIT '67 at Towson University's Mainstage Theatre. The full-scale production, which features familiar characters and witty, realistic dialogue, includes excellent technical effects, a clever, accurately detailed set and snappy pacing.
---
2