Brett Burger
Since a very young age, Brett Burger has been involved in theatre, both onstage and off, across the Twin Cities. Starting in 2012, he began reviewing theatre on his independent site, Brett Talk, sharing not only theatre-related reviews, interviews and personal essays, but also opinions on a wide variety of topics. His critiques reflect his vast knowledge and firsthand experience in the field—from his dedicated work with companies like Lyric Arts and the Great River Shakespeare Festival, to his bachelor's degrees in Theatre and Public Relations from Winona State University, to his resume of acting and technical theatre that spans more than a decade. He currently resides in Minneapolis. Read more of Brett's writing on www.BrettTalk.com
MOST POPULAR ARTICLES
LAST 30 DAYS
LAST 365 DAYS
Exclusive: 2019-2020 SEASON ANNOUNCEMENT at Lyric Arts
Posted: Mar. 19, 2019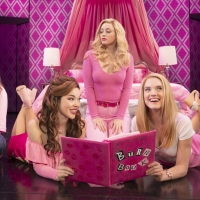 BWW Review: MEAN GIRLS at Hennepin Theatre Trust
Posted: Oct. 10, 2019



BWW Review: MAMMA MIA! at Chanhassen Dinner Theatres
Posted: Mar. 18, 2019


Interview: Eden Espinosa on FALSETTOS and More!
Posted: Feb. 18, 2019


BWW Review: HELLO, DOLLY! at Hennepin Theatre Trust
Posted: Apr. 19, 2019



BWW Review: CHARLIE AND THE CHOCOLATE FACTORY at Orpheum Theatre
Posted: Mar. 10, 2019


BWW Feature: 9 Shows To See In The Twin Cities Area In 2019

January 16, 2019

Last year I posted an article on my website about the top 10 shows I was the most excited for that would be in the Twin Cities across the 2018-2019 season. Some of them premiered in 2018 like Mamma Mia at the Ordway and, of course, the traveling production of Hamilton. However, as I look back at the least, a large majority of them are in 2019 and I'm still just as excited to see these productions as I was last year when I posted about them. Below are 9 shows that I can't wait to see in 2019!
---
BWW Review: LEND ME A TENOR at Old Log Theatre

January 14, 2019

As 2018 wrapped up, I was able to sneak in one final show. That show was my 55th show that I saw this year and it was at the lovely Old Log Theatre. This show is one that I've heard of many many times but had never gotten the chance to read or even see produced. I was beyond thrilled to finally see the farcical comedy Lend Me a Tenor by Ken Ludwig.
---
2