Brandon Horwin
Brandon Horwin is a Drama major and Performing Arts Management minor at The Catholic University of America. Recently, Brandon has stage managed, assistant directed, and acted. Brandon was one of the proud recipients of the Drama Department's "Rookie of the Year" award last year. This past year, Brandon has shadowed at several Broadway shows including: Come From Away and The Phantom of the Opera, among others. Brandon is also a BroadwayWorld student blogger. You can check out his blogs under the college students section of BroadwayWorld.com. Brandon loves the theatre and can't wait to share his reviews with you.


MOST POPULAR ARTICLES
LAST 365 DAYS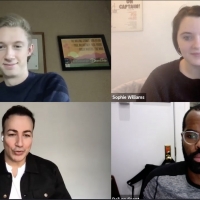 Two DC BroadwayWorld Writers launch ?Whatcha Doin'? With Brandon Horwin and Sophie Williams? a star-studded podcast series.
Posted: Dec. 18, 2020


BWW Review: FANNIE LOU HAMER SPEAK ON IT! at Arena Stage
Posted: Oct. 23, 2020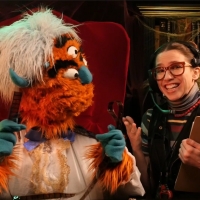 BWW Review: LEONARDO AND SAM: THE TERRIBLE MONSTER AND THE MOST SCAREDY-CAT KID IN THE WHOLE WORLD, RE at The Kennedy Center
Posted: Mar. 19, 2021


BWW Review: LEONARDO AND SAM: THE TERRIBLE MONSTER AND THE MOST SCAREDY-CAT KID IN THE WHOLE WORLD, RE at The Kennedy Center

March 19, 2021

Leonardo and Sam: The Terrible Monster and the Most Scaredy-Cat Kid in The Whole World, Respectively is a superb choice for children to watch, learn, enjoy, and re-create as a pandemic activity. The website offers the same "lesson" video found at the conclusion of the performance as well as a question box for children to ask further questions regarding the production. 
---
Two DC BroadwayWorld Writers launch "Whatcha Doin'? With Brandon Horwin and Sophie Williams" a star-studded podcast series.

December 18, 2020

'Whatcha Doin?" is a fully student-produced podcast series that strives to connect current theatre industry professionals with future theatre industry professionals by way of interviews accessible as both YouTube and Spotify podcast listings.
---
BWW Review: FANNIE LOU HAMER SPEAK ON IT! at Arena Stage

October 23, 2020

Live-outdoor theatre, an incredible view of the water at the Wharf, and E. Faye Butler are all we could ask or hope for at the moment. Arena Stage has delivered big with its limited engagement of Cheryl L. West's timely Fannie Lou Hamer, Speak On It!.
---
BWW Review: THE WANDERERS at Theater J

February 26, 2020

Theater J, located in Washington, DC's Jewish Community Center focuses its work on celebrating and bringing light to the Jewish culture and its people. Anna Ziegler's The Wanderers is no exception to this mission. This is the fourth Ziegler play that Theater J has produced and its one that is sure to spark conversation, make the audience think deeply about the characters, and even toys with one's own emotions and thoughts on their own lives.
---
BWW Review: PHANTOM OF THE OPERA at Synetic Theater

February 10, 2020

Synetic Theater is known for bringing their audiences on a journey through creative movement and dancing. Without a word spoken or a note sung, Synetic manages to capture the audience by putting movement in the spotlight while telling familiar tales. The Tsikurishvilis have now coupled a beloved tale with a creative twist - Gaston Leroux's Phantom of the Opera. Synetic Theater's production is as hauntingly masterful as the story itself and its all due to all overwhelming success of all parties involved.
---
BWW Review: THE MERRY WIVES OF WINDSOR at Folger Theatre

January 22, 2020

One of the biggest challenges in producing Shakespeare, is making it appealing and fresh to audiences of all ages. 'How can it feel both accessible and intriguing?' With these thoughts in mind, Aaron Posner and his team must have had some long brainstorming sessions. Luckily, however, they have truly succeeded at a concept that is both loads of fun and works perfectly for William Shakespeare's The Merry Wives of Windsor. It's 1972 at the Folger and it's quite the time!
---
BWW Review: SHELTERED at Theater J

January 14, 2020

There are some topics in which you hope plays conquer correctly. Topics that include dark parts of history such as the holocaust sit at the top of that list. Luckily, Alix Sobler's remarkable script and Theater J's impressive production of Sheltered, honors the topic, the people, and the story.
---
BWW Review: NSO POPS: DIANA ROSS - MUSIC BOOK 2020 at Kennedy Center

January 10, 2020

There are certain artists whose names immediately fall in the 'legend' category and Diana Ross is one of them. Though no proof is needed, she is even a Kennedy Center Honoree, Grammy Award Winner, Tony Award Winner, and Oscar and Golden Globe Nominee. Her career spans over 50 years and dates back to the Motown era, as one of the most famous acts during that time. I was watching a Motown special a couple of weeks ago and Motown founder, Berry Gordy commented that 'Diana Ross and the Supremes' were the 'number one act' for Motown during its success period. Diana Ross is back in 2020 and dazzling more than ever before at seventy-five years old lighting up the Kennedy Center Stage with grace and incredible vocals.
---
BWW Review: THE ILLUSIONISTS: MAGIC OF THE HOLIDAYS at National Theatre

December 4, 2019

The Illusionists: Magic of the Holidays had me instantly intrigued just by the title. I was interested in the idea of coupling magic with the theme of the holidays. After all, magic is a crucial part of the holiday season, and this show sounds like an excellent addition to that magic that comes around this time of the year. Unfortunately, this show did not impress with it's 'holiday magic extravaganza.'
---
BWW Review: AIRNESS at Keegan Theatre

November 15, 2019

'What does air guitar teach us? Everything we need to rock, is already inside us' is a line that the character of Golden Thunder delivers midway through this fun and fresh play. It's a line that sums up this play for me: air guitarists competing nationally and internationally, doing so because they love it, and making relationships, helping and sometimes finding out more about each other and themselves along the way.
---
BWW Review: ESCAPE TO MARGARITAVILLE at the National Theatre

October 11, 2019

'Fins up!' The National Tour of Jimmy Buffet's ESCAPE TO MARGARITAVILLE docks at The National Theatre in Washington DC. If you're looking for a decently fun, nicely crafted, Buffet filled escape, paired with a mix of performances, then you've found the right show.
---
BWW Review: CATS Brings the Jellicle Ball to the Kennedy Center

September 23, 2019

a?oeThe Memory Lives Againa?? at the John F Kennedy Center for the Performing Arts as the National Tour of CATS takes the Opera House Stage. CATS has been entertaining audiences all over the world since its Broadway debut in 1982. Now, the newly imagined, yet classic CATS invites us into the junkyard all over again in Washington, DC.
---
BWW Review: MATTHEW MORRISON AND SHOSHANA BEAN at The Strathmore

May 6, 2019

Matthew Morrison and Shoshana been lit up the stage at the Strathmore's Annual Spring Gala in North Bethesda on Saturday. The evening started out with Shoshana Bean's jazz set which perfectly showcased her incredible voice. Bean's set included many songs from her 2018 album 'Spectrum' which she expressed was an album that was rooted in and inspired by music from her childhood. Bean opened her set with a song from this album entitled 'Remember the Day' - an electrifying jazz song which showcased Bean's exquisite voice and personality. She had the audience in the palm of her hand from the first note. Bean continued with songs from 'Spectrum' including 'I Wanna Be Around' and 'Strange Thunder.' Bean introduced her music director and producer David Cook who was on piano, and exclaimed to Cook that 'you're one of my favorite people to make music with.' The Bean and Cook pair made some exceptional music which resonated gracefully, throughout the beautiful Strathmore music hall.
---
BWW Review: THE PECULIAR PATRIOT at Woolly Mammoth

April 8, 2019

The first words that come to mind when thinking about The Peculiar Patriot at Woolly Mammoth Theatre are: riveting, eye-opening, and deeply personal.
---
BWW Interview: Brittany Williams of A BRONX TALE the National Tour at The National Theatre

March 25, 2019

In preparation for A Bronx Tale stopping in Washington, D.C. March 26-March 31, Brittany Williams spoke about her role as a swing in the show, and being a part of the touring company of A Bronx Tale.
---
Best Theatres In Washington, DC: A Guide To The Top Local Theatres

March 21, 2019

Check out our list of some of the top venues to check out when visiting Washington, DC below - including the Kennedy Center, Ford's Theatre, Arena Stage, and more!
---