Amanda Prahl
MOST POPULAR ARTICLES
LAST 30 DAYS
LAST 365 DAYS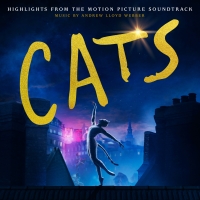 Album Review: CATS Doesn't Make Many Good New Memories
Posted: Jan. 3, 2020



She Believed She Could: HADESTOWN's Anais Mitchell Could Change the World with a Song
Posted: Apr. 20, 2019


Album Review: Alfie Boe and Michael Ball Are BACK TOGETHER Again
Posted: Nov. 14, 2019


Album Review: FROZEN II Still Makes Movie Magic
Posted: Nov. 21, 2019


BWW Album Review: MY FAIR LADY Is Beyond 'Loverly'

June 8, 2018

If you've ever been involved in high school or community theatre, you probably have a My Fair Lady memory. Mine is of my junior year of high school, waltzing around in a vintage amber-colored gown (complete with mildly uncomfortable vintage proportions) and trying desperately to hang onto the alto harmonies despite my utter lack of singing talent (I managed, but Marni Nixon I was not). But it was one of the most thrilling experiences of my life, and listening to the lush, glorious cast recording for Lincoln Center's revival brought back all those warm memories in the best way. For newcomers just discovering this classic gem, it's a delightful introduction. For longtime aficionados, it'll have you dancing all night.
---
BWW Album Review: Audra McDonald Sings Us All Happy

May 21, 2018

When you listen to an Audra McDonald album or concert, you can probably have a pretty good idea of what you're signing up for: exquisite vocals and a broad swath of the best selections of the American theatre. Her latest album, the recorded-live Sing Happy, delivers all this and more, with stunning vocals and a handful of tracks that capture McDonald's natural, charismatic rapport with her audience.
---
BWW Album Review: Lesli Margherita Is Queen Of Her KINGDOM

May 14, 2018

The first thing you ought to know about Lesli Margherita is that her Twitter handle is @QueenLesli. Actually, that might tell you all you need to know about this always wry, deeply fabulous singer-actress who's become a staple of the theatre world over the course of the past decade: she's a diva and she owns it, but with a tongue-in-cheek dose of self-deprecation that invites us all in to the joke. In the live album of her Rule Your Kingdom show - recorded live at Feinstein's/54 Below - we get to listen in as she belts and banters through a rollicking set.
---
BWW Album Review: Kate Rockwell Embraces Her Roots

April 30, 2018

Kate Rockwell has made a career out of the peppy, poppy musicals that have been the hallmark of the past decade of Broadway, most recently as the hilarious ditzy Karen Smith in Mean Girls. But on her debut album, Back To My Roots, she steps away from these characters, instead compiling together the songs she dreamed of performing as a young aspiring actress. The result is a delightfully unexpected combination of comic patter, diva belting, and beautiful ballads that highlight Rockwell's talent and range.
---
BWW Album Review: PRINCE OF BROADWAY Honors Broadway Royalty

April 20, 2018

Among the Broadway names of the past several decades, producer and director Hal Prince surely stands as one of the greatest. His name has been attached to some of the most iconic musicals of all time: She Loves Me, Fiddler on the Roof, Cabaret, Company, Evita, Sweeney Todd, and The Phantom of the Opera, just to name a few. The musical Prince of Broadway featured an all-star cast taking audiences on a journey through some of the highlights of Prince's career, and the cast album is a best-of-the-best compilation, preserving some of the brightest performances and clever takes on these well-loved songs.
---
BWW Exclusive: Girl Gangs and Backstage Antics with the Backstage Blonde

April 17, 2018

Teale Dvornik is not easy to categorize. On the one hand, she works in one of the least visible jobs in the theatre industry, as a dresser at Wicked on Broadway. On the other hand, she's quickly become one of the rising digital stars of the theatre industry. To her nearly nineteen thousand followers on Instagram, Twitter, and her blog, she's the 'Backstage Blonde,' a unique hybrid of technical-theatre-geek, style expert, and cool-girl-influencer.
---
BWW Album Review: WORKING Hard For Its Money

April 10, 2018

Joining the ranks of the thoroughly-revised musicals is Working, whose latest cast recording debuted from its recent London cast. The musical, with a score by Stephen Schwartz and book and lyrics by Schwartz and assorted collaborators, originally debuted on Broadway in 1978, where it flopped rather spectacularly. It's a Chorus Line­-esque collection of stories based on interviews with workers from across America, from housewives to teachers to craftsmen and more.
---
BWW Album Review: KRIS KRINGLE THE MUSICAL Is A Lot of Christmas Cheer

March 12, 2018

Is there such a thing as too much Christmas cheer? The creators of Kris Kringle: The Musical, out now as a studio cast recording, certainly don't think so. The upbeat, cheery tale of an earnest dreamer of a toymaker is as light and sweet as a sugar cookie loaded with red-and-green frosting. Its substance, however, is similar to that sugary treat: delightful at first, but just a little too much after a while.
---
BWW Album Review: ONCE ON THIS ISLAND Revives A Classic Tale

February 23, 2018

There's a certain reliability to a score by Lynn Ahrens and Stephen Flaherty. You can count on elegant orchestrations, tidy and effective lyrics, and a heartfelt yet epic tale. All of this and more can be found on the new cast recording of the revival of Once On This Island, a Caribbean-tinged fairytale about love, destiny, and sacrifice. It's a lushly produced recording that balances the voices of the chorus with quieter character moments.
---
BWW Album Review: HAMLISCH UNCOVERED Will Make You 'Smile'

January 12, 2018

In the creative world, there are few names as admired and respected as Marvin Hamlisch. One of only two people to win an Emmy, Grammy, Oscar, Tony, and Pulitzer (the other being Richard Rodgers), his contributions to the American music canon have been lauded and have entered the popular imagination. On the new album Hamlisch Uncovered, the great composer's songbook is opened up to share previously unrecorded gems, with the help of an array of Broadway stars.
---
BWW Exclusive: At This Performance: The Rise Of The Broadway Understudy

December 15, 2017

Understudies on Broadway are nothing new. What is new, however or at least newly noticeable is the growing eagerness of fans to see such a performance.
---
BWW Album Review: THE BAND'S VISIT Floats In On A Jasmine Wind

December 15, 2017

Bet Hatikvah, the small town that is the setting for The Band's Visit, is utterly unremarkable. But unremarkable is the last adjective one would use to describe the score for this new musical, about an Egyptian police orchestra who, thanks to a linguistic mix-up, find themselves stranded overnight in a tiny Israeli town. Written by Tony nominee David Yazbek, the music ranges from haunting and ethereal to rousing and comedic, weaving together the structures and storytelling needs of musical theatre with melodies and orchestrations that are undeniably, authentically Middle Eastern. The end result is a score that takes a moment to absorb fully, but once it does, it's hard to stop thinking about.
---
BWW Album Review: COCO Embraces the Power of Music and Tradition

December 13, 2017

Never underestimate the power of music, sings Ernesto de la Cruz on the soundtrack to the new Disney/Pixar film Coco. And that, at its heart, is the overarching theme of this thoroughly delightful, sometimes surprising story and its accompanying soundtrack. Music here isn't just an accent to the story it is the story. It's a classic Disney coming-of-age musical tale, but with one crucial difference: instead of the usual Broadway-pop score, it features specifically Mexican music, with songs by Robert Lopez & Kristen Anderson-Lopez and Germaine Franco & Adrian Molina, to tell a story that is both culturally specific and universally human.
---
BWW Album Review: Mandy Gonzalez Is Fierce and FEARLESS

December 5, 2017

Mandy Gonzalez has been one of Broadway's favorite divas since she burst onto the scene in In the Heights. But alongside her powerful voice, she's always given off that vibe that she could be your cool big sister. In her new album Fearless, Gonzalez exudes that same kind of warmth and wisdom on upbeat, inspirational tracks.
---
BWW Album Review: CAROLS FOR A CURE Makes the Holidays Bright

November 27, 2017

Broadway Cares/Equity Fights AIDS has a number of traditions that theatre fans look forward to every year. To raise money for numerous causes, the organization sponsors such special events as Broadway Backwards, the Broadway Flea Market, and Gypsy of the Year. In the midst of the fall/winter collection period is another beloved tradition: Carols for a Cure, a collection of Broadway casts singing holiday songs, now in its nineteenth year. This season's merry offering includes a blend of classic carols, modern songs, and wholly new compositions written specifically for this album.
---
BWW Album Review: A Celestial Battle In ANGELS Studio Recording

October 27, 2017

The mythology of heaven and hell is one of the richest stories out there. In the new studio cast recording of Angels, the story is given yet another angle. Writers Ken Lai and Marcus Cheong (both share credit for the book and lyrics, with Lai also writing the music) tell a classic tale of good and evil from the perspective of Sera, an angel of light who longs to make a greater difference and becomes embroiled in a battle against Lucifer. Though uneven at times, the album does provide wonderful showcases for its talented cast.
---
BWW Album Review: HADESTOWN Journeys To A Lush, Rollicking Underworld

October 9, 2017

A post-apocalyptic Depression-era retelling of an ancient Greek myth may not seem like obvious subject matter for a musical. But Hadestown, which ran at New York Theatre Workshop in the summer of 2016, took this bizarre concept and ran with it. Written by Anais Mitchell, Hadestown weaves together an industrial allegory and sweeping romance with the myths of Orpheus and Eurydice and Hades and Persephone. The bluesy score sweeps listeners away on this epic journey, thanks to the new live cast album, released by Warner Music Group/Ghost Light Records.
---
BWW Album Review: LEGALLY BOUND at 54 Below with Andy Karl & Orfeh

October 2, 2017

For many years, Andy Karl and Orfeh have been fixtures in the Broadway community, as well as one of its favorite showmances. Both have been a considerable presence in the theatre scene. Both bring a wry, adult, steady voice to an industry always seeking to anoint a new, fresh-from-U-Mich ing nue. And both are adept comedians who can also belt a note so big and beautiful that you might cry. All these traits and more are on display in Legally Bound, a live recording of the duo's 54 Below show.
---
BWW Album Review: ABANDONED HEART by Michael Mott

September 29, 2017

In the wider world of pop culture, there's a bit of a misconception that Broadway performers and writers can only succeed in their own niche. Michael Mott's second album, Abandoned Heart, blows up that stereotype. The album (produced by Broadway Records) is chock-full of highly enjoyable pop songs that would not sound out of place alongside some of today's most-played hits.
---
4