Amanda Prahl
MOST POPULAR ARTICLES
LAST 30 DAYS
LAST 365 DAYS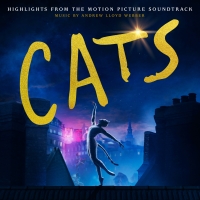 Album Review: CATS Doesn't Make Many Good New Memories
Posted: Jan. 3, 2020



She Believed She Could: HADESTOWN's Anais Mitchell Could Change the World with a Song
Posted: Apr. 20, 2019


Album Review: Alfie Boe and Michael Ball Are BACK TOGETHER Again
Posted: Nov. 14, 2019


Album Review: FROZEN II Still Makes Movie Magic
Posted: Nov. 21, 2019


BWW Album Review: Alfie Boe's AS TIME GOES BY Is Full Of Old-Fashioned Elegance

November 29, 2018

With his latest album, As Time Goes By, Boe tackles a slightly different genre, covering a variety of mid-century standards with a lounge-style, big-band sound. This branching out is a delightful new avenue for Boe that his fans will be sure to enjoy, although the album is not uniformly excellent.
---
She Believed She Could: Asta Bennie Hostetter On Collaboration and Design

November 23, 2018

When it comes to 'how I got here' stories, Ásta Bennie Hostetter's is both incredibly unique and incredibly familiar. The costume designer, currently represented off-Broadway by Roundabout's Usual Girls, tells a story of surprise revelations and 'almosts' that will probably sound familiar to a lot of theatre artists.
---
BWW Album Review: Melissa Errico's SONDHEIM SUBLIME

November 16, 2018

Melissa Errico is one of the most reliable theatre divas in contemporary musical theatre. With her fierce belt and a knack for finding the most interesting moments in music, it's no surprise that she's released an album of Sondheim music. The surprise in Sondheim Sublime is which style of Sondheim she chooses: not the sly, sharp, witty Sondheim, but the bittersweet, thoughtful songs that sometimes get lost in the shuffle.
---
She Believed She Could: Lisa McNulty and WP Theater

November 8, 2018

While Broadway struggles to find ways to support new work that isn't star-studded or based on an existing property, off-Broadway theatres are embracing new voices at every turn. Among the non-profits on a mission is WP Theater, the oldest American theater company dedicated to the work of women, trans, and non-binary artists. Its producing artistic director, Lisa McNulty, is exactly the kind of leader the community needs: dedicated, open, and passionate about getting the voices heard that need to be heard.
---
BWW Album Review: TONYA AND NANCY Gets High Marks

October 15, 2018

Figure skating and musical theatre feel like perfect partners: both involve heightened drama, intense training, and occasionally questionable costume choices. So it seems incredible that there hasn't really been a musical about figure skating before - until now.
---
BWW Album Review: WHO'S YOUR BAGHDADDY Deserves Everything And More

October 8, 2018

As far as wacky titles go Who's Your Baghdaddy? Or, How I Started The Iraq War is a doozy. First-time listeners might be a little wary of this wacky, weird concept, but they'd be missing out. The musical, whose original cast recording is out now, follows a group of intelligence officers who stumble into a series of discoveries that lead the world into the Iraq War. If that doesn't sound like compelling material for a musical - just stay with me for a moment.
---
BWW Album Review: An Instrumental Journey with THE BEAST IN THE JUNGLE Score Recording

September 26, 2018

The album for the new dance musical The Beast in the Jungle is not your typical cast recording. Actually, it's not a cast recording at all, but a score recording that's purely instrumental. Even though the lack of dialogue and character voices makes it a more challenging score to listen to out of context (as opposed to a typical "cast album"), it's a truly masterful and moving score in its own right.
---
She Believed She Could: Abby DePhillips On Finding Your Path

September 4, 2018

If you haven't heard of Abby DePhillips yet, now would be a good time to get acquainted. The social-media maven and up-and-coming producer is a rarity in the theatre world: a star in the making who has never actually set foot on a Broadway stage. Instead, she's quickly becoming an icon for people who are passionate about theatre but are seeking a different path, away from audition rooms and bright spotlights.
---
BWW Album Review: Linda Eder's IF YOU SEE ME

August 18, 2018

Linda Eder's career has had the kind of variety many performers would envy: everything from Broadway to solo albums to concert halls. If You See Me, her latest release, is her seventeenth solo album, which itself is an applause-worthy feat. The album itself is mostly a greatest-hits journey through theatre history, from Gershwin to Sondheim and plenty of others in between. Although some of the tracks don't quite hit the mark, others are genuinely wonderful.
---
She Believed She Could: Lynn Ahrens Succeeds One Step At A Time

August 8, 2018

There's a fairly good chance that Lynn Ahrens wrote one of your favorite songs. Over the past few decades, she's written songs for beloved titles such as Schoolhouse Rock, Anastasia, Once on This Island, Seussical, and Ragtime. Alongside longtime collaborator Stephen Flaherty, she's been part of pretty much every theatre lover's life.
---
BWW Album Review: DESPERATE MEASURES Revisits A Wild West

August 6, 2018

There's a good reason that Measure For Measure is considered one of Shakespeare's 'problem plays.' It's a weird blend between comedy (featuring that immortal device of classical theatre, the bed trick) and a surprisingly bleak, mildly misogynistic outlook on love, marriage, and human nature as a whole. It's many of the same reasons, ironically enough, that the Western genre is so difficult to pull off. Putting the two together, as Desperate Measures, the off-Broadway musical retelling of Shakespeare's play, did, seems like it should be a recipe for disaster. Although the cast album has its moments of, well, desperation, as a whole it's a charming, amusing score.
---
She Believed She Could: Lindsay Roberts, Educator and 'Ingenue with a Twist'

August 3, 2018

Most performers have a youthful "origin story" - some memory of watching a musical or being in a community production that introduced them to the magic of the stage and inspired their future path. For Lindsay Roberts, currently winning hearts in Carmen Jones at Classic Stage Company, the motivation was a little less artsy and a little more social.
---
BWW Album Review: HERE WE GO AGAIN with MAMMA MIA 2

July 19, 2018

Let's be honest: it doesn't really matter what I, or any critic, have to say about Mamma Mia 2: Here We Go Again. We know what we're signing up for: campy, fun covers of ABBA songs, a plot that only sort of matters, a bunch of stars having an absolute blast, and pretty island panoramas. The movie's soundtrack, much like its predecessor, rides more on the delightful fun of the songs than on their emotional depth or Broadway-ready performances. The key difference between this soundtrack and the 2008 original is that the former plays, at least in part, to audiences' affection for the latter. In fact, several moments correspond almost directly, giving us a chance to see how far these characters have (or have not) come, which covers for the fact that most of these songs are pulled from ABBA's second tier.
---
She Believed She Could: Ariana DeBose Takes Center Stage

July 19, 2018

If there's a word to define Ariana DeBose, it's 'authentic.' The actress - currently appearing in her Tony-nominated role of Disco Donna in Summer: The Donna Summer Musical on Broadway - revels in her uniqueness and brings her particular blend of thoughtful craft and forward thinking to everything she does.
---
BWW Album Review: Jason Robert Brown Teaches Us To React And Recover

July 5, 2018

The name "Jason Robert Brown" on a piece of music can strike joy in the hearts of singers and listeners (and mild trepidation in the hands of pianists everywhere). The Tony-winning composer has created a sound that has helped define contemporary musical theatre: pop-tinged melodies combined with lyrics that are alternately conversational and elegant, but always embrace the marvelous possibilities of language. His new album, How We React and How We Recover, takes on the uncertainties of today's world with his trademark wry honesty.
---
She Believed She Could: Princesses, Producing, and PUFFS with Sally Cade Holmes

July 4, 2018

"Finding the art in forward motion." That's how producer Sally Cade Holmes describes her work, and it's an apt - and elegant - description of the nebulous, multifaceted world of theatre producing. From festival credits to the off-Broadway favorite Puffs, or, Seven Increasingly Eventful Years at a Certain School of Magic and Magic to the Broadway hit musical Anastasia, Holmes has often found herself working on productions that tap into audience's hearts and minds.
---
She Believed She Could: A Dresser's Day with SUMMER's LJ Wright

June 27, 2018

Six days a week, a hour or so before the stars of Summer: The Donna Summer Musical sign in on the callboard, dresser LJ Wright arrives at the Lunt-Fontanne Theatre to help lay the groundwork for the day's show(s). By the time Tony-nominated star Ariana DeBose arrives, Wright has set up her costumes and is ready to assist with any other prep the actress needs. For most audience members, Wright is one of the invisible hands they don't even think about. For industry professionals, Wright is among the group that holds a show together.
---
She Believed She Could: Laura Osnes & Benjamin Rauhala on the Fairytale of The Broadway Princess Party

June 20, 2018

What place does a fairytale have in the modern world? Unlike Cinderella's slipper, there's no one perfect fit of an answer, but two of Broadway's favorites have been exploring this question through a popular concert/cabaret series. The Broadway Princess Party, the brainchild of two-time Tony-nominated actress Laura Osnes and music director Benjamin Rauhala, combines a tongue-in-cheek sensibility with a warm affection for musical princess characters and their stories. With the concerts, Osnes and Rauhala have created a space that celebrates music, joy, and a healthy dose of girl power.
---
BWW Review: The Best and Worst of the 2018 Tonys Broadcast!

June 11, 2018

Last night, the 72nd annual Tony Awards rewarded some of the biggest (and smallest) shows on Broadway. Missed the broadcast or want to relive the highlights? I've got you covered: I watched the entire show, notepad in hand; below are some of the biggest moments of the night.
---
BWW Album Review: Versatility on Display with Mandy Gonzalez's FEARLESS B-Sides

June 3, 2018

Mandy Gonzelez's Fearless, released last winter, combined original tracks with some sweet Broadway nostalgia. More than that, it became the jumping-off point for an online community, nickednamed the #FearlessSquad, that brought people together for straightforward, honest inspiration and support. With the release of the Fearless B-sides, we get to see a different side of Gonzalez: not just the warm, bright presence with a huge voice, but a set of songs that highlight a meditative, sometimes sultry richness.
---
3